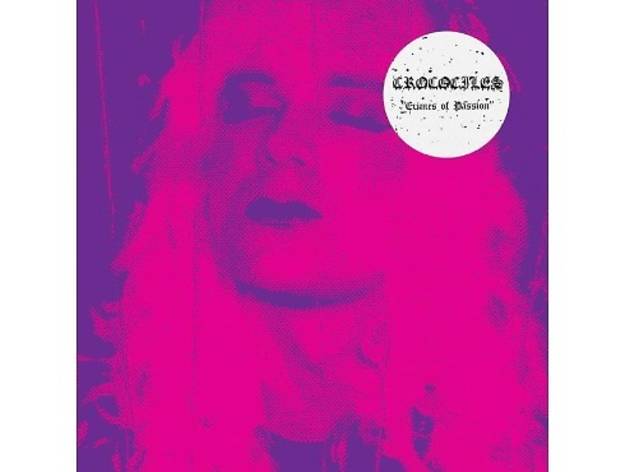 Crocodiles – 'Crimes of Passion' album review
They've got the indie cred and the hip poses, but the San Diego duo are starting to lack substance
Crocodiles have a lot going for them. If Ray-Bans, leather jackets and listlessness float your boat, then San Diego's top fuzz-pop duo look fantastic: punch their name into Google Images, and the results are moodier than a room full of two-year-olds on a sugar downer. They've got immaculate US indie credentials – links to Dum Dum Girls, Wavves, Cold Cave and No Age – and they clearly know their stuff, since their music is a spot-the-influence raid on '60s pop, surf and garage rock as filtered through four decades of British and American indie.

Put it all together, and Crocodiles come across less like a real band and more like some kind of noise-pop wet dream. They're the sort of group that the director of an indie rom com might invent just so his dorky-but-tasteful leading man could meet the girl of his dreams at one of their gigs.

But Crocodiles are a real band, and a real band have to write real songs and make real records. 'Crimes of Passion' is the fourth album by Brandon Welchez and Charles Rowell since 2009, and their jangly racket is wearing a little thin. After last year's 'Endless Flowers' upped the feedback without sacrificing the tunes, 'Crimes of Passion' feels thin and throwaway, teetering between style and substance.

On the better tracks here, Crocodiles just about achieve the kind of sleazy, Lou Reed-style glamour that they seem to have been aiming for when they decided to call track two 'Marquis De Sade'. That song has a nice noisy breakdown halfway through, and some cool saxophone and keyboards. 'Teardrop Guitar' is another hit, with an overdrive-dripping riff and a great verse, and there's a lot to be said too for the groovy Primal Screaming of 'Cockroach', and the Suicide-meet-David Lynch synths on closing track 'Un Chant D'Amour'.

When the songs don't hold up though, 'Crimes of Passion' isn't much more than a posey genre exercise. The five-note riff on 'Me and My Machine Gun' wears out its welcome fast, and opening track 'I Like It in the Dark' ends with a barrage of echoing cool-cat hipster slang which makes you glad the '60s are long gone. 'Record collection rock' doesn't have to be a put-down, but it's hard to put your finger on many songs here which The Jesus And Mary Chain couldn't have done with more conviction 20 years ago.

'Gimme some annihilation, gimme some poetic death,' sneers Welchez at one point – and he might as well be asking for a Sprite and a bag of crisps. 'Crimes of Passion' is wrong on both counts: not only is there nothing offensive here, but there's also hardly any passion to speak of. Maybe all that (ironic?) rock 'n' roll posing is Crocodiles' way of heading off the essential fault of this album: that they just don't sound like they give a damn. What are your thoughts? Let us know in the comments box below or tweet us at @TimeOutMusic.