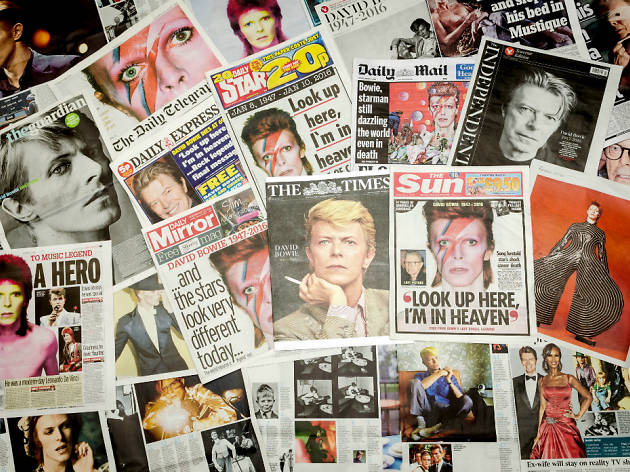 'Death is the future of rock': Paul Morley on the passing of David Bowie
One journalist and author didn't just tweet when David Bowie died, he wrote a book. As it hits the shops, Paul Morley reflects on what Bowie's death means for the future of music and the media
I know that this is the last thing that you want at the moment, and I am really sorry, but I am going to talk about death.
You were probably expecting a piece celebrating the genius and achievements of David Bowie. To me, he still seems as alive as he ever did. His songs still live and communicate ever-evolving meaning, there are images of him everywhere, and he's as active and present in my mind as he was when he was alive. But as much as this sex symbol, rock god and surreal showman gave us radiant clues about how to live, Bowie has now proposed how a famous star should die – about how to generate a continuum between life and its conclusion – in a world where the death of the celebrity is as much a part of the 24-hour news cycle as a terrorist attack or sudden, chaotic political upheaval.
The day Bowie died, the old and new media was of course packed with grief, tributes and obituaries.
I received so many calls asking me to muster up the correct combination of succinct overview and suppressed lamentation that I decided that the only way I could process the information was to write a book, taking my time – relatively speaking – in a world losing all sense of time.
Death is currently treated with an almost giddy, fanzine-like enthusiasm, clumsily mixing the bewildered and the celebratory. It's as though cultural commentators, celebrity journalists and so-called entertainment experts are expected to fertilise their increasingly threatened occupation with a new line in professional mourning. Celebrity death is one way the mainstream media is managing to keep going, through a constant supply of death leading to a constant production of souvenirs and contagious emotional energy.
When Bowie began making music professionally, pop was a relatively novel form of enchantment and enlightenment. There weren't many rules yet, and the few rules that ended up being followed were being spontaneously made up as musicians and their associates went along. Pop was set apart, except for sex and drugs scandal, from the suspicious, erosive attentions of the mainstream media.
It is now something common and conservative, crammed with rules and regulations, forms to fill in, uniforms to wear, routines to follow – all tightly packed into the population's memories and affections. In short, it simply has to be covered. We are fast reaching a stage where every day there will be at least one rock musician, pop star, actor or royal dying who must be featured on the news and instantly, superficially glorified, wept over, and now and then near deified.
'What lies ahead is a constant stream of rock stars dying'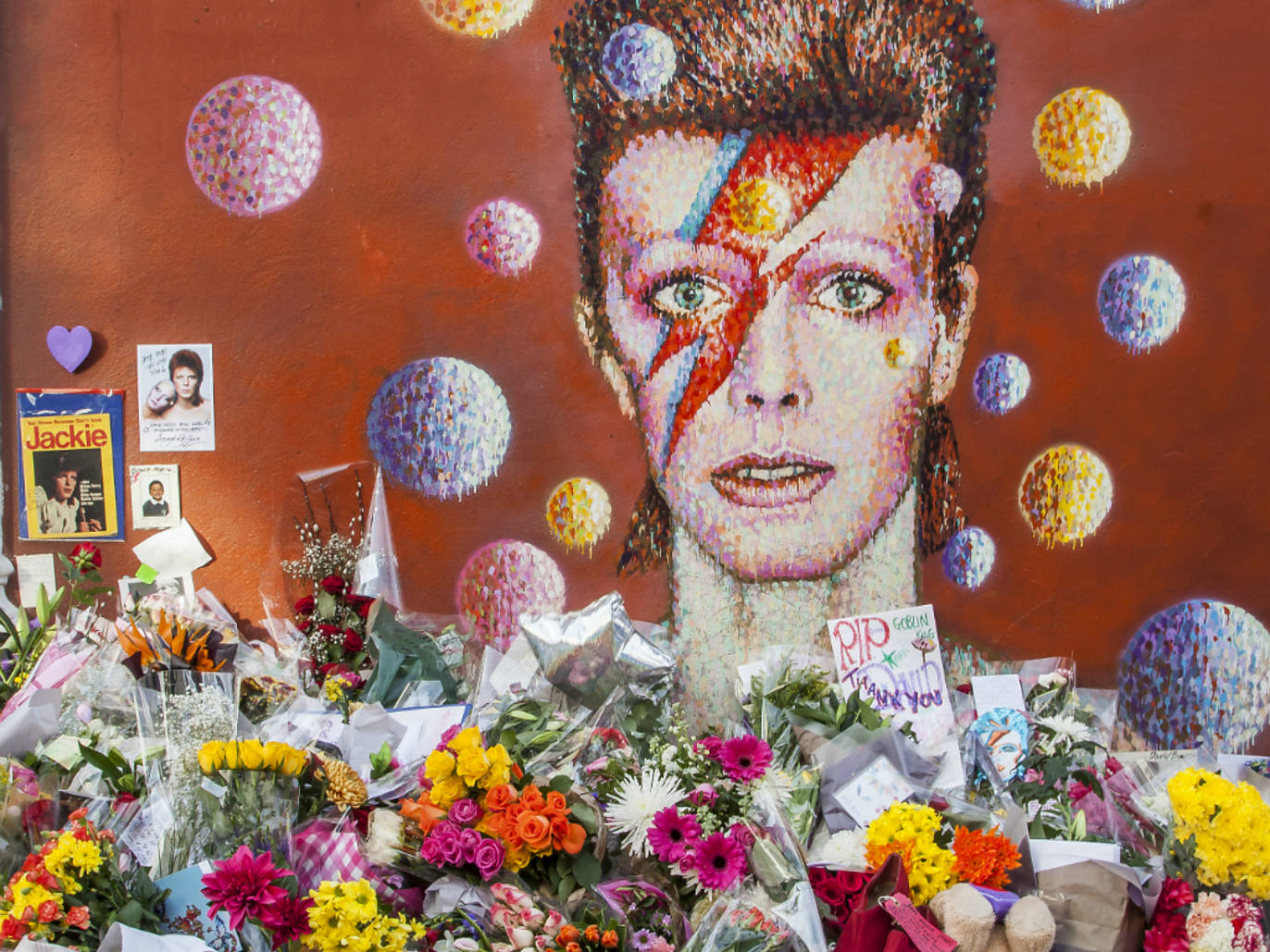 David Bowie mural in Brixton. Photo by Rob Greig
One of the consequences of life-changing pop musicians such as Bowie selling themselves so shrewdly is that the death of a pop or film star is now such a major part of the news cycle. It isn't going to slow down, either. Death is now the future of rock. Mourning will be a consistent thing for the next few years. What lies ahead is a constant stream of rock stars dying.
The music that began as an articulation of youth is entering a definite twilight zone made up mostly of memory and a new sort of history that is taking some getting used to. Each time a Prince dies, or the ones inevitably to come – half the Beatles, half of The Who, the Stones, Elton, Dylan, and that's just the 1960s, just the really famous ones – the loss being reflected is really for something bigger than just the person, and their songs and albums. It is for a certain sort of recognisable stability that is, increasingly, more virtual and shapeless than real and grounded. It is for when there were charts and rigid television schedules and the news was less constant and sensationalised, and everything seemed laid out in a regular, linear grid where it was easier to locate yourself, organise yourself and feel secure.
Bowie, creative and contemplative to the very end, confronted the fact that death is now a considerable part of the structure of pop culture. Not the self-destructive rock death that celebrates the romantic risk-taking rock 'n' roll myth. But the death that comes at the elderly end, as body and mind break down. He managed to present his departure as an incredibly elegant event, taking seriously the idea that rock music had become a new kind of religion, a true faith.
He also understood, as someone who was so adept at working on his image, that this sort of a pop culture death is increasingly a matter of public relations. If publicity has created who you are, and made you visible, that doesn't stop when you die; Bowie managed to keep control of his image all the way to the very end – staying visible in a significant, visionary new way. He set the standard, in organising a death both deeply private and completely public, for other stars, and not-stars, brave enough to follow. He was still wondering, even as he finished his final, life-changing performance, what was going to happen next. If only he knew…
'The Age of Bowie' by Paul Morley is out on July 28, published by Simon & Schuster.
A look back at the life of a star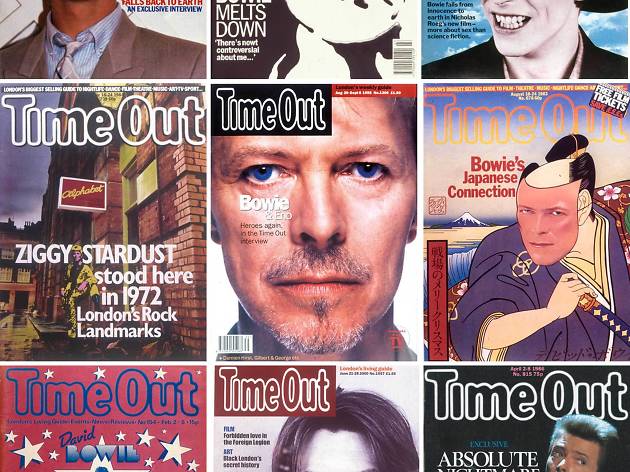 As the city mourned the death of musician, artist, actor and Brixton boy David Bowie, we paid homage to one of our most treasured Londoners.