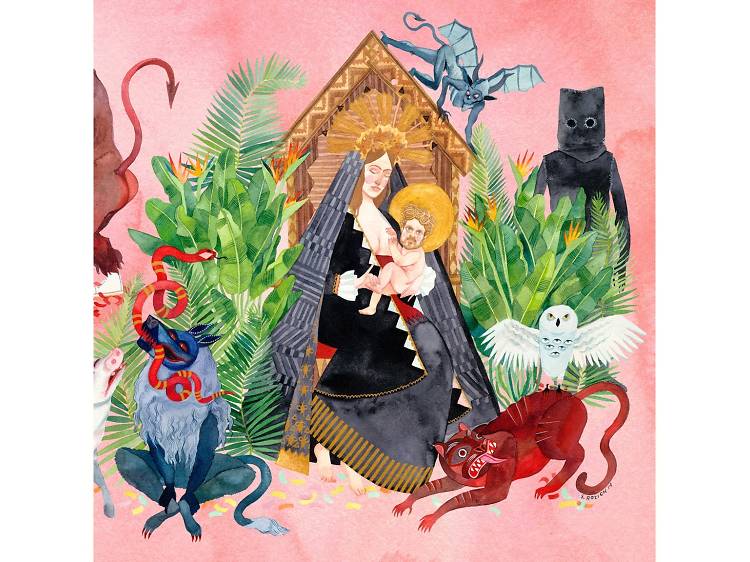 Father John Misty – 'I Love You, Honeybear'
Josh Tillman is one of music's most arch satirists. We suspected this when he marked his first album under the Father John Misty alias by releasing a perfume called Innocence that smelled of marijuana. We suspected it some more when, in 2013, he performed within a man-sized cut-out of an iPhone. Now we know it for sure, because in January the Seattle songwriter put out a lo-fi free stream of this album on a 'music platform' sarcastically dubbed 'SAP'.
Nevertheless, fans of sensitive woodburning-stove indie may be surprised to hear the one-time Fleet Foxes drummer skewering shortcomings close to home. Set to lonesome barroom piano, romantic strings and triumphant mariachi trumpets, 'I Love you, Honeybear' is inspired by Tillman's marriage. But it overflows, like a hurriedly packed suitcase, with anti-love lyrics – hedonistic misadventures, confessions of narcissism and neglect, and put-downs as delicious as they are vicious.
There's a grand artistic tradition, from Philip Roth and Loudon Wainwright III to Grinderman, of men boasting about what rubbish husbands they make. Tillman has a blunter way of heckling his own despair: the coda to 'Bored in the USA', a miserable litany of subprime loans, prescription drugs and failed wanks, is crooned to a canned laughter track.
There are moments, though, when Tillman discards his satire at the bedpost and lays himself so devastatingly bare before his wife that all you can do is squeeze your eyes closed through the clear country harmonies and sob through his hard-earned revelations. 'That's how you live free: truly see and be seen' climaxes the winningly titled 'When You're Smiling and Astride Me'. He sounds like he's singing his battered and beating heart out. Monogamous love, after all, is the last refuge for the committed misanthrope.