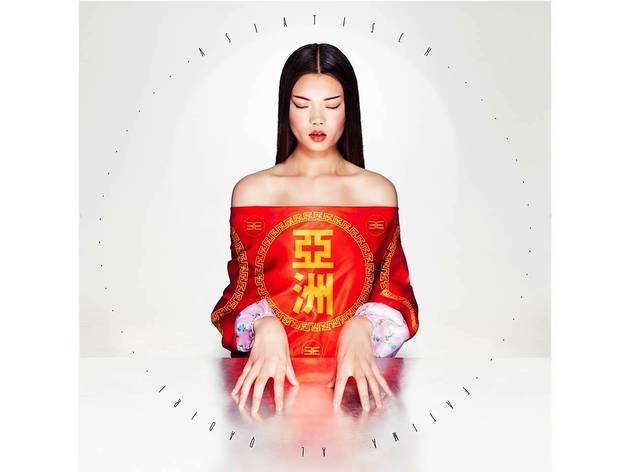 Fatima Al Qadiri – 'Asiatisch' album review
An immense debut from this hyped underground producer that mixes up experimental grime, UK bass and visions of futuristic cities
'Asiatisch' is a cohesive, yet complex album, playing on an idea of an imagined, hyperreal China as seen from the West. Its release on UK label Hyperdub is appropriate, since its sound perhaps owes more to UK bass and grime than any other genres or scenes. This is a debt that is consciously acknowledged – at their recent London show, Future Brown, were joined by seminal London grime collective, Ruff Squad.
Al Qadiri's production on 'Asiatisch' shares grime's futurist, forward-looking aesthetic, and hyper-digital sound (FaQ doesn't use samples at all in her productions). Super-clean, bouncing, slow bass and crisp digital beats underlie stereotypically 'Asian' sounds – such as flutes and gongs – in a comprehensive and explicit development of the microgenre of 'sinogrime' (a term coined by Hyperdub founder, Kode9).
There's something of a lineage between 'Asiatisch' and China/Japan-obsessed, martial-arts sampling US hip hop - most obviously the Wu Tang Clan. Yet, where the Killa Bees drew on an imaginary martial arts sect from the past, Al Qadiri looks to Western visions of present-day China – be they in the form of gleaming tower blocks, counterfeit designer goods or technology or hypercapitalism.
In interviews, Al Qadiri has said that, alongside martial arts, the most powerful images of imagined China are of architecture. This is certainly true in recent years – think of the Olympic stadiums or of gleaming glass towers. She's also said that, if grime were a school of architecture, it would be concrete brutalism. If 'Asiatisch' was a building, it would be a sleek, futuristic Shanghai skyscraper.
The fact that this Senegalese-born, Kuwaiti-American producer is making a style of music very much rooted in east London seems appropriate to the hyper-globalised feel of 'Asiatisch'. Still more apt is the fact that, despite living in London through the early years of the grime scene, it was whilst living in New York that she fell in love with the sound, via the internet and Dizzee Rascal.
The imaginary China explored in the album is one that is created and consumed in large part through the internet – as made explicit by the song title, 'Loading Beijing'. These experiences and images of China, so many times removed from their originals as to become a different entity entirely, are at the core of 'Asiatisch'. The cultural detachment is in evidence throughout the album – from the opening track onwards. Shanzai, a cover of 'Nothing Compares 2 U' sung in nonsense mandarin, is in fact a cover of a cover found on YouTube. Later tracks contain digital voices intoning ancient Chinese poems, while Al Qadiri herself sings about dragon tattoos. There's even an adapted version of the politically dubious Disney song 'We Are Siamese' from the 1955 animated film 'Lady and the Tramp'.
All these ideas lie behind 'Asiatisch', but calling it a concept album would do it a disservice. Yes, there's a coherent theme to the album, but it's no gimmick – you don't need an understanding of the finer points of sinogrime to appreciate its brilliance. And impressively, given the clean, sharp, hyper-digital production, it's by no means a cold record.
While some of her peers have recently rocketed from being bedroom producers to working with massive, mainstream artists, Al Qadiri's output and trajectory seems more considered. You're more likely to see her performing at a
Marxist chillwave night
than popping up on the production credits for a Yeezy beat in the near future. Reading interviews with her, it seems she is set on making only the music she wants to make, at her own pace. The results of this care and precision are sublime. 'Asiatisch' is a future bass masterpiece from one of the most exciting producers around.
What do you think of 'Asiatisch'? Let us know in the comments box below or tweet us at @TimeOutMusic.