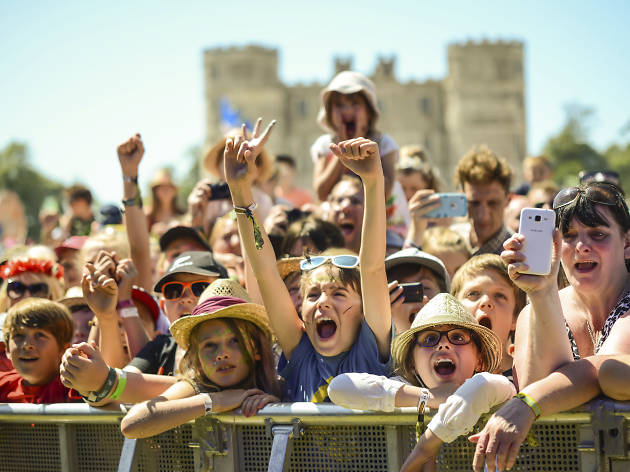 How to survive taking kids to a music festival
Discover the essential rules to obey when going to a music festival with your family
There are plenty of people who tell you not to take your kids to a music festival. It'll be hell, they say. You'll ruin it for yourself, your children and everyone around you. As a music journalist, I've schlepped to more festivals than I can remember and I'm here to tell you: having kids is no reason for your festival career to do a One Direction and go on indefinite hiatus. Sure, you probably shouldn't ingest anything mind-altering and find yourself convening with Gaia at the Stone Circle at 5am, but you can have a good, wholesome time in the kids' field and maybe catch the headliner's set in the distance if you're lucky. All you need is preparation, pals and a bit of tantrum-diverting bribery, and you'll all have a spectacular, life-affirmingly brilliant time. Here are half-a-dozen golden rules.
RECOMMENDED: The best family festivals
1. Choose your friends carefully
Before you pick a festival or decide to procreate, recruit some like-minded friends. Camping in a group, sharing childcare and having general emotional support will be a godsend when you're running on two hours' sleep, the three-year-old has worked herself up into a vomit-inducing tantrum and no one can find the wet wipes. Emotionally blackmail friends first, choose your festival later.
You might once have been happy to zonk out in a £20 pop-up tent but now, as a family, you'll all seriously appreciate some decent camping kit. If you can beg or borrow a campervan, baby, you're living the dream. Certain bits of accepted festival wisdom hold true for parents as much as for any other festivalgoer – don't camp at the bottom of a hill or near the toilets – but your new mantra is: get a spot in the family camping area. Latitude's, for instance, is handily located next to the activity-packed Enchanted Garden. It might cost a little more but the toilets will be bearable and you'll be surrounded by people keeping similar hours rather than the masses living in a time zone that's a little more cosmic.
Adjust your thinking about what a music festival is. Everything you're going to do over those three days is to keep the kids happy and safe, so abandon all thoughts of seeing the bands you want to see. Your children aren't going to care if Abba reformed specifically for this one-hour set on the other side of the site if they're having a grand old time chasing each other around the kids' zone. On the plus side, they'll probably stumble across something incredible that you'd never have noticed, like a bouncy castle playing Kate Bush (as happened at Camp Bestival) or Jeremy Corbyn. If they're old enough to have opinions about bands, try a 'you choose one, I choose one' approach to scheduling but no matter what age they are, factor in plenty of downtime – hanging out at the tent playing Uno will be welcome respite for you all.
There's a lot of walking involved at every festival, and trying to manoeuvre a buggy in and out of mud every 30 seconds is not a good scene. Much more practical is a little pull-along trailer that you can pimp with battery-operated fairy lights, cushions and blankets. If they're all cosy, the kids might just nap through the headliners.
Buy glow sticks, face paint and ear defenders in advance and you'll save yourself a bundle. Fancy dress will make the little ones easier to spot and describe if they get lost, plus it'll be cute. Kitting kids out with a wristband or lanyard with your phone number on it is a good idea in case you get separated, but a Sharpie and a forearm will do just as well. Chat to your children about what to do if they find themselves on their own, and how to recognise festival staff, so there's a plan if they wander off (or you do). Taking teens is a different kettle of fish – anywhere upwards of 15 and you're probably going to have to let them do their own thing and trust they'll be sensible. Keep everyone's phones charged and try not to picture every gruesome scenario they could find themselves in.
6. Eat sensibly (ie, whatever they want)
When it comes to food, abandon your nutritional principles. Take healthy snacks but if the kids want a second ice cream of the day, buy it. They'll only eat hot dogs for breakfast? Load 'em up. Agree a treat budget in advance but accept that you're probably going to blow it as soon as they catch sight of the bubble-guns and cat ears.
More festival action
If you're looking for musical mayhem in a field this summer, we've got you covered. Check out the best UK music festivals using our music festival calendar, or stay right here in the city with our big list of London music festivals. You can win festival tickets on our competitions page and discover the best new bands on this summer's festival circuit. See you down the front!
Photo: We Are FSTVL