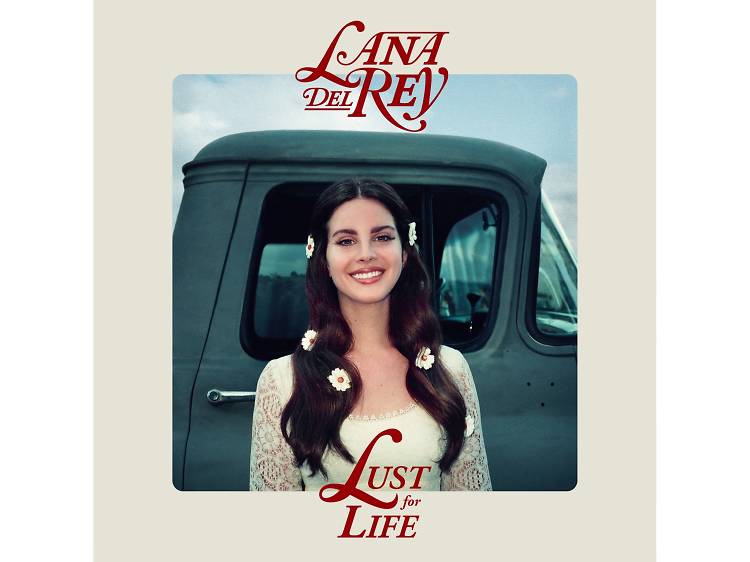 Lana Del Rey – 'Lust for Life'
The world is fucked and even Lana Del Rey has noticed. Perched up high on the 'H' of the Hollywood sign, she's stopped gazing at her own navel for a sec and isn't keen on what she sees.
'Is it the end of America?' she sings on 'Coachella – Woodstock in My Mind', her voice as husky and doomed as ever. Of course, Lana is no stranger to gloom – having built a whole career writing songs about being the saddest girl at her own super-hip party. She's usually more interested in deconstructing her own problems than tackling the ones facing the rest of us, but when you can't enjoy Coachella because you're worrying about North Korea, something's gotta be done.
The woman who was born to die has found a lust for life just as it's all crashing and burning around her. Classic Lana. Musically, it sounds a lot like... well, it sounds a lot like Lana Del Rey, all reverb-drenched atmosphere and languid vocals, vintage pop references woven into an album that is perfectly, ridiculously her. The record is front-loaded with its best songs, giddy highs including the bewitching 'Love', a title track that leans heavily on The Weeknd and the dreamy '13 Beaches'. They take you on an emotional rollercoaster with heart-rending loop-the-loops – but it does mean the rest of the 16-track album struggles to keep up the pace and the quality. Ideas are stretched to breaking point and feeling all the feelings can get a bit exhausting.
But even in the face of Donald Trump, North Korea and a lover who inspired her to rhyme 'summer' with 'bummer' on two separate songs, Lana has found us some nuggets of hope to focus on. 'God Bless America – and All the Beautiful Women in It' is a prayer (albeit one that features gunshot sounds) for a country in peril, and all prayer comes from a place of hope. If OG sad girl Lana can find something to be hopeful about, maybe the world isn't as fucked as we thought.