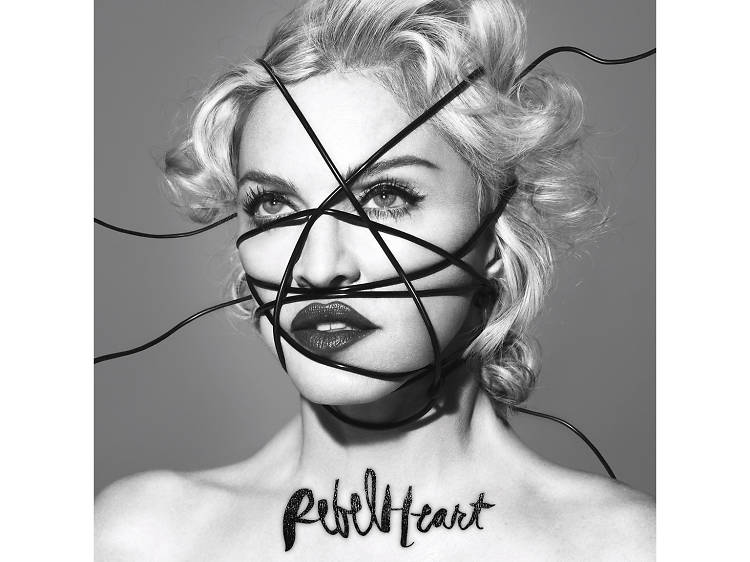 Madonna – 'Rebel Heart'
Two events have blighted the release of Madonna's thirteenth album. One, obviously, was her spectacular tumble at The Brits, but another was the online leak in December of 13 demos earmarked for the record. So in a perverse way, it's fitting that 'Rebel Heart' feels like a Madonna album for the internet era. Available in editions with 14, 19 or 25 tracks, it's a disparate, drawn-out collection that's begging to be condensed into shorter playlists.
No matter which version you buy, you'll find Madonna alternating between showing off, getting off and taking stock. On 'Holy Water' – a brilliantly ridiculous hymn to cunnilingus – she manages all three on the same song, dropping a reference to her classic hit 'Vogue' and boasting that either Jesus or Yeezus 'loves my pussy best'. Her voice is so heavily distorted that it's left to us to decide whether she's taunting the Vatican or Kim Kardashian.
Some of the sassy stuff is excellent, especially the catchy, trap-tinged 'Iconic' and defiant dancehall of 'Unapologetic Bitch', on which Madonna tells a selfish ex-boyfriend: 'I'm poppin' bottles that you can't even afford.' The house-flavoured lead single 'Living for Love' is also a highlight, its resilient lyrics gaining additional pathos following last night's already legendary mishap. 'Lifted me up and watched me stumble,' Madonna sings. 'I'm gonna carry on.'
But 'Rebel Heart's very best moments come when Madonna gets reflective. She shows her vulnerable side on 'Joan of Arc', a sublime electro-folk ballad, while the affecting title track finds her confronting her past as a 'narcissist' over some wistful acoustic guitar chords.
It all adds up to a sprawling and varied selection box that's definitely worth cherry-picking from. 'Rebel Heart' may lack cohesion, but she's definitely not down for the count: this contains some of the best music Madonna's made in a decade.
Buy this album on iTunes | Buy this album on Amazon