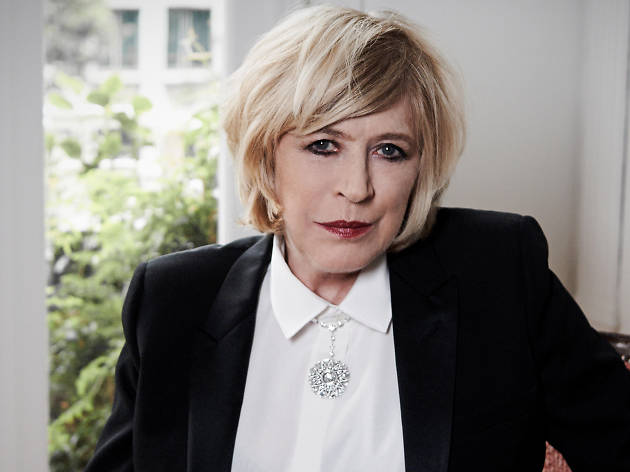 Marianne Faithfull talks heroin, The Rolling Stones and '60s London
'Women are meant to sound pretty? Bullshit,' says Marianne Faithfull. We chat to one of British music's most endearing and enduring survivors
Marianne Faithfull is at her hairdresser's in Paris, and laughs magnificently down the line when I ask what she's having done. 'My dear, at my age, I'm having my colour done of course! I like it to shine and gleam on stage.'
This week, the singer and actress performs at the Roundhouse as part of its In the Round series. It will be an (almost) 360-degree show that exposes her 50-year back catalogue from new angles. Faithfull is a quintessential survivor of the ups and downs of British fame, from being Mick Jagger's girlfriend and muse to going through drug abuse and homelessness – right up to being defamed by the police as harbouring a Mars bar during the famous Redlands bust of 1967.
Having entered public life as rock's sacrificial virgin, she has now, at 69, become its grande dame. She may be covering up the grey in her hair, but she's still proud of the croak in her throat.
What do you remember about your first Roundhouse appearance – as Ophelia in 'Hamlet' in 1968?
'It was wonderful. Anjelica Huston was my understudy. I'm afraid I threw myself a bit too much into that part. Just before the mad scene, I took smack. I didn't need it of course, but I thought I did. I could have done the mad scene just as well without it.'
That period seems to have been intense, even by the Rolling Stones' standards?
'It was a tough time, in some ways. In other ways… I was driven to the Roundhouse every night in Mick [Jagger]'s Bentley. One of the good things about having a jack of heroin before the mad scene was that I was facing the audience, and Judy Parfitt as the Queen was facing me, and she kept trying to corpse me. But because I was on smack, she just couldn't make me laugh.'
What are your reflections on London, having seen it all from Chelsea clubs to Soho slums?
'I'd been living in a very fake sort of world in the '60s. Suddenly, when I was living on the streets in St Anne's Court [Soho], I realised that human beings were really good. The Chinese restaurant let me wash my clothes there. The man who had the tea stall gave me cups of tea. The meth drinkers looked out for me. You couldn't do it now.'
'The fact that I co-wrote songs didn't come out until Keith [Richards]'s book. I could never have said that'
Marianne Faithfull photographed by David Redfern in 1965 (Redferns)
What will you tell your grandchildren when they ask what the '60s were like?
'When my son Nicholas asked me, years ago, I put the headphones on him and played "Purple Haze". I said "They were like that!" And he understood.'
Was being Mick Jagger's muse a rewarding role?
'It's a terrible job! Look at them all! Look at what happened to Elizabeth Siddal [muse of Pre-Raphaelite painter Millais who almost drowned posing for him]. It was a great honour, of course, I am aware of that, and I'm glad I did it. But rewarding? I wouldn't say so. The fact I co-wrote songs didn't come out until Keith [Richards]'s book. I could never have said that.'
It was reported a few years ago that your autobiography was being made into a movie. Is that still happening?
'I do not want a film made of my life. Never! It's a fool's game. People have tried, and it always ends up with me being offered, like, two grand. And they just make it up. My story isn't bad enough for them. Because I was not a prostitute, because I did not get raped, because I did not die. So, y'know, over my dead body.'
Is it true that, after the Redlands bust in 1967, Mars offered you an advertising deal?
'I was living in a cottage in Ireland. The phone rang and it was Mars. They offered me a lot of money but I hung up. I haven't forgiven the UK for Redlands. I have a big problem with forgiveness. The press, the establishment, presented me as some sort of bimbo in a fur rug. It was ridiculous. We came along at the perfect time, the hippies and the drugs. Because what was really going on was Rocks Lane [scene of alleged child abuse by establishment figures in the '70s and '80s] and buggering little boys and bringing them down from remand homes. We covered all that up for them. We were silly little hippies having a lovely time. We were nothing.'
Ageing male music icons are critically revered for sounding ravaged by life. Does the same apply for women?
'I'm glad you can hear the experience in my voice. I should think so, after 50 years. It's an old thing that women are meant to sound pretty and feminine. Bullshit! I always loved Janis Joplin and Billie Holiday. In them I hear the blues.'
Is beauty a blessing or a curse?
'Both. I'm glad I was very pretty, very glad. But it got me into a lot of trouble, didn't it?'
In pictures: The Rolling Stones
Check out pictures of The Stones' in the late-'60s as documented by 'court photographer' Michael Cooper.