Meet the biggest festival legends, ever
Five festival goers who have either been stupidly heroic or heroically stupid
Legend #1: The guy who proposed to his girlfriend using giant Scrabble letters
'I wasn't planning to propose to my girlfriend Anna at Bestival, but at four-ish on Sunday afternoon, when everyone was at the point of looking like they had been dragged through a hedge, I spotted a crew of entertainers called Lost And Found wandering around the festival with giant Scrabble pieces. Something clicked in my head and I turned to my friends and told them to watch me.
'I started trying to assemble a line-up of the right letters, at which point someone asked me what I was trying to do and if I had a ring. When I said no, someone quickly removed a bangle off their arm and folded it several times. There was quite a lot of fuss between the 20-odd people carrying Scrabble pieces, and a little buzz forming in that area. Lost And Found took over organizing their group of festivalgoers into order in a line in front of Anna. There was a pause… and then they slowly turned the pieces round to reveal "MARRY ME ANNA". Getting on one knee in glitter and a red rain poncho did the trick. She said yes!
'As I got up to hug her, the crowd went crazy. There were hugs and love everywhere, and congratulations from so many people that we really didn't speak to each other for the next hour. It was such a high to have shared such an incredible experience with so many people and so much love! It's now nearly three years since we got engaged. We got married and held a mini-festival with our friends, and last month Anna gave birth to our first child Rex. We plan to take him to Camp Bestival when he's old enough.'
Zac, 40
Legend #2: The woman who learned to swim so she could swim to Bestival
'I agreed to swim the 4.5 miles to Bestival on the Isle of Wight when I was really drunk. At that point, I couldn't even swim. I started getting coaching at Tooting Bec Lido and was terrified at even swimming the length of the pool. All my friends said: "Why are you even doing this? You like gin and tonics, not healthy things that mean you have to get up early in the morning." It took me about nine months to learn in the end.
'On the night before the swim, one mate said she'd help me carb-load, so she fed me loads of spaghetti bolognese… and also three bottles of red wine. Everyone else who was doing the swim was super-healthy and went to bed early the night before. I'd stayed up until 3am. They all did it in an hour, I think it took me three. (Although the kayakist who sailed with me said if I hadn't kept popping up for a chat when I got bored then I probably would have got there an hour sooner.)
'When I got out of the water I looked like the Michelin man in my wetsuit. I was very much ready for a drink so I had a glass of prosecco then went promptly to bed. The rest of the festival was great. I actually still swim now. I'm doing to a ten-mile swim in September.'
Lorraine, 27
Legend #3: The creepy seagull who joined in with a chalet party
'Once at ATP, a dog-sized seagull kept knocking on my chalet door all weekend – but always when nobody else was around. It was proper slapstick vibes: like, for example, my chalet-mate Joe got in the shower and it would knock then walk away before Joe got out. It was really annoying as everyone thought I was either lying or too high. After the fifth time, it started to spin me out and I could see the look in my friends' eyes, like, "bitch has finally cracked".
'On the last night we had a big chalet party. Things were getting wild, but then we heard a knock on the door. We turned the music off, assuming we were in trouble, but it was the fucking seagull! It had busted right into the room like a human, while all my friends were doing triple-takes. We couldn't make him leave so just went back to our Mariah Carey hits playlist and let it stay. It sat on the counter top and watched us like a real creep of a guy.'
Gemma, 31
Legend #4: The guy who cooked his lunch in Irn-Bru
'I was 22 and doing Reading Festival on a very limited budget. I decided to spend what money I had on beer and take my sister's camping stove to cook food in the campsite. I'd been very enthusiastic about it on the first night and made sausages. It was ace.
'By Sunday, after a heavy Saturday night, I wanted to hard boil a couple of eggs to take into the arena to snack on through the day. Suddenly the standpipe, which couldn't have been more than a 50-metre walk away, seemed like it was a massive trek.
'Then I realised I had a flat bottle of Irn Bru in my tent. I poured it in the pan and boiled the eggs in it. They tasted absolutely fine, but they cracked a bit, so they ended up with very slight orange veins running through them.'
Mikey, 35
Legend #5: The guy who convinced a drunk DJ to let him take over the decks
'It was the late '90s and I'd scaled the fence to get into Glastonbury. After a gruelling 24 hours surviving without a tent, my friends and I were in full-on party mode. We stumbled across a soundsystem that was still pumping out tunes in the wee small hours. The DJ was a bit "incapacitated". He looked a mess and was clanging it out.
'I'd been doing a bit of DJing in Manchester, so decided to convince him to let me use his records. From what I remember, he gave up far too easily. (I'd never let a stranger touch my records, let alone take over and DJ with them.) Three punishing Dillinja tracks later and I'd turned his fluffy vibe into a drum and bass nightmare.
'Without bigging myself up too much, it went pretty nuts when the bass kicked in. And I was surrounded by my rowdy Manc friends, so their response was infectious too. About four or five records in, you could see the dawn of realisation on the DJ's face. He looked like he was thinking: "what the fuck have I done?!". I still have a fond memory of playing to that tent of people.'
Mark, 37
All illustrations by Toby Triumph.
Discover the best music festivals this year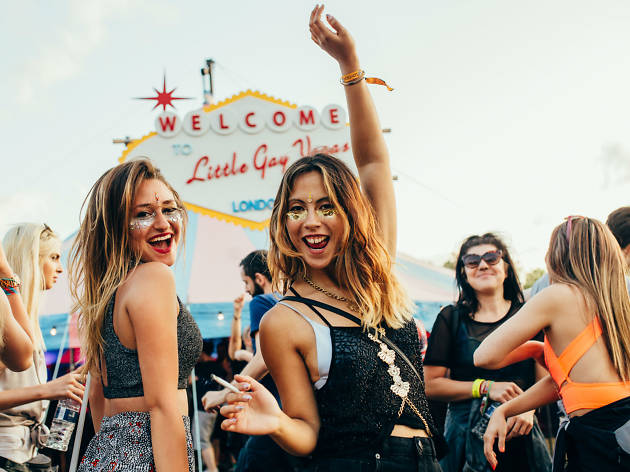 If you're looking for musical mayhem in a field, we've got you covered. Check out the best UK music festivals using our music festival calendar, or stay right here in the city with our big list of London music festivals.