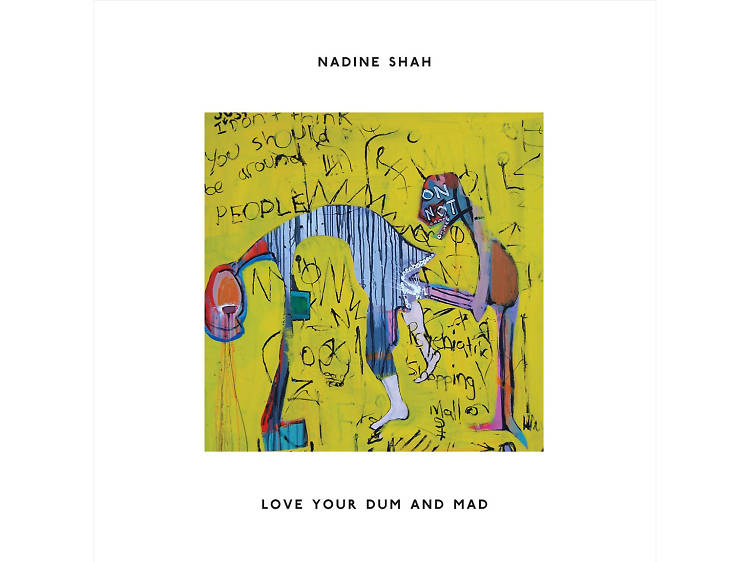 Nadine Shah – 'Love Your Dum and Mad'
Awesome thing about Nadine Shah's debut album number one: her vast, deeply northern and darkly beautiful voice, like velvet drape curtains thick with bar smoke or a broad sky heavy with rain. Its sheer power once flustered the local paper in Shah's northern coastal village of Whitburn into running with the ill-advised if appreciative headline: 'Little girl that sings like a black lass'.
In fact the singer, now 27 and well clear of the community halls, channels some of the intoxicating sadness of her Pakistani father's Urdu ghazals. But as she towers, glowers and quakes her way to sure-fire Mercury Prize-nominee status, she sounds like nothing so much as a Geordie PJ Harvey.
Awesome thing about Nadine Shah's debut album number two: producer and co-writer Ben Hillier, whose recent credits include Depeche Mode and The Horrors, and who brings an industrial edge that should forever deliver Shah from those early gigs at Dean Street's Pizza Express Jazz Club. He causes 'Love Your Dum and Mad' to commence, on 'Aching Bones', with the most demented clanging this side of Einstürzende Neubaten, and gradually bleed, across the flip side, into cavernous piano ballads.
Not that this sound is imposed. Shah cued it in herself by suggesting they record on an industrial estate in her father's carpet warehouse. Here she bashed away at her reverberating Grand with all the sturm and drang of a self-taught pianist who's drawn to minor chords because she 'likes the shape my hands make'.
Awesome thing number three: the unexpected stories Shah uses the resulting high-drama sound to narrate, from the abandoned housewife of 'Runaway', with her right to the family home and her redundant red silk dress, to the social stigma around mental health issues (on 'Floating', one of several tracks dedicated to the memory of her late friend and cover artist Matthew Stephens-Scott, from whose work she also borrows the album title). Closer 'Winter Reigns', meanwhile, is about finding physical warmth and social acceptance over a glass of port in her local pub, its tinkling piano melody snowed in, courtesy of Hillier, by an ominous approaching rumble.
Cosy and cataclysmic all at the same time, this is one of the most compelling expressions of Great British gothic since Morrissey made a date at the cemetery gates.
Buy 'Love Your Dum and Mad' on iTunes | Buy 'Love Your Dum and Mad' on Amazon