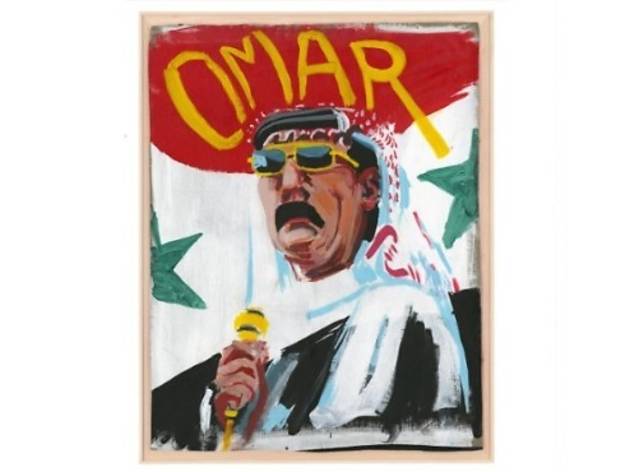 Omar Souleyman – 'Wenu Wenu' album review
20 years into his career, the Syrian singer releases his studio debut – and it's addictive stuff
Omar Souleyman – 'Wenu Wenu'
The dance album of 2013 – according to its admittedly slightly biased producer Kieran Hebden – isn't Jon Hopkins' 'Immunity' or Disclosure's 'Settle'. It's a collection of Middle Eastern folk pop by a 47-year-old Syrian who sings in Arabic and Kurdish and made his name on the local wedding circuit.

Omar Souleyman started performing back in 1994, electrifying and accelerating traditional Syrian dabke music (dabke being the arm-linking, leg-swinging line-dance that forms at celebrations from Lebanon to Iraq). Joined two years later by Korg synthesizer whiz and producer Rizan Sa'id, he became something of a musical legend locally, dominating the lines of tape stalls that blare out their wares like rival sound systems.

That was how Seattle-based global obscurities label Sublime Frequencies came across him, and via their rough-and-ready compilations his synth-and-saz (long-necked lute) sound found Western ears. Now he's big with the indie crowd, with a remix credit for Björk (who dubbed him 'Syrian techno' – needless to say, it stuck) and festival slots from Primevera to Pitchfork (when he can get the right visa). There's both a fervent heat and a remote cool to his live presence: a moustachioed gent in tunic, kaffiyeh, leather jacket and aviator shades, he has his lyrics (often romantic melodramas) whispered sternly into his ear mid-performance by a suited poet with the discreet gravity of a political aide.

If you count the bootleg cassettes recorded at weddings, Souleyman has some 500 records to his name, but 'Wenu Wenu', produced by Hebden (aka electronic adventurer Four Tet) is his first studio album. It's addictive stuff: a pumping, high-BPM, hard-edged, microtonal folk-rave that makes a virtue of incessance over variety, while picking out individual instruments with exciting clarity. Souleyman's rasping voice is framed and deepened by reverb. Sa'id (at the risk of sounding dangerously orientalist) is more snake charmer than keyboard player, drawing out endlessly twisting and wriggling synth lines that strike out from the melody with a life of their own.

Of course, what 'Wenu Wenu' doesn't have is the visual drama and intrigue of the live shows. Neither do we don't buy the line regularly tripped out by Souleyman himself that the general meaning of his songs transcends language barriers: you really do need more than your common humanity to perceive that 'Khattaba' is about a marriage proposal in which the bride's family demand a kilo's worth of gold earrings and a Mercedes taxi. Then there are the questions, not all of them petty, about packaging and perception: the debates about exoticism, authenticity and 'East-meets-West' fetishism; about whether Souleyman is kitsch, and the extent to which that might be calculated.

But 'Wenu Wenu' genuinely is a contender for the dance album of the year because, apart from anything else, it's massive fun to dance to. With an in-your-face urgency that's impossible to resist, its opening synth stabs deliver you straight into the middle of a party like a street taxi screeching up at a wedding. And this party's been going since 1994, so we're already running late.

Buy this album here

What are your thoughts? Let us know in the comments box below or tweet us at @TimeOutMusic.


Listen to 'Wenu Wenu' on Spotify