Outfit – 'Performance' album review
A solid synth-pop debut which shows why these Liverpudlians deserve the hype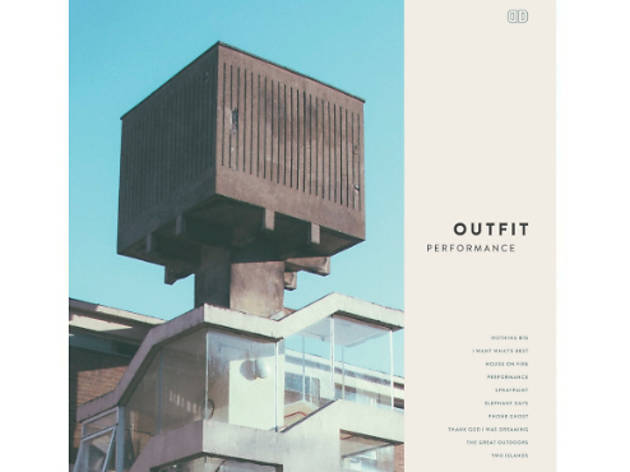 Outfit – 'Performance'
Look out, Hot Chip: a band from Liverpool are dangerously close to usurping your claim as the kings of UK synth-pop. Outfit burst out of the Liverpudlian music scene in 2011 and moved down to London, already trailing hype. Nearly two years later, they've made a smart, soulful and dancefloor-ready debut album which justifies most of the praise that's been heaped on them.

In fact, 'Performance' is easily good enough to vindicate a risky decision: the exclusion from its track list of any songs from last year's sublime 'Another Night's Dreams Reach Earth Again' EP. Nevertheless, if you've heard that release's lead track, 'Everything All The Time', you'll know roughly what to expect on 'Performance': top-quality electronic pop which, like all the best dance music, balances deep funk with deeper emotion. There's plenty here to keep a crowd moving, including 'I Want What's Best', 'House on Fire' and the itchy 'Thank God I Was Dreaming'.

Three quirky, groovy, four-to-the-floor bangers on one album is a good strike rate, but there's more to 'Performance' than that. Two songs provide a sparser, slower interval halfway through the album: 'Performance', with its offbeat percussion, eerie vocal harmonies and strangled synth lines wouldn't sound out of place on a mid-'80s Depeche Mode album, while 'Spraypaint' has a slow funk kick and a serene synth outro which recalls OMD or even China Crisis. 'The Great Outdoors' takes even more daring steps into the untrendy deep end of synth-pop: it's as big as you'd expect from the title, with the kind of big bassy synth hits and heart-stopping chord changes that Simple Minds used to excel at. The lyrical chicanes on 'Nothing Big' are a little bit Pet Shop Boys, and 'Elephant Days' has some trembling psychedelic guitar on it, as well as a motorik middle section which sounds like it'd be phenomenal live.

'Performance' has a lot going on, then, and it's executed marvellously. This is a carefully calibrated and impeccably informed blend of funky electro, straight dance music and more experimental moments – the roaring, whirring synths, for example, which hover over closing track 'Two Islands'. There's only the odd passage when Outfit get really, transcendentally brilliant, but they've made as solid an album of forward-thinking pop as you'll hear this year. If they can keep this up, then it's only a matter of time before they're one of the country's most important bands.

What are your thoughts? Let us know in the comments box below or tweet us at @TimeOutMusic.


Watch Outfit's 'I Want What's Best' video
Read more Time Out album reviews
Sponsored listing
The Garage
The Garage in Islington has been a mainstay of London's music scene since 1993, hosting bands such as Oasis, Red Hot Chilli Peppers, Radiohead and more. Following a recent change of ownership to the DHP Family (the guys behind Oslo in Hackney), the whole venue has been revamped with a view to maintaining its title as one of the city's landmark music venues. The Garage itself has a capacity of 600 and has been restored to its former glory with a state-of-the-art soundsystem and a fully refurbished bar area. There's some decent food offerings on site as well with the newly kitted out General Store and even a cheeky night club tucked upstairs, renamed Thousand Island, decked out with mirrorballs galore.