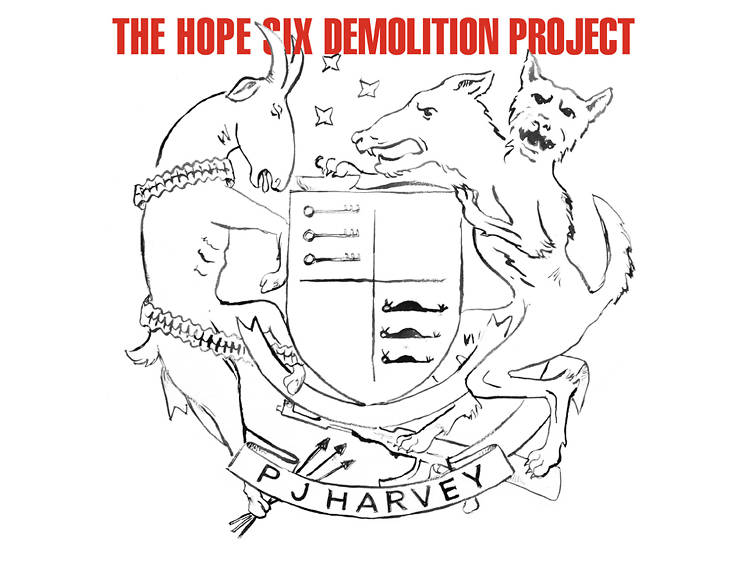 PJ Harvey – 'The Hope Six Demolition Project'
Last winter, PJ Harvey sealed herself behind one-way glass in a room beneath Somerset House, along with her band and producer Flood. Visitors to 'Recording in Progress', which was billed as an art installation rather than a music event, could see and hear the two-time Mercury-winner making her ninth album.
The result is 'The Hope Six Demolition Project', which deals with bearing witness in another sense, too. Over four years, Harvey and photojournalist Seamus Murphy spent time in Kosovo, Afghanistan and poor areas of Washington DC, notebook and camera in hand. What they saw furnished a volume of poetry and images, footage for music videos and a documentary, and finally these 11, frequently thrilling but more often deeply uneasy, songs.
As album genesis stories go, it's the opposite of Happy Mondays spunking the sessions for 'Yes Please!' in Barbados. Full points for earnestness. But the 'writer as camera' approach puts Harvey on dangerous ground. 2011's 'Let England Shake' charged through centuries of war in a characteristically full-blooded act of imagination. Here she observes the current aftermath of geopolitical fuck-ups in diligently literal detail. 'A white jawbone, syringes, razors, a plastic spoon, human hair, a kitchen knife, and the ghost of a girl who runs and hides,' she lists on 'The Ministry of Defence'. Harvey's voice is extraordinary, soaring like a surface-to-air missile. But it's telling that her muse sometimes feels a little too tethered to the album's concept and her collaborator's pictures.
This lays the album open to various accusations – is it souvenir-hunting for suffering, for example? But Harvey seems aware. Plaintive parting track 'Dollar Dollar' describes being 'trapped inside our car' as a boy begs her for money. 'Hope Six Demolition Project' often feels as if it's been written, as well as recorded, behind glass. Perhaps that was the point all along.

Now read more of our latest album reviews.