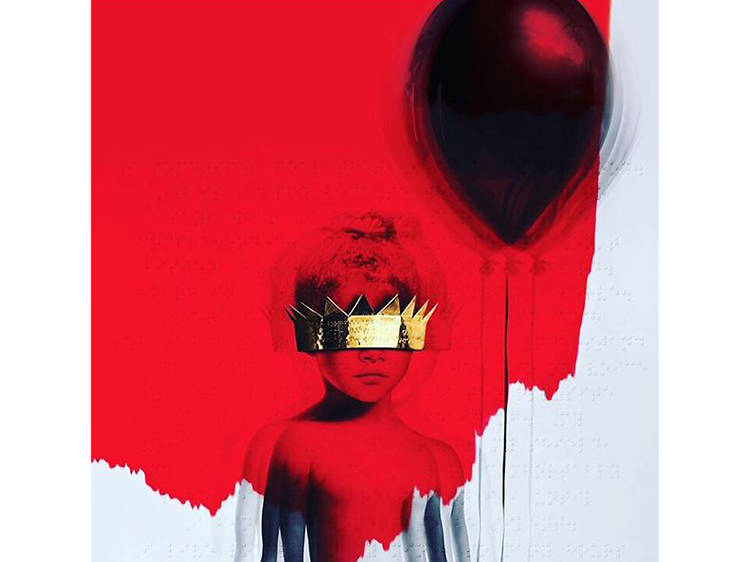 Rihanna – 'Anti'
When Rihanna sings 'I got to do things my own way, darling' on opening track 'Consideration', it feels like a statement of intent. 'Anti' arrives over three years since her last album – a lengthy wait from an artist who previously dispatched seven LPs in eight years – and without prior warning. After 'Anti' briefly appeared on streaming service Tidal by accident, it inevitably leaked yesterday, prompting Rihanna to think 'sod this' and give away the album for free.

Fortunately, the music itself is less messy. Rihanna has hinted at an alternative streak in the past, collaborating with nu-rave band Klaxons at the Brits in 2008 and sampling indie darlings The XX on 2011's 'Drunk on Love'. Here, she fully indulges it.

'Anti' features no crowd-pleasing dance-pop hits like 'We Found Love', preferring a murky blend of electronica, R&B and acoustic pop that clings rigidly to midtempo. RiRi comes off like a scowling FKA Twigs on 'Needed Me', covers Aussie psych band Tame Impala on 'Same Ol' Mistakes' and even channels Amy Winehouse on 'Love on the Brain' – a swooning doo-wop tune. 'It beats me black and blue but it fucks me so good,' she sings, somewhat questionably given her history with Chris Brown.

Yet 'Anti' never feels too derivative or craven to hipster credibility, partly because catchiest track 'Kiss It Better' features cheesy guitar riffs borrowed from '80s arena rock, but mainly because Rihanna has such swagger. 'Let me cover your shit in glitter, I can make it gold,' she sings on 'Consideration'. That's an exaggeration, obviously, but she certainly makes this banger-free album pretty gripping.

Now read more of our latest album reviews.