Robbie Williams – 'Swings Both Ways' album review
Dodgy Olly Murs cameo aside, Robbie's return to swing is surprisingly satisfying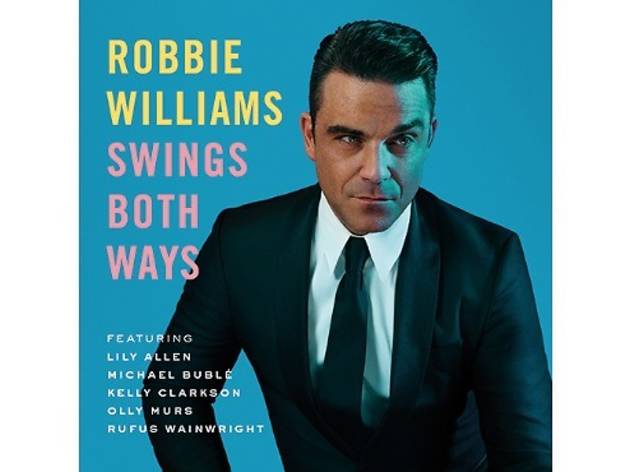 'Swings Both Ways' feels like the work of a man who cares. For added old-fashioned showbiz razzmatazz, Williams has drafted in some A-list guest stars: Kelly Clarkson, Lily Allen, Rufus Wainwright, Michael Bublé and, erm, Olly Murs all join him for duets. He's also reunited with Guy Chambers, the producer of all his most successful albums, whom he famously fell out with in the early noughties. And whereas 'Swing When You're Winning' was a covers album dusted with one new song, this time he's bothered to flex his songwriting muscles, coupling the swing covers with six Williams originals.
The new tunes range from the tongue-in-cheek fun of 'No-one Likes a Fat Pop Star' and 'Swings Both Ways', a pretty frisky hook-up with Wainwright, to the unexpectedly touching: 'Snowblind' is a regretful lament for a failed relationship and 'Go Gentle' is essentially an advice letter to Williams's one-year-old daughter, Theodora. 'Now when you go dancing with young men at the disco,' he sings drolly, 'Just keep it simple, you don't have to kiss though.'
The quality of the originals makes covers of old big band chestnuts like 'Minnie the Moocher' and 'Puttin' on the Ritz' feels less like throwaways, and though it'd be a stretch to say he owns these songs, Williams has enough charisma to at least make a decent down payment on them. There's only one misfire: Williams and Murs hamming it up on 'I Wanna Be Like You' from 'The Jungle Book' is as insufferable as it sounds – but at this time of year, we all embarrass ourselves occasionally. As festive trifles go, this one is satisfying and surprisingly moreish.
Buy this album here
What are your thoughts? Let us know in the comments box below or tweet us at @TimeOutMusic.
Sponsored listing
The Blues Kitchen Brixton
This Brixton branch - on Acre Lane - is one of three Blues Kitchens in London. The others are in Camden and Shoreditch. Each follows the same theme - food of a southern American bent served to a soundtrack of live music.  And while the music of the moniker does play more than a small part on the music programme, it's not all about the blues. Expect, too, swing, soul, bluegrass, Motown and themed nights - including a popular Halloween gig. There's usually something on every night of the week. The food menu takes in classic Deep South dishes, with New Orleans gumbo, catfish jambalaya, Texan brisket, St Louis pork rib and a creole bean burger and jerk chicken salads also feature. 
Venue says: "Quench your midweek thirst with our new two-for-one offer on cocktails every Wednesday!"