Savages – 'Silence Yourself' album review
Here's why the London post-punks' first album is the best British debut this year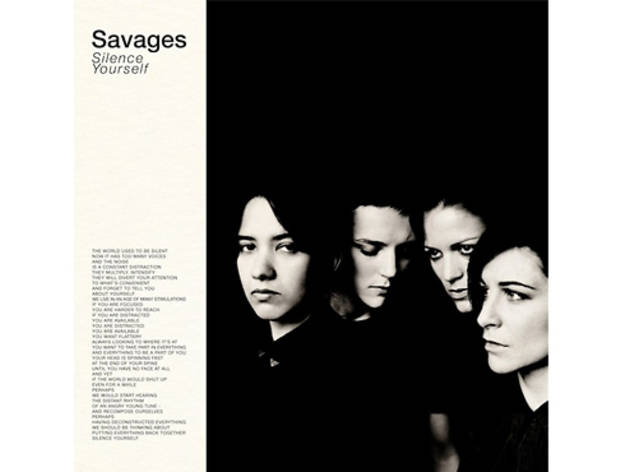 Savages – 'Silence Yourself'
'Perhaps, having deconstructed everything, we should be thinking about putting everything back together.' That's from the manifesto printed on the cover of Savages' debut album – a comment on making serious music in a culture steeped in irony. Because these four London women, who dress in black and ban audiences from taking pictures on their phones, are deadly serious.
They've been called humourless and derivative, but 'Silence Yourself' effortlessly answers both charges. It's a furious and stunning debut, which – despite the glorious languor and creepy ambience of 'Waiting for a Sign' and 'Dead Nature' – just doesn't let up. There's no need to win the listener over; who wants cheap tricks when the music's this good?
As for 'derivative': the scratchy guitars and thick, stalking basslines do recall classic post-punk and no wave groups, and singer Jehnny Beth gets 'Siouxsie Sioux' and even 'Ian Curtis' a lot. But if every band treated their influences this well, 'derivative' would lose its sting. 'Silence Yourself' doesn't feel overshadowed by Savages' record collections. The sounds may be old, but they've been reassembled into a record that's deep and primal enough to sound shockingly new.
Watch Savages' 'Shut Up' video
Sponsored listing
The Garage
The Garage in Islington has been a mainstay of London's music scene since 1993, hosting bands like Oasis, Red Hot Chilli Peppers, Radiohead and more. Following a recent change of ownership to the DHP Family (the guys behind Oslo Hackney), the whole venue has been revamped with a view to maintaining its title as one of the city's landmark music venues. The Garage itself has a capacity of 600, it's been restored to its former glory with an all singing all dancing sound system and a fully refurbished bar area. There's some decent food offerings on site as well with the newly kitted out General Store and even a cheeky night club tucked upstairs, Thousand Island, decked out with mirror balls.