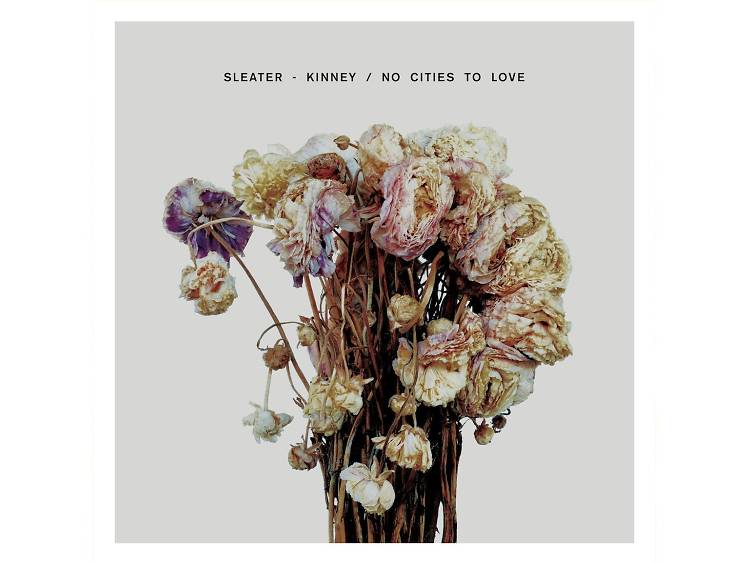 Sleater-Kinney – 'No Cities to Love'
After their classic rock-influenced last album 'The Woods', it was hard to imagine where Sleater-Kinney could possibly go next – and clearly the band themselves didn't know either. The greatest American guitar band of the post-grunge era disbanded in 2006, leaving behind a legacy of impeccably ferocious rock 'n' roll.
There are obvious questions about whether a band who recorded almost their entire original body of work while in their twenties can still cut it in their forties, but this reunion album suggests that age hasn't withered Sleater-Kinney one jot. The terse, melodious racket of 'No Cities To Love' is instantly reminiscent of the band's classic LPs 'One Beat' and 'All Hands on the Bad One'.
The trio's minimal, super-influential musical formula (two very loud guitars, one very heavy drum kit) is not the sort of thing that dates. But key to this comeback is that the vocals are essentially unchanged: Corin Tucker's cold fury and Carrie Brownstein's eccentric hiccups roar and rage and slip and slide with the force of old.
If anything has changed, it's the source of the band's anger. Most of 'No Cities…' seems concerned with the band itself, its success and its end: 'It seems to me the only thing that comes from fame is mediocrity,' keens Tucker. Only the grungy opener 'Price Tag' directs its anger out at the world, railing against consumerism with the sort of biblical force that'd sent Nick Cave scampering for cover.
The fact that the title track here is the catchiest thing the band have ever written – and that they'll soon be playing it to a sold-out Roundhouse – perfectly sums up the quandary one suspects caused Sleater-Kinney to disband in the first place. But though fretting about fame has destroyed lesser bands for good, Sleater-Kinney have come back golden. Success hasn't killed them after all – it's made them stronger.
What do you think of 'No Cities to Love'? Leave your review in the comments box below or tweet us at @TimeOutMusic.


Buy this album on Amazon
| Buy this album on iTunes