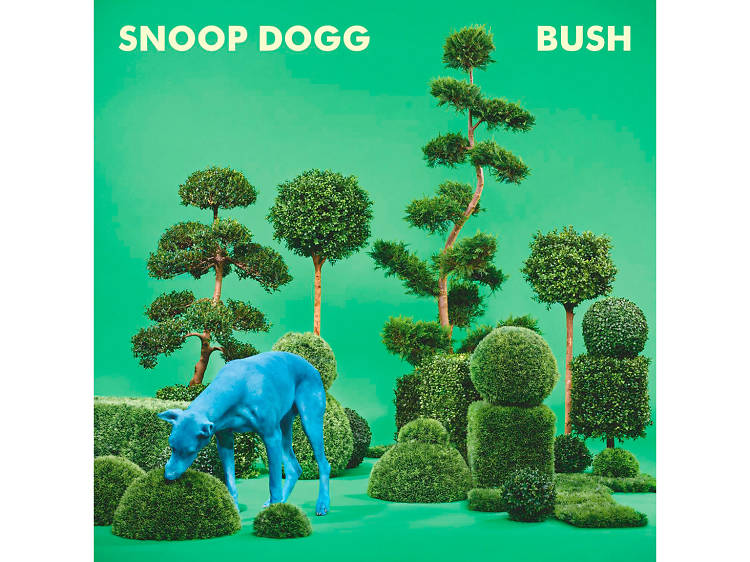 Snoop Dogg – 'Bush'
Snoop Mansions, circa 2013. The Doggfather is sitting on his breakfast throne, drinking a morning latte from a bejewelled pimp goblet, reading the overnight sales figures for his online retail store, The Snoopermarket. Just then, the smooth grooves of Daft Punk's 'Get Lucky' reach his ears for the first time. He drops his breakfast bong and gets the song's co-writer Pharrell Williams on the phone. He proposes a new album, set entirely to music that sounds a bit like 'Get Lucky', but with Snoop on it. And so it comes to pass. 'Bush' is a slightly tawdry affair.
Snoop's thirteenth LP kicks off encouragingly with the sunny sway of 'California Roll', while the faux radio announcer of 'This City' recalls the glory of his seminal debut, 'Doggystyle'. But very quickly, the endless stream of wedding disco mulch will put you in the mind of someone held hostage at an awkward over-forties pool party. 'Drop It Like It's Hot', this is not.
If the grooves are stale, the lyrics are at times just rotten. True, Snoop has always caricatured himself as a happy-go-lucky, smoke-'em-up pimp – so sexual equality was never going to be his (G) thang. But times have changed, drastically. To hear the father of a 16-year-old girl sing 'Damn, her ass so big' or 'Are you a freak or what/I'm just a squirrel trying to get a nut' sounds not merely wrong, but a little sad too.
The most misjudged moment comes on a guest spot by rapper TI, who last worked with Pharrell on the unofficial 'Anchorman' sequel that was 'Blurred Lines'. You'd think they'd learned their lesson, but TI's lines on 'Edible' range from pre-pubescent fantasy ('Eight more bitches in the lobby… fit 'em all in my Ferrari') to more, er, questionable territory ('She took off her underwear, ain't no hair under there'). It all makes for an aimless album that fills a gap nobody thought needed filling: the one between Magic FM and a teenage boy's wet dream.