The best UK festivals
We've cherry-picked this year's best UK music festivals – find your favourite and get out there this summer
Don't believe the naysayers: it's boom time for UK festivals. Every summer brings a new crop of innovative summer music festivals to join the long-established big beasts of festival season. So no matter what you're looking for – rock 'n' roll headliners, folk festivals, boutique festival frolics, house and techno bangers – there's something for you happening in a field this summer. Here's our round-up of the very biggest and best UK music festivals taking place in 2018. See you down the front!
RECOMMENDED: More incredible music festivals
The UK's best festivals in 2018
Kendal Calling
A music-focused festival nestled in the Lake District

Kendal Calling has quickly grown from humble beginnings into a destination fest for big pop, rock and indie outfits. Music is the mainstay, but if you're after some boutique touches there are plenty of those too, such as workshops, craft booze and film screenings.
Line-up TBA.
Lowther Deer Park, Lake District. July 26-29.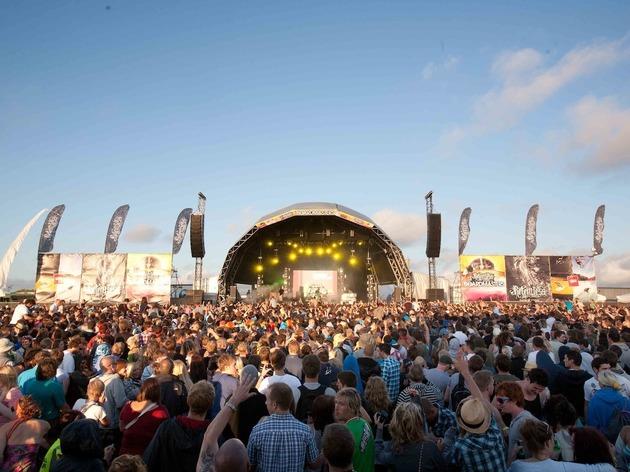 NASS Festival
Billed as 'the UK's only action sports and music festival', NASS features seven stages of (largely beat-based) music and all kinds of gnarly stuff alongside, including skate and BMX competitions and live street art.
Line-up includes: Dizzee Rascal, Run DMC, Sigma, Friction, Flava D, Holy Goof.
Royal Bath and West Showground, Shepton Mallet. July 5-8. From £109 weekend ticket, £39 day ticket.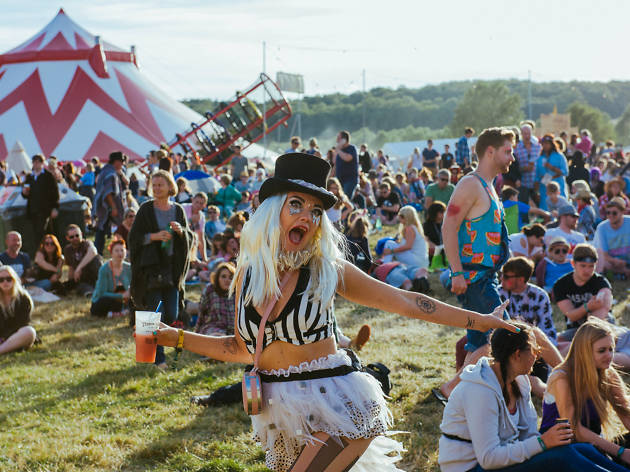 Standon Calling
Continuing the trend for festivals that started in someone's back garden and then got huge, Standon Calling returns for its thirteenth year of boutique fun. The first headliner, for the Sunday night, was announced as Bryan Ferry, which is quite a coup, with other acts still tba. As well as solid, genre-straddling line-ups, there'll be all kinds of kooky fun to engage in too. Last year's event featured a heated swimming pool, celebrated dog show, an after-hours club in a cowshed and a comedy programme.
Line-up includes: Bryan Ferry + more tba.
Standon Lordship, Hertfordshire. July 26-29. From £139 (weekend ticket).
Bluedot
How does patying in a deep space observatory sound? Not too shabby, right? So do yourself a favour and check this mind-opening festival that combines music, science and tech, all with the vast Lovell Telescope in the background. Held at Jodrell Bank in Cheshire, Bluedot offers punters a chance to get intergalactic, alongside alternative bands, live science experiments, talks and 'cosmic culture' events. Truly far out. Last year's line-up featured Leftfield, Orbital, Pixies, Alt-J, Soulwax and Warpaint.
Line-up TBA.
Jodrell Bank, Cheshire. July 20-22. From £159 (weekend camping ticket).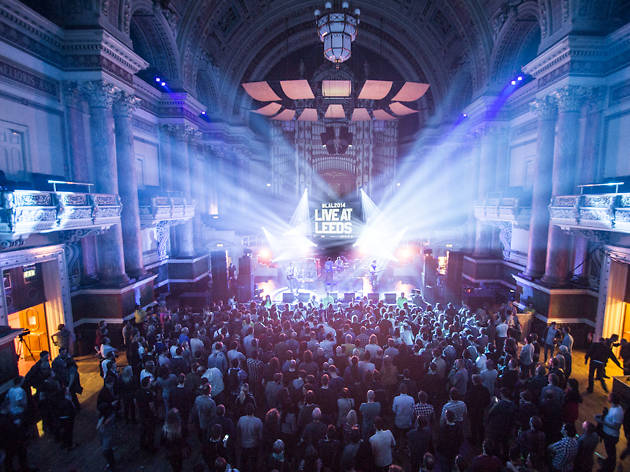 Live at Leeds
This alt rock and indie-driven festival has become something of a fixture in the Leeds calendar over the past few years thanks to rosters teeming with buzzy up-and-comers, plus a few big names. It's a multi-venue affair, taking place at various spots around the city, and is a bit of a bargain price-wise.
Line-up includes: The Horrors, Peace, British Sea Power, Circa Waves, Lewis Capaldi, Pale Waves, Sam Fender, Spring King.
Various venues across Leeds. May 5. £36.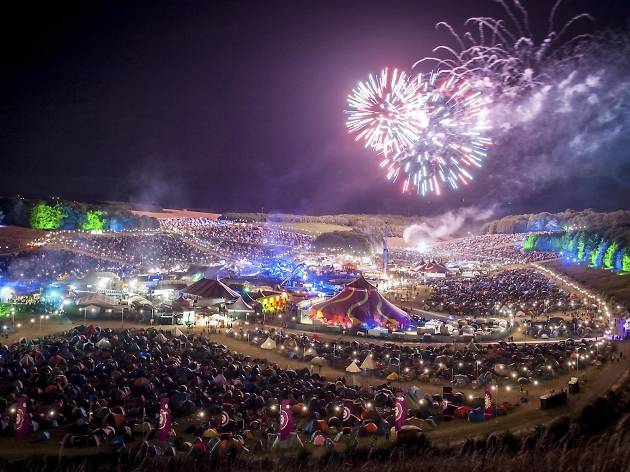 Boomtown
The temporary town pops back up for another carnival weekend

This annual shindig is a pop-­up cathedral short of being a full­-blown city. Every year the Matterley Bowl estate becomes a magical town full of hypnotic basslines and mind­bending installations. Music ranges from the underground to outer space – with a few big-name (but still very much alternative) acts and DJs – plus the roster of activities (which has matured in recent years), including banqueting, craft and healing areas as well as Boomtown's traditional mutated 'art vehicles'. After dark, the hordes of party-heads come out to soak up enough beats, dub, ska and reggae to see them through until daybreak.
Line­-up TBA
Matterley Estate, Hampshire. August 9-12. From £216 (weekend).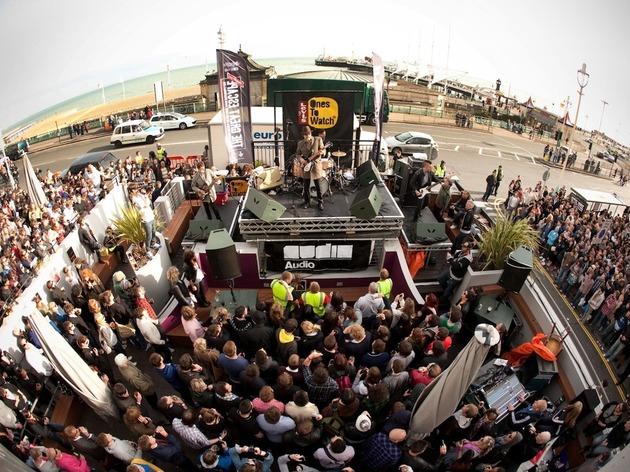 The Great Escape
Upcoming darlings overrun Brighton

Often hailed as 'the UK's SXSW' (with half the sunshine), The Great Escape is a yearly pilgrimage for new music obsessives. Almost every pub, bar or venue with a bit of clear space is co­opted by the festival for artists from all over the globe. Primarily an event for the music industry to 'network' (read: drink together), it's also a great excuse to catch bucketloads of upcoming bands and DJs. The headliners (or 'Spotlight Shows') are ticketed separately: wristband holders for the wider festival can top up their passes to get in.
Line-­up includes: MoStack, Mist, The Orielles, Girlhood, Hunter and the Bear, Pale Waves, The Ninth Wave, Stella Donnelly.
Various venues, Brighton. May 17-19. £65 (3-day ticket).

Escapist hedonism for grown­-ups – kids also welcome

It would be easy to write off Wilderness as a posh playground, but the reality is much more magical. The thoughtfully programmed roster of acts from around the world has grown in calibre and breadth year on year, with Björk headlining in 2015. But it's the awe-­inspiring performance art, debates, and mouth­watering feasts that have firmly positioned Wilderness as a carnival for the senses, and much more than just a music festival. Just be aware that few of the luxurious activities are included in the base ticket price, and add­-ons can quickly add up.
Line-­up TBA
Cornbury Park, Oxfordshire. August 2-5. From £168.50 (weekend).
Read more
Farr Festival
So Farr, so good for this rapidly rising, beat-juggling boutique festival. The event is held in a deserted forest on the outskirts of London and showcases some of the finest DJ talent around. Thus, punters will basically be able to run around and rave in the woods, probably climbing a few trees and making friends with enchanted woodland creatures along the way. There are already some top-grade DJs and electronic acts announced, including Daphni, Mount Kimbie, Moodymann and Lena Willikens, at an event that's still intimate enough to retain a friendly and fun atmosphere.
Line-up includes: Mount Kimbie, Tom Misch, Daphni, Maribou State, Dixon, Moodymann, George Fitzgerald, Jay Shaka, Benji B, Lena Willikens.
Bygrave Woods, Hertfordshire. July 5-8. From £100 (earlybird weekend ticket)
Nozstock: The Hidden Valley
This intimate festival has a big emphasis on a hippy-ish feelgood atmosphere and rollicking good country fun vibes bouncing around everywhere. The programme is choc-full of arts, workshops, theatre and cinema, and as far as music goes, it's a gently eclectic mix with something for pretty much everyone, from dub to indie to folk – last year's roster included Seasick Steve, The Sugarhill Gang and Happy Mondays.
Line-up TBA.
Rowden Paddocks, Herefordshire. July 20-22. Tickets from £115 (weekend).
Show more
Find a music festival in London
You lucky Londoner: you don't need a tent or even a pair of wellies to get the full festival experience this summer. You've got some of the world's biggest acts and a whole world of fun a tube ride away, thanks to these incredible festivals in London.
Read more