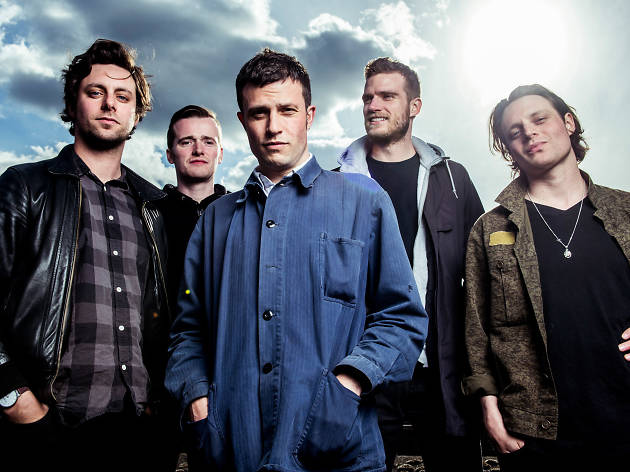 The Maccabees on their new album 'Marks to Prove It', cheap DVDs and Elephant & Castle
Indie rockers The Maccabees tell us how eavesdropping on conversations around London helped inspire album number four, 'Marks to Prove It'
We're meeting The Maccabees for breakfast in a Notting Hill joint frequented by A-list movie stars and BBC execs. We know this because Kate Hudson is sat two tables down and Alan Yentob is on the other side in what may or may not be his pyjamas.
Not that Kate 'n' Botney faze The Maccabees. Since these south London lads dropped their debut single 'X-Ray' in 2005, they've risen from scrappy upstarts into chart-smashing alt rockers. In indie terms, they're the real celebs here.
In fact they're so in-demand that we've only managed to pin three out of five Maccabees down. Frontman Orlando Weeks and guitarist brothers Hugo and Felix White are here, sipping two mint teas and a latte. Sam Doyle and Rupert Jarvis, the band's rhythm section, are at their label's HQ signing 2,000 record sleeves to promote the band's new album 'Marks to Prove It'. Its crisp riffs, ricocheting beats and sultry horns were partly inspired by the area around the band's studio in Elephant & Castle.
'It's meant to sound like night-time,' Orlando explains as he plays with the soggy mint leaves in his teacup – and it does, echoing the hubbub of the city after hours. A picture of the Faraday Memorial (the big silver box on the Elephant roundabout) appears on the cover and the lyrics were inspired (#wordonthestreet-style) by conversations overheard around the capital. Naturally, we're intrigued.
Elephant & Castle was a big influence on the new record. How do you feel about the way your area is changing?
Orlando: 'It's difficult to say. It's obviously going through massive change: all of London is. But the thing with Walworth Road is that it's five years behind other areas, so its changes are more noticeable. There have been good and bad things.'
What sort of things?
Orlando: 'I miss Newington Library, which has been out of action for the last two years because of a fire. I used to get secondhand DVDs there for £1 when I lived on East Street market. I'd get three every day and watch them while I was working.'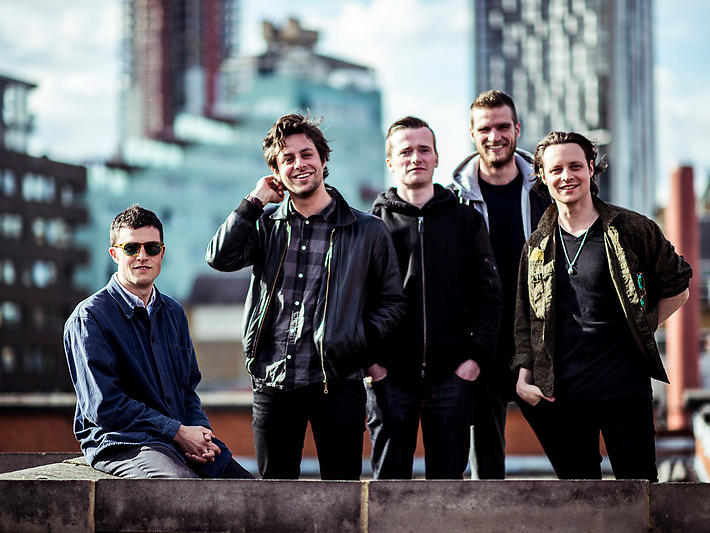 The Maccabees © Jordan Curtis Hughes
You found it quite hard to finish this particular album, didn't you?
Hugo: 'It was more difficult to get going on it than to finish it. We came straight off tour after [the band's 2012 album] "Given to the Wild" and decided to do this record, but we didn't have any settled ideas. So we had to keep writing until ideas started forming and that took time.'
Orlando: 'There's a song on the record called "Spit It Out" that broke the deadlock. It saved us from self-doubt and exhaustion because it was the first song that didn't sound like we were trying too hard. I went away that weekend with a shitty demo of it and listened to it while I was walking to meet Felix for football, and it felt good. It felt like we might be able to finish this fucking record.'
'I'd overhear things at the cash machine and try to imagine the rest of the story'
Sounds stressful. How do you get rid of all that creative anxiety?
Orlando: 'I find walking helpful. In fact I'm going walking in Transylvania in a couple of weeks to see these painted monasteries that are dotted around the hills.'
Hugo: 'What do I do?'
Orlando: 'Watch George Harrison documentaries? Consider the pros and cons of vegetarian living?'
Felix: 'I'll tell you what: the least stressed I ever feel is when we play live. Life and the day-to-day stuff just gets in the way.'
But surely life inspires your music?
Orlando: 'Actually, I tried to write the record in the third person so I could have a detachment from it. I'd latch on to things I'd overhear at the cash machine and try to imagine the rest of the story. So the songs aren't about me – I just romanticised them and filled in the blanks.'
You've been a band for ten years. Did you ever think The Maccabees would be doing interviews in swanky restaurants in 2015?
Hugo: 'Yeah. I would have said yes.'
Orlando: 'I would have said no. It's amazing you had that foresight.'
The Maccabees release 'Marks to Prove It' on July 31.