The nu-rave generation: where are they now?
From Klaxons to Agyness Deyn, many famous people rode the neon wave of nu-rave ten years ago. Here's what happened to them all
June 2016 marks ten years since Klaxons released 'Atlantis to Interzone'. The track was the national anthem of nu-rave, the short-lived party scene that started as a London in-joke and became an actual youth culture everywhere else in the UK. Now that our years of neon facepaint and wearing as many bright American Apparel items as possible are behind us, we thought we'd look up 13 of the heroes, artists and scenesters linked to nu-rave to see what they're up to today.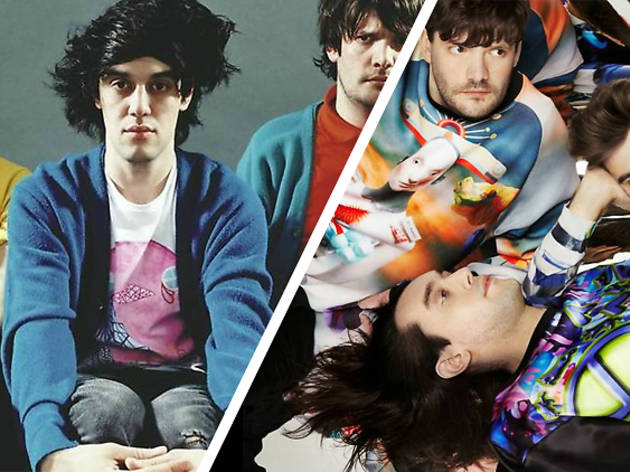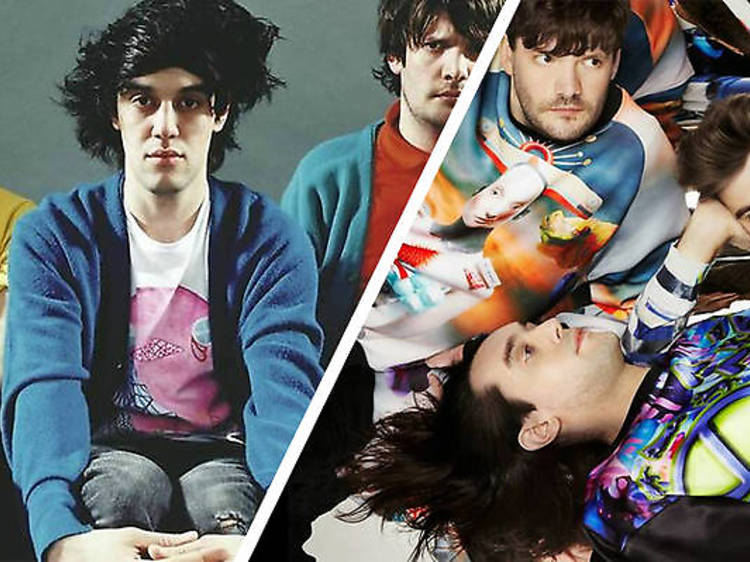 Then: Leaders of the scene, Klaxons were nu-rave headliners who drew crowds of glowstick-wielding fans despite lead singer Jamie Reynolds admitting the whole thing 'started as an in-joke'. They won a Mercury Prize, Brit Awards and an Ivor Novello.
Now: The Klaxons went on to release three albums, the last being 'Love Frequency' in 2014. Jamie Reynolds was reportedly dating TV chef Gizzi Erskine for a while and keyboardist James Righton is married to Keira Knightley. Righton reportedly only earned £5,000 in 2014 after the Klaxons split, but is now releasing ambient electronic tracks under the name Shock Machine.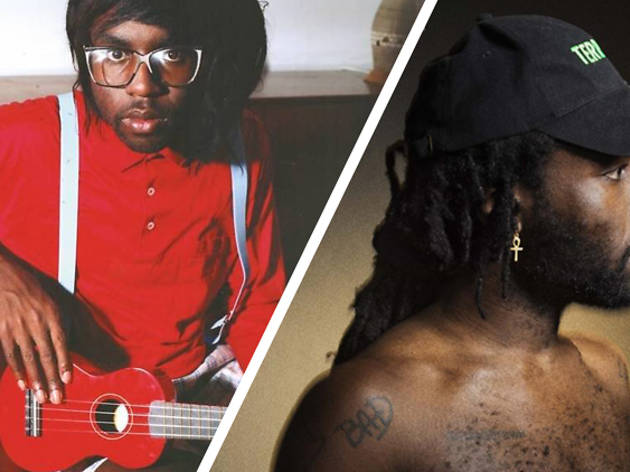 Then: He was a guitarist in squawky, shouty ironic band Test Icicles, a trio of lads with a penchant for backcombed hair, slashed tops and tight skinny jeans. They existed for just one year before breaking up, with Hynes telling NME: 'We were never, ever that keen on the music. I understand that people liked it, but we personally, er, didn't.'
Now: After the Test Icicles break-up Hynes spent a brief spell performing indie folk under the stage name Lightspeed Champion, but now he's better known as pop producer and uber-hip singer Blood Orange, who's collaborated with Solange and Sky Ferreira. He sadly lost his New York flat and his pet dog in a fire in 2013.
After: Michael Lavine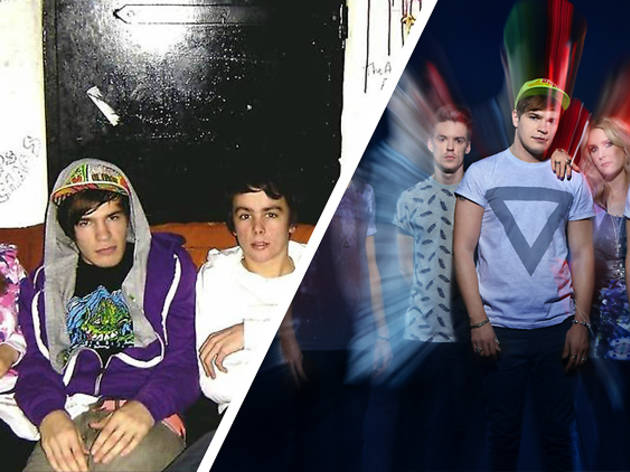 Then: They were a London MySpace band named after a 'Street Fighter' special attack. Best known for indie-meets-rave track 'That Boy That Girl', the band had some genuinely quite great lyrics ('That girl is an indie Cindy/ Lego haircut and polka-dot dress') and usually dressed like emo kids, but neon. Their music hasn't aged well.
Now: In 2014 the band announced they were taking a break on Facebook. Three former members are performing alongside former members of comedy band The Midnight Beast in new group Cast Of Lions. Frontman James Smith is now a social media manager. The official Hadouken YouTube channel has been transformed into an account called 'People Are Awesome' featuring videos of people doing extreme sport challenges.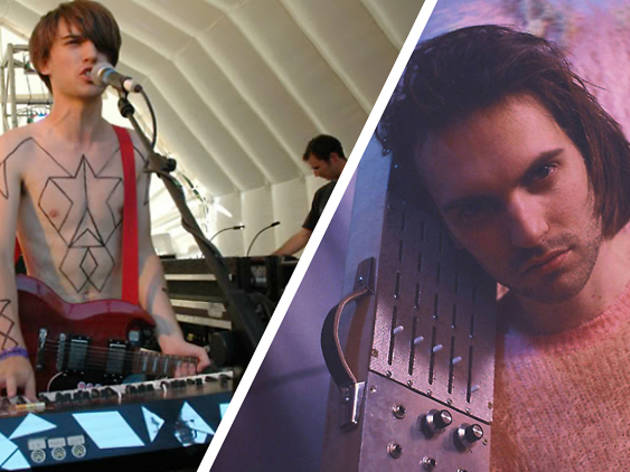 Then: He was known as Sam 'Dust' Eastgate, the jerky frontman of one-album-wonders Late Of The Pier. The foursome fell at the indie-er end of the nu-rave scene, making what was described at the time as 'music to have asthma to'.
Now: Back in 2007, Sam released his first music solo music on Erol Alkan's Phantasy label under the new name La Priest. Then in 2015 he released a record of falsetto-laced synthy psychedelica under the same guise. He now lives in rural Wales and describes himself as a 'Earth Shaman'.
Before: Danielle Goldstein/After: Isaac Eastgate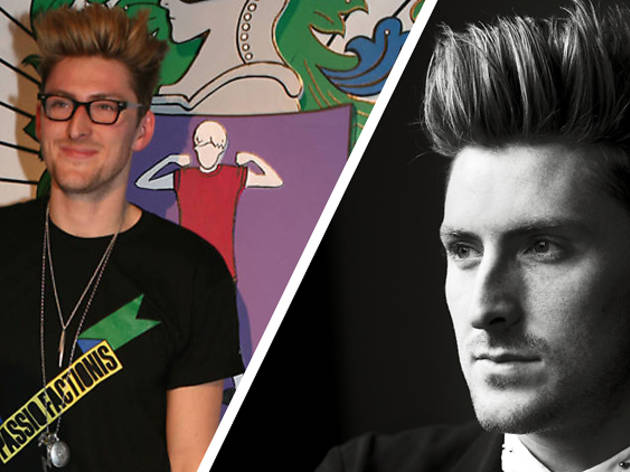 Then: He was the much-hyped, super-quiffed designer known for making '80s-inspired T-shirts with messages like 'Do me daily Christopher Bailey' written on them.
Now: He's a legit designer, drawing some of the biggest celebrity crowds at London Fashion Week with his House of Holland shows. He also has his own family-friendly Designers at Debenhams collection alongside Rocha Jon Rocha. It's not all been plain sailing though: in 2011, Range Rover got in trouble for loaning him and 39 other 'influential trendsetters' a car in exchange for tweeting about it without mentioning they were getting paid.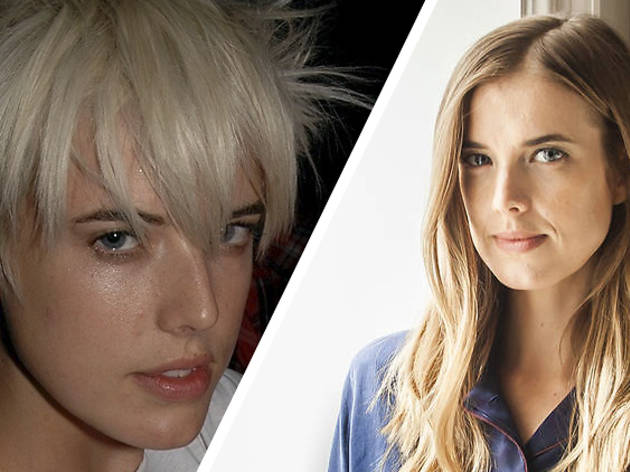 Then: She was the model of the moment, hailed as the next Kate Moss and famous for her platinum pixie crop and party vibez. Her best bud Henry Holland also name-checked her in his series of slogan T-shirts: 'Flick your bean for Agyness Deyn'.
Now: She's a serious actress who played the lead in gritty Brit drama 'Electricity' (in fact, our review described her as 'outclassing pretty much everyone on screen'). In 2012, she married a born-and-raised Scientologist, the former 'Friends' star (and Beck's brother-in law) Giovanni Ribisi. They broke up in 2015. Oh – and her hair is now long and brown.
Before: Nate 'Igor' Smith/After: Rob Greig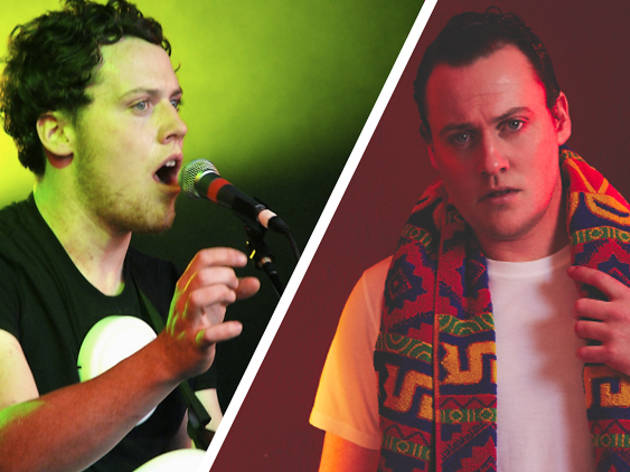 Then: They were three lads performing electronic music created on front man Joseph Mount's computer, often with glowing bulbs attached to their clothes and cool dance routines. They rose to fame in the nu-rave scene after Erol Alkan got in touch with Joseph on MySpace to book them for his night Trash.
Now: They're bona fide indie headliners whose last album 'Love Letters' had a beachy, retro, totally un-nu-rave sound. They've released four albums, lost a member and gained two (Anna Prior and Olugbenga Adelekan) and are just about to revisit the mid-noughties with an album of previously canned recordings called 'Summer '08'.
Before: G Fletcher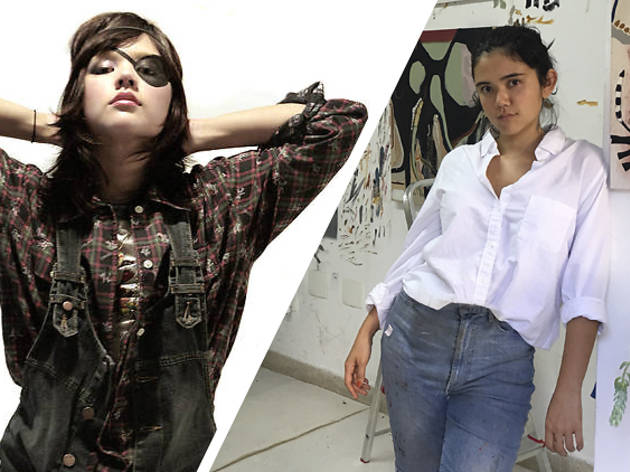 Then: She was the lead singer of Brazilian band CSS, best known for constant stage-diving and singing 'Let's Make Love and Listen to Death From Above' (still great, by the way). She made number three on NME's 'Cool List' in 2007, beaten by her then boyfriend: Simon Taylor-Davis from the Klaxons, whom she apparently met after he send her a 'flirty MySpace message'.
Now: Under her real name Luísa Hanae Matsushita, she's an artist who lives in Hudson, New York. She recently collaborated on a ceramics exhibition in San Francisco featuring lots of jaguars. CSS are also still going strong and in fact wrote the theme song for Ellen Page's new internet TV show 'Gaycation'.
After: Duda Porto de Souza
Then: This hyped Telford band were at the laddier, more-guitar-heavy end of the nu-rave spectrum. They were named after a Chemical Brothers song and famous for single 'Raise the Alarm'.
Now: The band released three albums, the latest in 2014. They announced they were breaking up on May 26, 2016 but are releasing 'one final album' and heading on a UK farewell tour in October.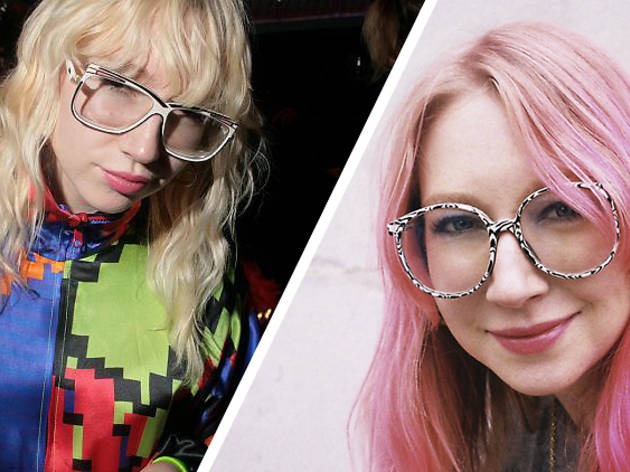 Then: Carri Munden was the designer of choice for nu-rave scenesters, creating neon bright T-shirts and sweatshirts inspired by '90s video games. She designed for Klaxons and once sent a model dressed as Sonic the Hedgehog down the runway.
Now: An appearance in a fashion themed episode of 'The Apprentice' in 2010 probably wasn't her career high, since her clothes have been worn by Rihanna and MIA. She's also a stylist who's worked with MNEK, FKA Twigs and Skepta.
Before: Icanteachyouhowtodoit/After: Micheal Mayren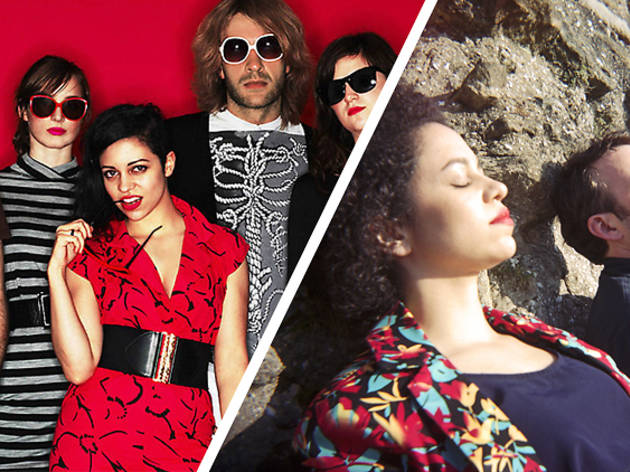 Then: When electro-pop act New Young Pony Club rereleased 1,000 copies of their first single 'Ice Cream' in 2006, it sold out in just three days. The five-piece went on to tour with Katy Perry.
Now: Tahita Bulmer, Andy Spence and Sarah Jones are still performing together under the acronym NYPC. Former keyboardist Lou Hayter is music supervisor for fashion shows like Topshop Unique. Former bassist Igor Volk launched a solo career in 2012 with synthy electro track 'Voice'.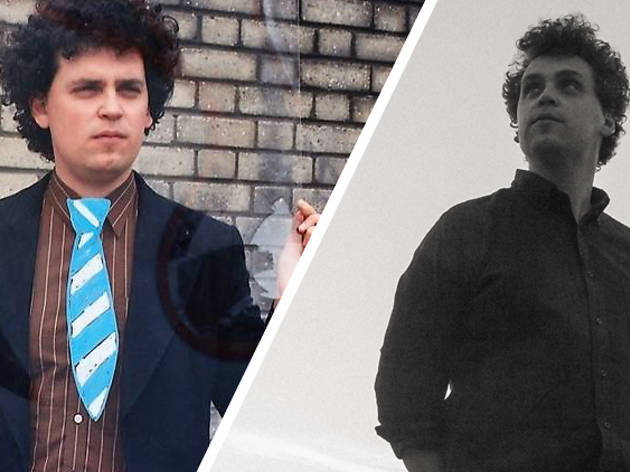 Then: He was one half of DJ duo Simian Mobile Disco, the 'Hollyoaks After Dark' to Klaxons' 'Hollyoaks'. The pair (who were a splinter group of Simian, of 'We Are Your Friends' fame) were the brains behind the 'Magick' remix that got played literally all the time. Ford also produced Test Icicles' only album.
Now: As well as still performing with Simian Mobile Disco, James has produced albums from pop heavyweights Jessie Ware, Mumford & Sons, Florence + The Machine and Haim. He's produced two Artic Monkeys albums and is also in The Last Shadow Puppets with Alex Turner. 'We Are Your Friends', meanwhile, became the name of an EDM-themed blockbuster starring Zac Efron.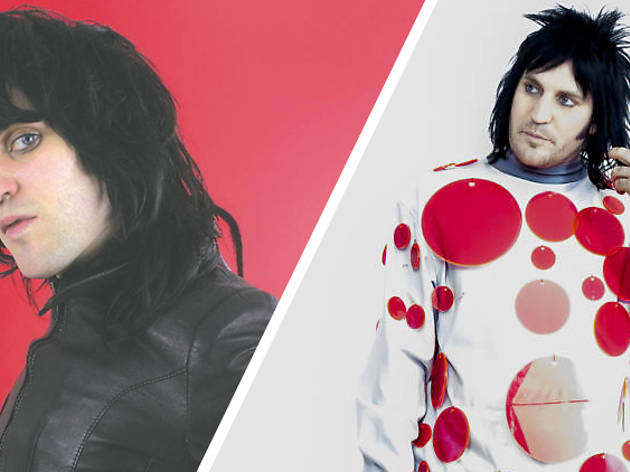 Then: With his shaggy black mullet and penchant for sparkly capes, he became the pin-up star of surreal TV show 'The Mighty Boosh'. A regular guest DJ on Shoreditch line-ups, he once sported a pine-scented car air freshener as a necklace.
Now: After the Boosh ended in 2007, he spent six years as team captain on your dad's favourite TV show 'Never Mind the Buzzcocks'. He also got his own series 'Noel Fielding's Luxury Comedy', which was predictably surreal. He's now writing with 'Boosh' co-star Julian Barratt again and he bagged a spot on last year's GQ list of the nation's 50 most stylish men last year.
After: Rob Greig
Listen to the best of nu-rave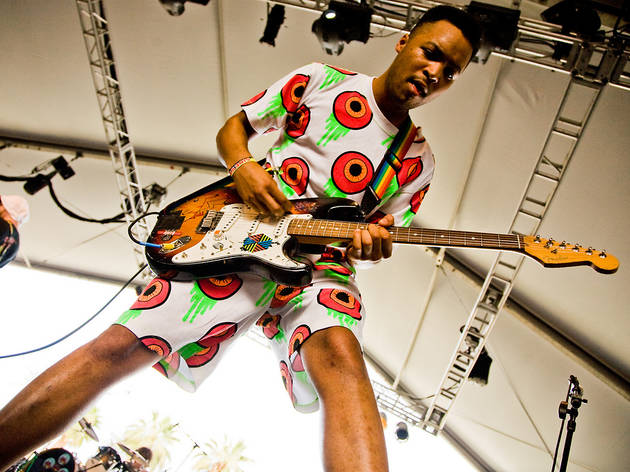 © Mick O
It's not fashionable to say it, but some nu-rave tracks were genuinely brilliant. Here are ten proper classics from the neon era.
Support Time Out
We see you're using an ad-blocker. Ad revenue is Time Out's main source of income. The content you're reading is made by independent, expert local journalists.
Support Time Out directly today and help us champion the people and places which make the city tick. Cheers!
Donate now