The Pains Of Being Pure At Heart – 'Days of Abandon' album review
A super-sweet indie-pop feast that'll go down a treat with fans of the genre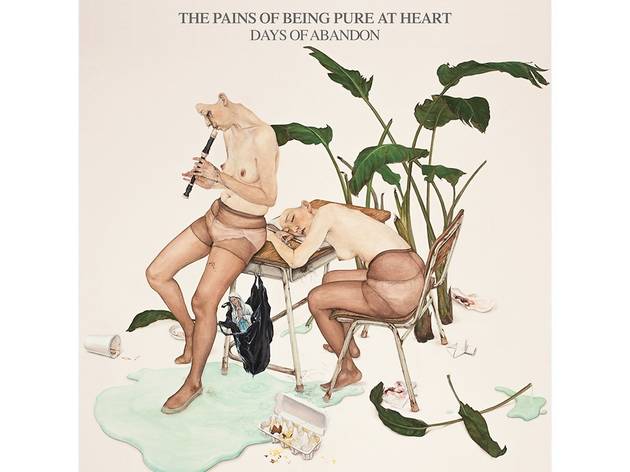 The really great thing about music is the way it can change your mood. Arrange a set of (scientifically meaningless) sounds a certain way and they can totally mess with your head – how weird is that?
Sometimes, though, your head needs to be in a certain state for those sounds to have any effect whatsoever. That's always been the problem with The Pains Of Being Pure At Heart, the Brooklyn-based band-turned-solo project of Kip Berman. If your temporal lobe is wired in the right way, then TPOBPAH's sugary melodies, '80s/'90s indie-pop throwbacks and slightly sixth-formish lyrics can hit you square in places few bands manage to reach. If not, they'll leave you colder than a New York winter.
'Days of Abandon', the Pains' third full-length album, widens that division. Taking in everything from glockenspiel-tinkling balladry ('Art Smock') to wave-over-wave climaxes of crystalline dream-pop guitar ('Beautiful You'), with the odd Smithsy bassline ('Kelly') and gentle eruption of warm brass ('The Asp at My Chest'), it's a veritable banquet of indie-pop tropes. The uniting factors are Berman's undeniably savvy songwriting and an unabashed, unrestrained lushness that'll be either cloying or delicious, depending on your palate.
In fact it's almost as if the whole record has been deliberately designed as some sort of us-and-them twee test. Those with a low tolerance for candy-coated indie are best off leaving this one on the shelf. If you're even slightly susceptible, though, 'Days of Abandon' will find your soft spot and hammer itself into your cynical little Gen Y heart. More than ever, The Pains Of Being Pure At Heart are the Marmite of indie-pop – only much, much sweeter.
What do you think of 'Days of Abandon'? Let us know in the comments box below or tweet us at @TimeOutMusic.


Buy this album on Amazon | Buy this album on iTunes

Sponsored listing
The Victoria Dalston
Here's what happens when Dreambagsjaguarshoes grows up, packs its bags and moves to Dalston. The Victoria is now owned by the same people as the perennially cool and grungy Shoreditch hangout, and probably represents a mellowing out with age – it's a pub, it's more relaxed, it stages live music, and it's on a backstreet off Dalston Lane instead of the illuminated strip down the road. As a pub, it's decent – an artily thrown-together look, a few local beers (although not many), and a 'residency' from peripatetic grillers Psychic Burger. It's a misleading name – I sat thinking about what I wanted to eat for half an hour before having to go up and order at the bar in the old-fashioned way. But as US diner food in plastic trays goes, it's a fine example of its type. Through the back of the pub is the stage, where assorted bands assemble to perform. The Victoria has been a scuzzily democratic live music venue for decades, so it's great that the new owners kept that going and didn't turn the room into a dining room/yoga space/Tesco Metro.