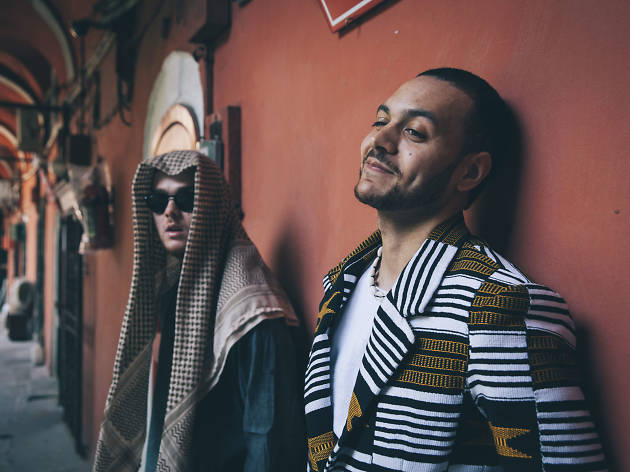 What's the deal with... Yussef Kamaal?
Everything you need to know about the London jazz-funk duo
One dude or two?
Two righteous dudes: south-east London's own Yussef Dayes and Kamaal Williams. Joined by a choice cast of talented musicians from the capital's scene, they're the leading exponents of this year's hippest, most trending sound.
And that sound is...?
Jazz-funk. Wait, come back! Didn't you know that the groove gods of the '70s and '80s – legends like Roy Ayers, Herbie Hancock and Lonnie Liston Smith – are back in vogue?
So one of the coolest bands of 2016 sounds a bit like Weather Report?
A bit, yeah. But they're also steeped in London bass culture. Multi-instrumentalist Williams (alias Henry Wu) has put out solo stuff via Peckham's 22a label alongside genre-busting artists like Mo Kolours. Drummer Yussef Dayes is as much influenced by breakbeat as bebop. Miles Davis is a big presence, but so is J Dilla.
Pretty fly for two jazz guys.
Seriously, this isn't like your uni mate's swing band. The first launchpad for Yussef Kamaal's cosmic explorations was a live session for Boiler Room, and their debut album 'Black Focus' has just been released by the Brownswood label, run by the eternally eclectic Gilles Peterson. You won't catch either of these guys dead in a trilby, and if they ever play a wedding, it's going to be one to remember.
I'm convinced. What should I do now?
Roll up a fat one and stream 'Black Focus': a blissed-out, switched-on, ten-track virtuoso voyage through the outer regions, with previously hyped tracks 'Strings of Light' and 'Yo Chavez' sitting pretty alongside some brand new nine-minute hotbox jams. Nice.
Yussef Kamaal's 'Black Focus' is out now.
More London jazz?
Whether you're a long-time lover of the genre or a total newbie, London's got something to keep all jazz fans entertained.