Win a pair of VIP tickets to Sonisphere Festival
See the likes of Metallica and The Prodigy at Knebworth Park this July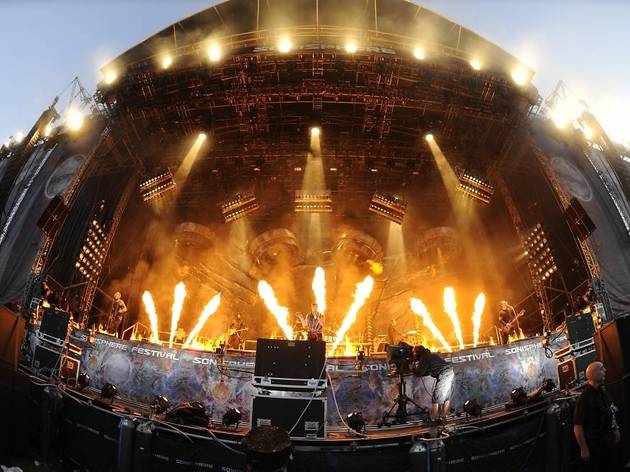 Fancy marking your spot in the mosh pit for two of the world's biggest metal bands? This July, you and friend could see the likes of Iron Maiden and Metallica play live at Sonisphere Festival.

Prepare for a weekend of head-banging this summer as we're giving away a pair of VIP tickets to Sonisphere 2014, which takes place in Knebworth Park on Friday July 4 – Sunday July 6. One lucky winner and a guest will bag 'Rock Royalty' tickets to Sonisphere, return travel to the venue plus luxury accommodation for the duration of the festival.

Two of the globe's heavy metal giants, Iron Maiden and Metallica, will make history and for the first time in the UK co-headline this year's Sonisphere. Not only is it your one chance to see Iron Maiden and Metallica perform in Britain this year, but it's also a chance for you see the likes of The Prodigy, Deftones, Alice In Chains, Slayer, Band Of Skulls and Limp Bizkit, to name just a few acts on Sonisphere's fantastic 2014 line-up, play live over one weekend. For more information about the festival visit sonisphere.co.uk.

Sponsored listing
The Victoria
Here's what happens when Dreambagsjaguarshoes grows up, packs its bags and moves to Dalston. The Victoria is now owned by the same people as the perennially cool and grungy Shoreditch hangout, and probably represents a mellowing out with age – it's a pub, it's more relaxed, it stages live music, and it's on a backstreet off Dalston Lane instead of the illuminated strip down the road. As a pub, it's decent – an artily thrown-together look, a few local beers (although not many), and a 'residency' from peripatetic grillers Psychic Burger. It's a misleading name – I sat thinking about what I wanted to eat for half an hour before having to go up and order at the bar in the old-fashioned way. But as US diner food in plastic trays goes, it's a fine example of its type. Through the back of the pub is the stage, where assorted bands assemble to perform. The Victoria has been a scuzzily democratic live music venue for decades, so it's great that the new owners kept that going and didn't turn the room into a dining room/yoga space/Tesco Metro. 
Venue says: "Jul 20: Dream Nails/Screaming Toenails. Jul 21: Husky Loops and guests. Jul 28: Atjazz Records. Happy Minutes with house products £3.50!"