Heads up! We're working hard to be accurate – but these are unusual times, so please always check before heading out.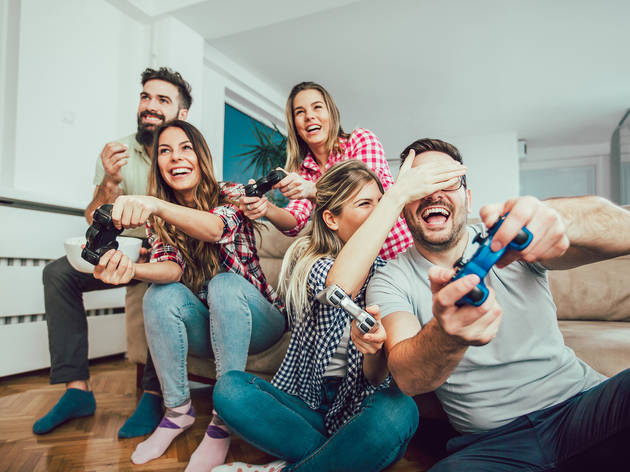 11 video games you can get lost in
Bored of binge-watching Netflix? These video games will stimulate your mind and help you escape your real-world worries
Let's be honest, staying in is getting really boring, really fast. You binge-watch a Netflix series or four (like you even have four left), eat even though you're not hungry and discuss ridiculous hypotheticals with your housemates. All very entertaining for a time, but after a while, you need something to stimulate your brain. You need to see something new and live a life outside the walls of your (probably cramped) London pad. This is when the world of video games comes alive. You can spend hours traversing the terrain of Ancient Greece, racing cartoon cars against your mates and controlling the movements of wacky virtual characters. There's a game out there for everyone, all you have to do is find it. To help you do that, we've curated a list of games you can really get lost in while you're stuck at home. Enjoy, future gamers.
Games to escape in
What is it? You've been living under a computer-less rock if you've never heard of The Sims. It feels like almost everyone played the early editions of this as a kid. For the uninitiated, it's a life-simulation game where you get total control over the life of your custom-made Sim.
Why play? It's a serious power trip. You rule in The Sims, controlling your character's personality, the environment and pretty much everything else. There's endless fun to be had toying with your little creations but you might find the allure of power goes to your head – when you start putting your Sims in the pool and taking away the ladders, it's time for a break.
What is it? An absolute classic is what it is. This high-octane, nostalgia-packed racing game has been around since '92 (feeling old yet?) and it's still just as fun as it was back then. You pick your fave Super Mario character (Yoshi, obvs) and race against your mates (or the AI), using whatever bonkers items you can to win.
Why play? Name a better way to spend your indoor-time; we'll wait. This game is guaranteed to produce laughter in spades (and tears if you're a sore loser) as you and your pals bolt along tracks from across the Super Mario universe. You've never experienced a high like hitting your mate with a blue shell seconds before they cross the finish line. Trust us.
Assassin's Creed: Odyssey
What is it? The eleventh in a series of epic open-world games that are known for their historical accuracy, brain-boggling puzzles and gory combat. This time, you'll find yourself in the middle of the Peloponnesian War in ancient Greece – Spartan kicks included.
Why play? To change the course of history, obviously. This game is less focussed on mindless violence than its predecessors (although there's still plenty of it), and you'll get to make decisions that will affect the story and the outcome of the game. Choose wisely.
What is it? We all know what this one is. We've seen people on the tube frantically tapping at their phone as they try to complete yet another level (and we all know someone who got a little too into it and spending money on it – bonkers). If you somehow haven't heard of Candy Crush, it's a puzzle game where you match coloured candies in order to complete the goals of that particular level.
Why play? As groan-worthy as it used to be to receive endless Facebook invites from people trying to advance their own candy-careers, there is a reason this game became so ridiculously popular. It is the definition of addictive and therefore great to get lost in. Just check yourself before launching your phone at the wall in confectionery-induced rage.
Get in on Android here.
What is it? You've heard of Grand Theft Auto, right? Well, Red Dead is like that but with cowboys. The open-world is humongous and the story is rich and full of detail.
Why play? For some rootin', tootin' cowboy fun! It is rare to find games that are as easy to get lost in as Red Dead. If you want to do the whole story it'll take around 70 to 80 hours of play (like you don't have the time) but the real fun is in riding around on your horse, fighting bandits, drinking and gambling.
What is it? One of the few successful superhero game adaptations in existence. Seriously, they nearly always fail to live up to the hype our much-loved heroes generate but this one is a winner.
Why play? Erm, to become Spider-Man! If you don't think swinging around NYC's skyscrapers sounds fun, we urge you to try this game anyway. Plus, there's the added satisfaction of beating up bucket-loads of bad guys and using your awesome web-slinging powers.
What is it? A hyper-realistic farming simulation game (you didn't get that from the name?) where you nurture crops, breed livestock and sell your farm-created goods. Hey, whatever floats your boat (or tractor), right?
Why play? See what life could be like if you weren't sat at a desk every day. At first glance, it seems ridiculous that this game is even a thing but they have been releasing a new one nearly every year since 2008, so there must be something to it. Also, who hasn't wanted to get behind the wheel of a combine harvester?
Animal Crossing: Pocket Camp
What is it? The mobile version of Nintendo's mega-popular Animal Crossing series. It's a social simulation game where you play a human who lives in a campsite populated by anthropomorphic animals – or neigh-bours (sorry, couldn't resist). You build your living space and collect crafting materials by doing favours for your animal pals.
Why play? Because it's free to play! So you have nothing to lose but plenty of hours to kill. It's open-ended, so the sky's the limit in terms of what you build, trade and decorate. Plus, you can connect with your friends (as well as randoms) in this strangely addictive universe.
Get in on Android here.
What is it? One of the most popular RPGs (role-playing games) of all time. It came out back in 2015 but shot back into the spotlight with the release of the Netflix series. If you haven't seen the show, The Witcher is a magical mercenary who kills all sorts of mystic monsters.
Why play? It's about so much more than just slaying evil creatures (don't worry, there's a lot of that, too). This game goes deep into character stories and lore. If you're a fantasy nerd, you'll love it. And it has a game within a game (cool, right?): Gwent, a strategy card game you could easily play for hours before you crack on with the story.
What is it? An action-adventure game based on both of the 'The Incredibles' films, only with more right angles. There's puzzle-solving, loads of bad guys to fight and, of course, heaps of awesome superpowers.
Why play? Who hasn't wanted to run as fast as Dash or stretch like Elastigirl? Well, now you can. This game is all about having fun; just because it's designed for younger players doesn't mean you can't have a blast playing out the story from two epic Disney movies.
What is it? Your chance to escape the hustle (or lack thereof) of the City. Your character has just inherited their grandfather's rundown farm in Stardew Valley. Armed with hand-me-down tools, you'll try to transform the homestead and live by the sweat of your brow.
Why play? It's much more compelling than it sounds. There is a strange sort of satisfaction that you can only get from tilling virtual fields and chopping down virtual trees. It's seriously addictive and before you know it you'll be teaching your 'kids' all about life on the farm. Plus there's loads of customisation to reward all of your hard work.
Support Time Out
We see you're using an ad-blocker. Ad revenue is Time Out's main source of income. The content you're reading is made by independent, expert local journalists.
Support Time Out directly today and help us champion the people and places which make the city tick. Cheers!
Donate now