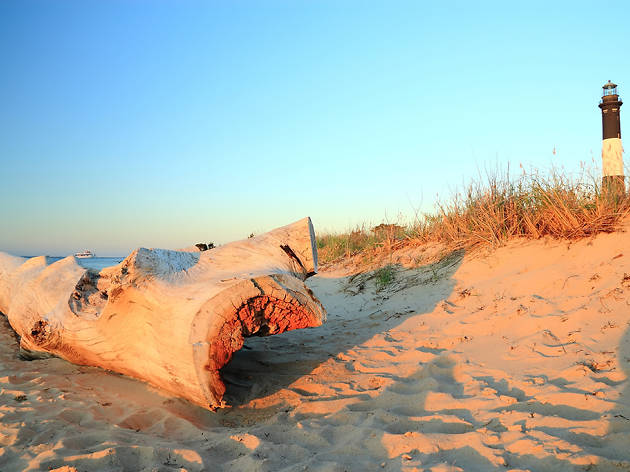 Ten awesome low-key Long Island getaways
Forget stuffy, pretentious beaches and opt for a close-to-NYC getaway that's chill with help from Blue Point Brewing Company
Okay, we get it, it's tough to find a crowd-free beach or a quaint, small town that isn't a total dead zone in the Long Island area. But if you do a little digging, you can find some pretty wonderful attractions perfect for any fuss-free vacationer. We teamed up with Long Island native and all-round laid-back beer kings, Blue Point Brewing Company, to present these 10 awesome getaways—from afternoon visits to weekend-long leisure-fests—that are totally worth checking out this summer. We can cheers a Blue Point Toasted Lager to that!
RECOMMENDED: Full guide to the best things to do on Long Island
Low-key Long Island getaways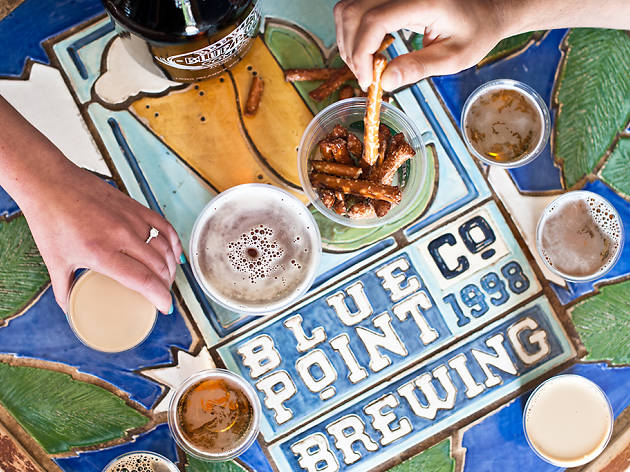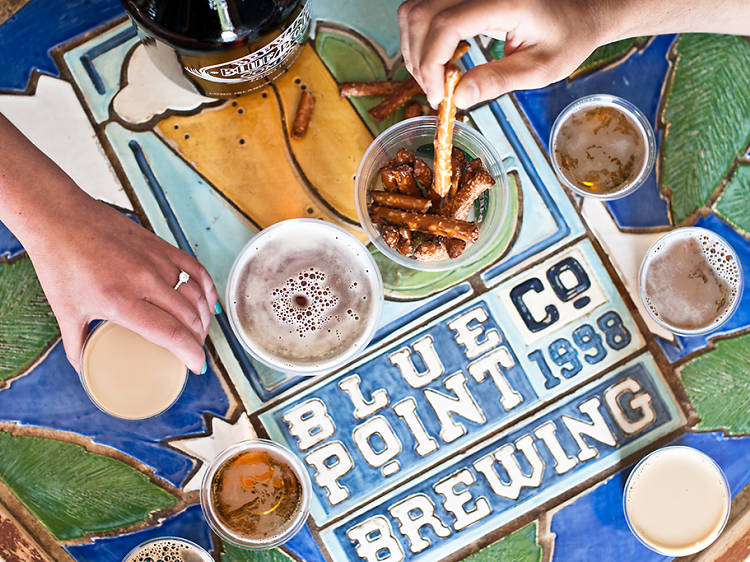 Photograph: Ashley Sears
Blue Point Brewery (Patchogue)
Day Trip: 1hr 35min by car, 2hrs by train.
This beloved brewery was born in 1998 (yeah, it's under the legal drinking age, but so what?), and at the ripe age of 18, it's safe to say that Blue Point's brews and the surrounds they're made in are for the carefree set. In fact, a totally chill vibe is one of the big reasons why the brand's headquarters is stationed on Long Island (161 River Ave, Patchogue, NY)—it's where New Yorkers go to escape the big city. We certainly wouldn't mind fleeing there for a free brewery tour (Saturdays at 1pm and 4pm) and a taste of what's currently on tap. Bring the dog and park yourself in the sun. Vanilla Cream and Blueberry Ale? We'll take one of each, please! And we'll take one of the exclusive innovation brews available at the brewery that aren't yet released to the market.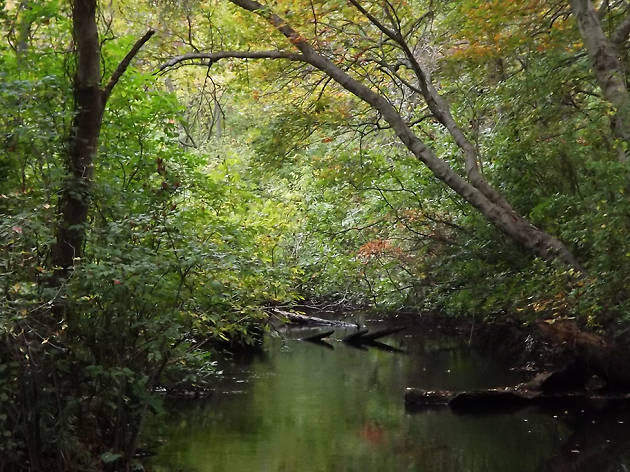 Photograph: Courtesy CC/Flickr/Michael Milqueen
Weekend Getaway: 2hr 11min by car, 1hr 30min by train
Long Island is chock-full of beautiful parks, where locals love to hike and fish. One of our favorites is Southards Pond, which is right by Carll's River, and is filled with largemouth bass, rainbow trout and species we've never even heard of like, er, pumpkinseed? Thanks to the undeveloped parkland surrounding the pond, you can crack open a few Blue Point brews and enjoy this beautiful scenic refuge while you wait for the fish to catch your bait.
Photograph: Courtesy CC/Flickr/Michael Milqueen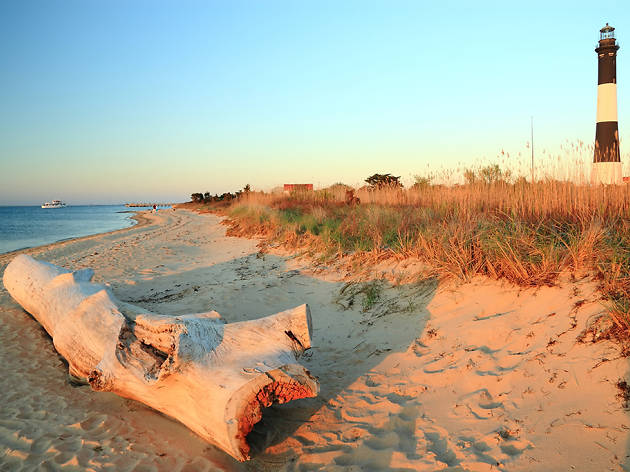 Photograph: Shutterstock
Robert Moses State Park (Babylon)
Weekend Getaway: 2hrs by car, 1hr 29min by train
After reeling in the fishes, you might feel like swimming with 'em. The best place to do that in Long Island is not Montauk or the Hamptons but at this underrated gem, Robert Moses State Park. The sandy shore certainly fits the criteria for the perfect beach day, with its private outdoor showers, multiple grills and picnic tables. If you want something even more low-key, head to Field 5 for access to the rest of the scenic Fire Island coast.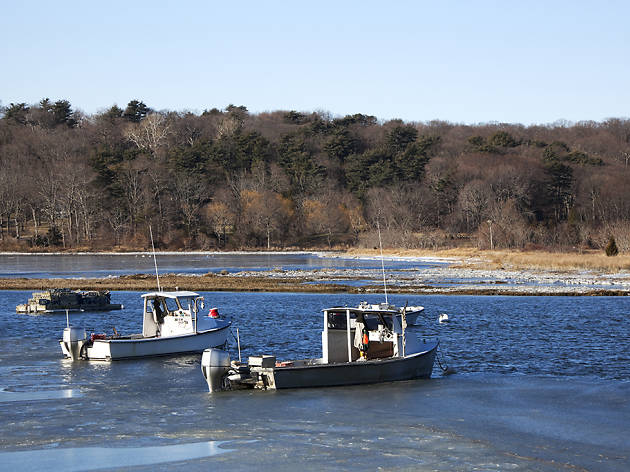 Photograph: Shutterstock
Cold Spring Harbor State Park (Cold Spring Harbor)
Day Trip: 1hr 50min by car, 1hr 27min by train
"Take a hike," is not something you want to hear come out of your S.O's mouth, but going on a trek is a pretty romantic way to spend the afternoon with your bae. Take in those gorgeous nature views at Cold Spring Harbor State Park comprising 40 acres of hilly terrain and scenic vistas of Cold Spring Harbor. Pack a delicious picnic for two, a couple of Blue Point Toasted Lagers, try to a spot horned owl or a red-tailed haw and let the seclusion of exploring the great outdoors put you in the mood.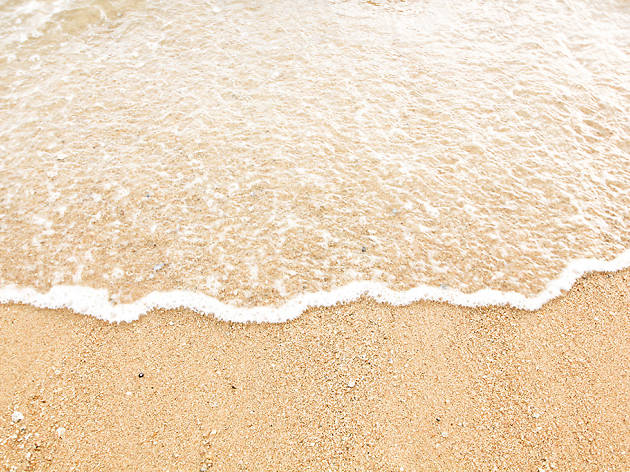 Photograph: Shutterstock
Callahan's Beach (Fort Salonga)
Day Trip: 1hr 41min by car
If you prefer to go to the beach that's nearly vacant, well, you don't have many options in Long Island. However, Callahan's Beach is pretty low-key in comparison to the popular shores in the area. The sand is very rocky, but those stunning oceanfront views are well worth it. There's also a large picnic area with tables, and plenty of shady spots to eat some grub without being exposed to the sweltering sun.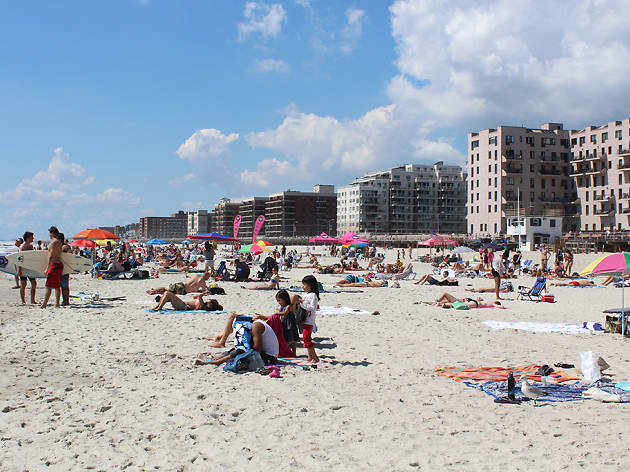 Photograph: Courtesy CC/Flickr/Shinya Suzuki
Overlook At The Beach (Long Beach)
Overlook At The Beach (Long Beach, NY)
Weekend Getaway: 1hr 24min by car, 1hr 9min by train
Just south of Long Island is Long Beach: a less-crowded, totally chill beach with white sand and tons of nearby restaurants and bars. Off the main strip of eateries you'll find Overlook At The Beach (5 New York Ave, Long Beach, NY), which is appropriately named since it's located just off the edge of the sand. (FYI: this is the only spot where you can actually get boozed up on the beach, and the stunning waterfront view isn't half bad either.) The bar serves typical pub-like fare, including burgers and fries as well as wings and nachos, but folks craving seafood can munch on tasty shrimp kabobs and crab cakes, and then wash 'em down with a Blue Point Toasted Lager.
Photograph: Courtesy CC/Flickr/Shinya Suzuki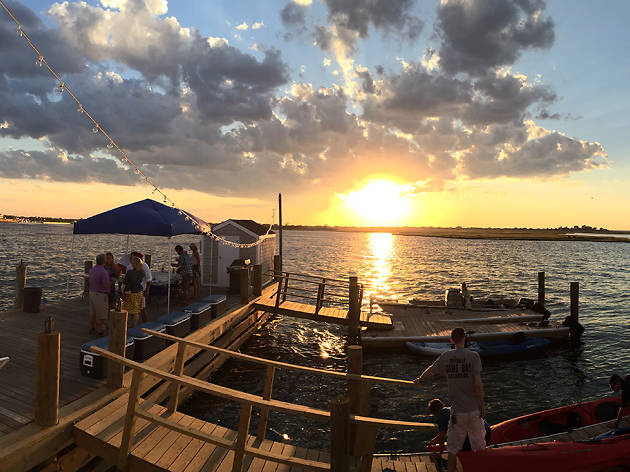 Photograph: Courtesy Blue Island Oyster Farm
Blue Island Oyster Farm (Captree State Park)
Day Trip: 1hr 32mins by car
New York is known for getting a lot of foods right: bagels, pizza, the original cronut. But carbs aren't the only thing we do well: our oysters are pretty kickass, too. The mac daddy of all oyster distributors is Blue Island Oyster Co., so whenever you have a serious craving for the aphrodisiac delicacy, or if you just want to learn more about a really great, sustainable company, Blue Island Oyster Farm (136 Atlantic Ave, West Sayville, NY) offers pre-bookable farm and kayak tours. There's really nothing more peaceful than exploring the marshlands followed by a relaxing picnic on Blue Island's back deck. And make sure to pick up some crustaceans, clams and oysters on your way out.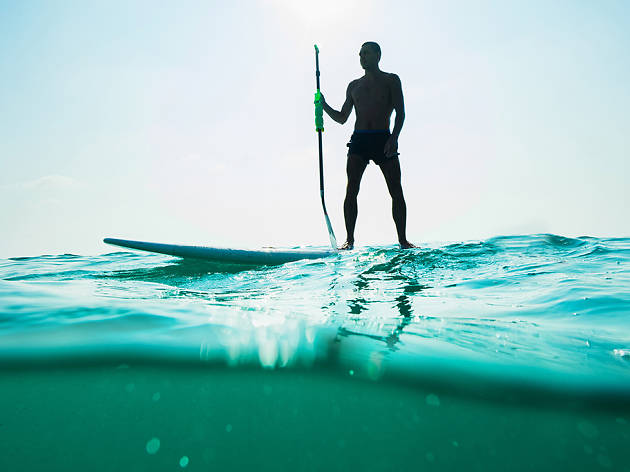 Photograph: Shutterstock
Weekend Getaway: 1hr 35mins by car, 1h 51mins by train
Located on the Great South Bay is the beautiful and relaxing Corey Beach, which is a great spot for families (the beach features a playground on the sand and also offers swimming lessons!). Apart from excellent concessions and great lunch spots—order the lobster roll at Flo's Luncheonette
(302 Middle Rd, Blue Point, NY)
, no exceptions—there are fun activities such as paddle board yoga and kayaking offered by Long Island sport and recreation company, SUP (
longisland–sup.com
).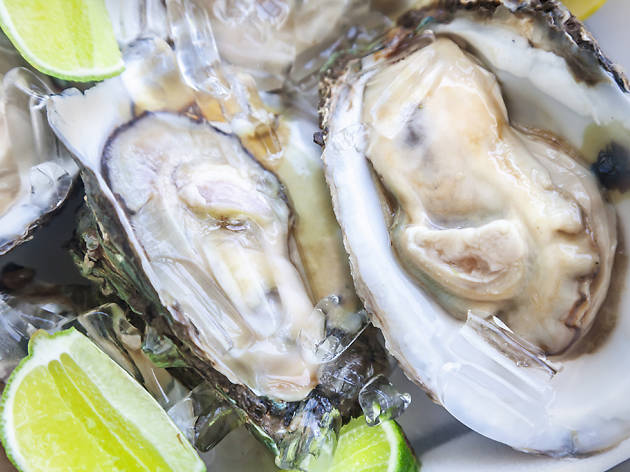 Photograph: Shutterstock
Weekend Getaway: 1hr 22mins by car, 2hr 23mins by train
After taking a much-needed breather at one of the many relaxing beaches in Long Island, keep the good vibes rolling with a chill dining experience overlooking the water. At Tres Palms (16 East Ct, Babylon, NY), you can expect warm hospitality, plus gorgeous sunset views. Bargain-hunters should definitely go on a Thursday night: the eatery shows off major local pride with deals on Blue Point brews (only $5) and Blue Point and GSB oysters for a buck. Plus, there's live entertainment provided by musicians and bands in the area.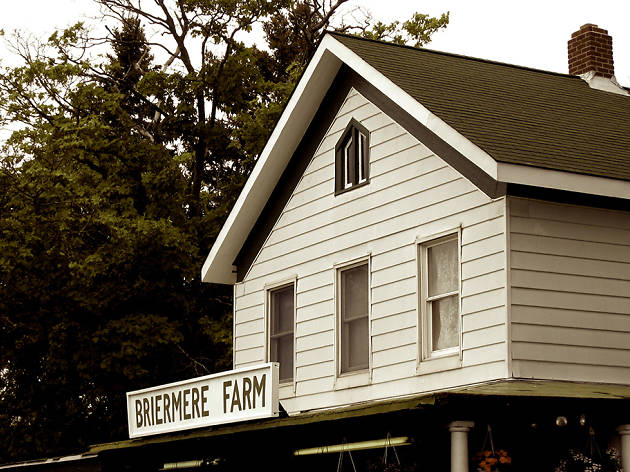 Photograph: Courtesy CC/Flickr/James Byrum
Briermere Farms (Riverhead)
Day Trip: 1hr 54mins by car
We encourage you to oblige your sugar craving (go on, treat yourself) by taking a pit stop at Briermere Farms (4414 Sound Ave) in Riverhead, New York. Why? One word: pies! The farm, which grows delectable fresh fruit, has a bakery onsite, and the pie list is almost too good to be true. All of your favorite fruits are covered: apple, blueberry, peach, strawberry, raspberry—how can you choose? Best of all, the fillings are homemade (using the farm's fruit, of course). Bonus: You can get Beach Plums here, the same ones used in Blue Point's Beach Plum Gose beer.
Photograph: Courtesy CC/Flickr/James Byrum