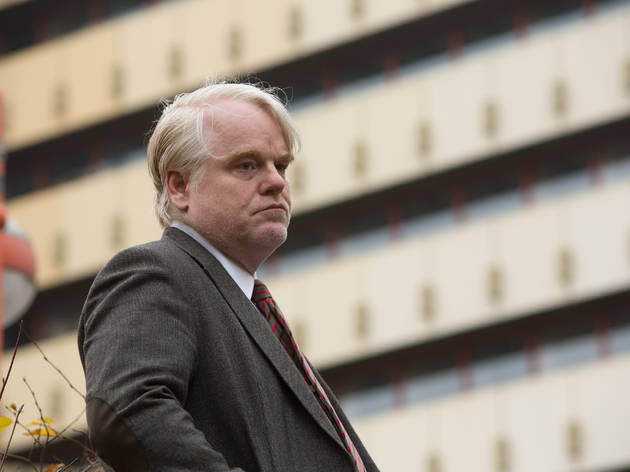 He's pasty-faced, overweight, miserable and subsisting on a diet of junk food and hard liquor. Looking at Günther Bachmann, the Hamburg-based counterterrorist agent at the heart of this John le Carré adaptation, it's tempting to intuit some malign congruence with the subsequent tragic departure of Philip Seymour Hoffman, the actor who plays him. Those thoughts are hard to banish—not least because they're more intriguing than anything onscreen in this disappointing plod of an espionage thriller.
Since the 9/11 plot was hatched in the north-German port, it's become a magnet for undesirables. Hoffman's semiofficial surveillance unit finds itself caught between the jostling agendas of German police and U.S. intelligence when the arrival of a suspicious Chechen Islamist spurs the question of whether to arrest him now or potentially uncover fresh terror connections. Given the potentially deadly stakes, it should play well, but the film gets so engrossed in academic plot details, it forgets to attach Le Carré's scheming with recognizably fallible characters. That fundamental empathy never materializes, as the movie trudges through each rendezvous and stakeout—notwithstanding a hard-working Rachel McAdams as a human-rights lawyer.
As you'd expect, director Anton Corbijn's buffed visuals deliver architectural sheen and backstreet sleaze on cue. But the credibility-sapping English-language dialogue (and Hoffman's dyspeptic performance, growling like a Scandinavian Richard Burton) sits uneasily with the ostensible authenticity. It's all unexpectedly uninvolving.
Release details
Rated:
R
Release date:
Friday July 25 2014
Duration:
121 mins
Cast and crew
Director:
Anton Corbijn
Screenwriter:
Andrew Bovell
Cast:
Rachel McAdams
Philip Seymour Hoffman
Robin Wright
Willem Dafoe