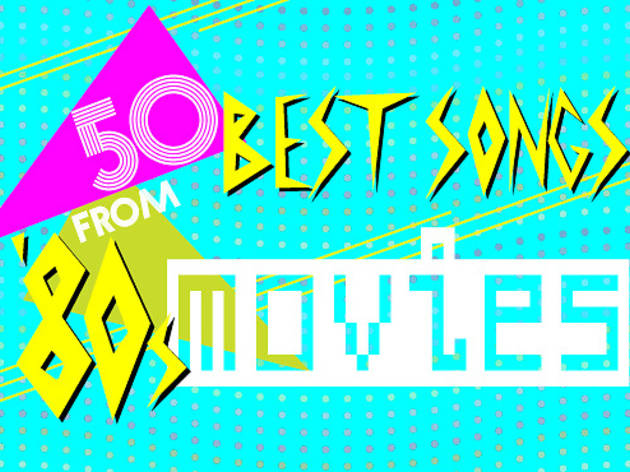 The 50 best songs from '80s movies
Bust out your leg warmers and warm up your Roger Rabbit—it's time to hit the '80s disco of your dreams
If there's one word that captures the feel of the 1980s in pop culture, it's joy. Sure, there have been classier, deeper, artier, weirder eras—in fact, probably any other decade you care to name in the past century is cooler than the '80s—but that's precisely why '80s parties are the most fun.

In the grand and ridiculous prom that was the '80s, music and movies were king and queen, coming together for a perfect, soft-focus tumble. Who can imagine John Hughes's canon of '80s movies without their glorious new wave soundtracks? Or the late, great Harold Ramis's masterpiece, Ghostbusters, without its ectoplasmically wonderful anthem? Bustin' makes everybody feel good!

So in this spirit of joy, we've put together a list of the all-time greatest '80s movie songs for your delectation and delight. A note on our selections: We've featured only songs made in the '80s, so while old soul classics like "Stand by Me" and "Do You Love Me?" loomed large in some '80s movies, we're sticking with the acid-washed denim '80s hits. Fans of Madonna, Prince, Starship and—hell yes—Kenny Loggins, get ready. Let's do this!

Written by Michael Chen, Brent DiCrescenzo, Andrew Frisicano, Sophie Harris, Oliver Keens, James Manning, Tristan Parker, Amy Plitt, Joshua Rothkopf, Hank Shteamer, Steve Smith, Sarah Theeboom and Kate Wertheimer.
50–41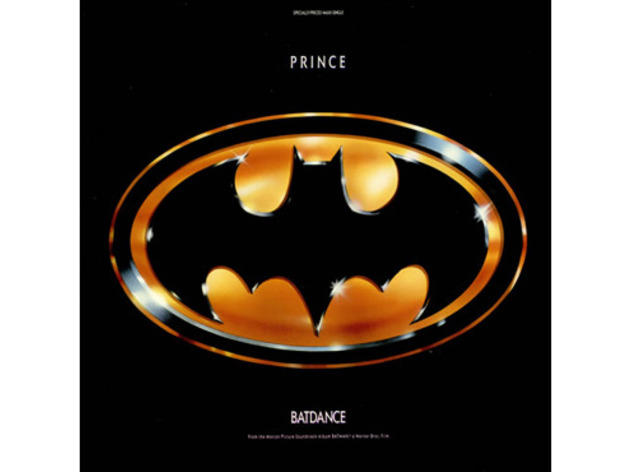 "Batdance" by Prince (Batman, 1989)
"Batdance" is to the Purple One's playful soundtrack as the trailer is to the movie. In this three-part album closer, Prince dices and splices clips from the movie and bits of his own songs, whipping up a funky hybrid of house music and New Jack Swing—complete with a hair-raising, hair-metal wank solo. It's dance-floor serious, but with all the camp, color and pow! whomp! of a 1960s DC Comics panel. The opening third revisits "The Future," a cut that 25 years later still sounds on the 22nd-century horizon. But it's part two, the Vicki Vale section, that captures our hearts and booties, as the little sex elf admits, "Oo yeah, oo yeah, I wanna bus' that body."—Brent DiCrescenzo
Download on Amazon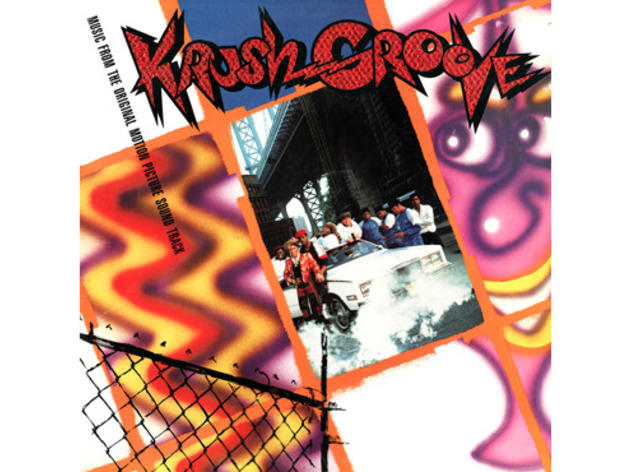 "Krush Groovin'" by Krush Groove All-Stars (Krush Groove, 1985)
White kids in the suburbs were beat-boxing and laying cardboard boxes in their driveways for break dancing before Licensed to Ill came along. Breakin' and Beat Street took budding New York hip-hop culture to middle America in 1984. A year later, Krush Groove prematurely mythologized the rise of Def Jam Records—a year before the Beastie Boys even released a record. This jam was better than anything on those other two soundtracks, bringing together rap icons Run-D.M.C., Kurtis Blow, Fat Boys and, uh, Sheila E., introducing so many youth to rhyming and scratching. Parents' turntables would be permanently damaged soon thereafter.—Brent DiCrescenzo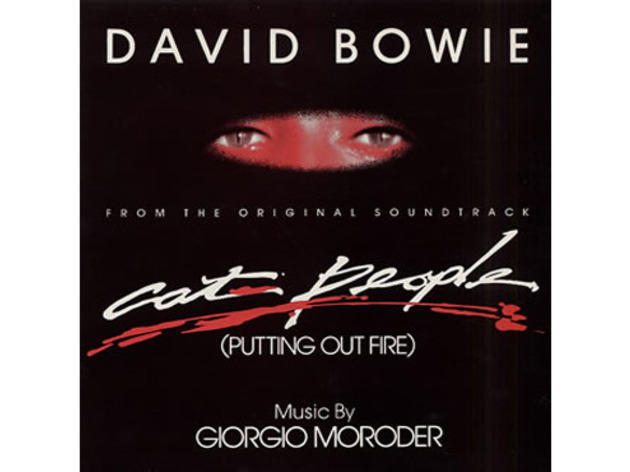 "Cat People (Putting Out Fire)" by David Bowie (Cat People, 1982)
Wisely, as he did with "Absolute Beginners," Bowie ignores the plot of this neon-lit remake of a French thriller—an extended masculine metaphor in which sexual women transform into predatory felines. Instead, he wails about fire and gasoline. Decades later, Quentin Tarantino would apply the song more literally in Inglourious Basterds, when Mélanie Laurent burns down a Parisian cinema full of Nazis. It was a cinematic rescue mission, saving this fantastic, Moroder-produced track (him again) from its origin.—Brent DiCrescenzo
Download on Amazon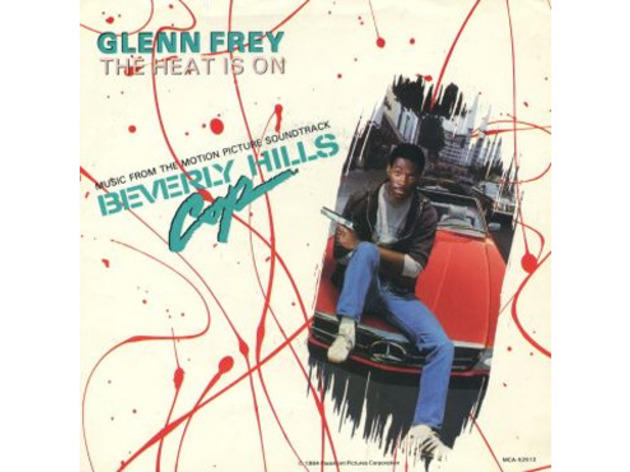 "The Heat Is On" by Glenn Frey (Beverly Hills Cop, 1984)
What do the Eagles and krautrock have in common? Not much, admittedly, though those two worlds copulate to make what sounds like a baby Pointer Sister blowing a yakety sax in "The Heat Is On." The classically trained Harold Faltermeyer, who composed Beverly Hills' "Axel F" (not to mention the "Top Gun Anthem"), started out as Giorgio Moroder's keyboardist before going on to totally corner the market in buddy-cop-movie scoring. Frey, eternally in Don Henley's shadow, tried to make his name solo in soundtrack work, but ended up lifting ideas from either Loggins (this song) or Collins (Miami Vice's "You Belong to the City"). Maybe that's what he meant by "Smuggler's Blues."—Brent DiCrescenzo
Download on Amazon
"The Touch" by Stan Bush (The Transformers: The Movie, 1986)
Many will forever associate this absurdly inspiring fist-pumper with Dirk Diggler's tuneless pop-rock star turn in Boogie Nights. But the anthem originally soundtracked the Autobots and Decepticons' interplanetary rumble in the Transformers' animated big-screen debut. Though Florida singer-songwriter Stan Bush tempted fate with an ill-advised rap-tinged reboot in '09, nothing can, well, touch the cheeseball heroism of the original.—Hank Shteamer
Download on Amazon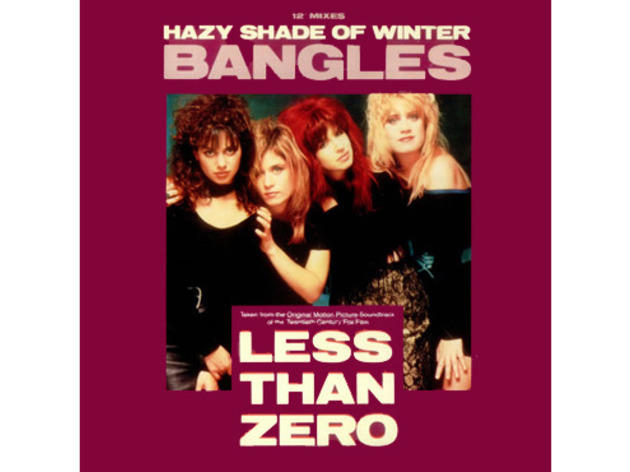 "Hazy Shade of Winter" by the Bangles (Less than Zero, 1987)
The Bangles blew up with the help of Prince and studio-pop novelties like "Walk Like an Egyptian." But a Simon & Garfunkel cover was hardly out of left field for the L.A. girl group. The band grew out of the Paisley Underground, where Susanna Hoffs cut her teeth singing folky knee-weakeners like "Flying on the Ground Is Wrong," originally a Buffalo Springfield tune. However, this Rick Rubin–produced remake is tense arena rock, glittering like Poison rubbed in suntan oil. Still, there's a darkness lurking underneath the four-part harmonies. Perfect for a movie of pretty college-age preppies with junk, gigoloing and emptiness swimming behind their pearly teeth.—Brent DiCrescenzo
Download on Amazon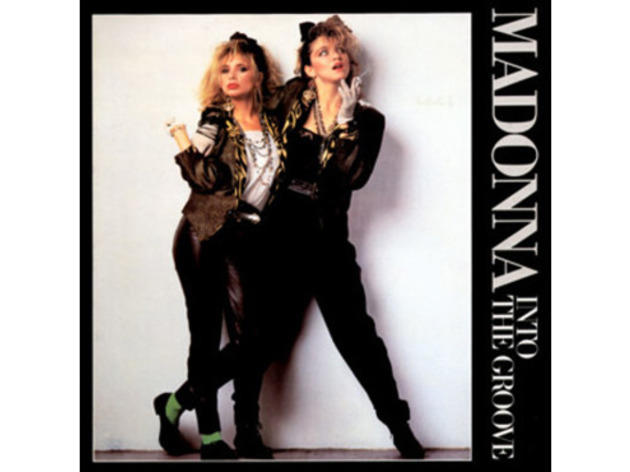 "Into the Groove" by Madonna (Desparately Seeking Susan, 1985)
Could this be the mightiest meta dance anthem of all time? The 1985 film that spawned it now seems like a kitschy time capsule of Koch-era NYC, but Madonna's synth-spangled come-on still destroys in just about any setting. "When I was writing it, I was sitting in a fourth-floor walk-up on Avenue B," Madonna told Time, "and there was this gorgeous Puerto Rican boy sitting across me that I wanted to go out on a date with." To the stud in question, if you're reading this: You're our hero.—Hank Shteamer
Download on Amazon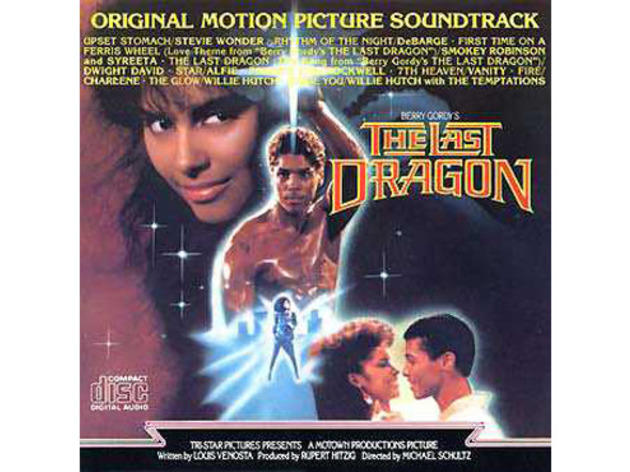 "Rhythm of the Night" by DeBarge (The Last Dragon, 1985)
One imagines Motown boss Berry Gordy, coproducer of The Last Dragon, had commerce in mind when he cobbled together the film's soundtrack of in-house acts (Smokey Robinson, the Temptations, Stevie Wonder), but that fact doesn't make it any less of a top-notch collection. Between glowing martial artists and Afro-and-football-pad-sporting villains, family band DeBarge got one of the biggest onscreen bumps, with an extended clip for "Rhythm of the Night" played on one of the character's music-video shows. The calypso beat and Jheri curl may be reminiscent of Lionel Richie's "All Night Long," but the spectacular falsetto peak is all DeBarge.—Andrew Frisicano
Download on Amazon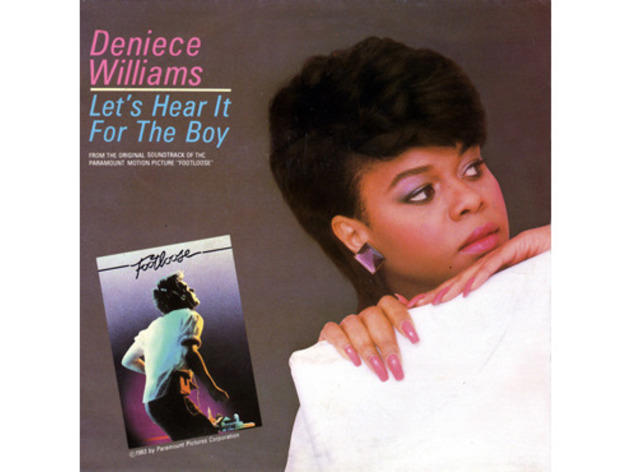 "Let's Hear It for the Boy" by Deniece Williams (Footloose, 1984)
Williams, a former backup singer for Stevie Wonder from Gary, Indiana, comes off as a Disney cutie pie in this middle-school sock-hop staple (if you didn't grow up in this era, trust us). It was produced by funk fusionist George Duke, the man who brought the keytar to jazz, like a whoopee cushion at a political symposium. The sleeper hit of the Footloose soundtrack, it took No. 1 on the Billboard charts for two weeks, outperforming Ann Wilson and Mike Reno's "Almost Paradise," Bonnie Tyler's "Holding Out for a Hero" and, er, Shalamar's "Dancing in the Sheets." Sure, she couldn't quite match Loggins, but who could?—Brent DiCrescenzo
Download on Amazon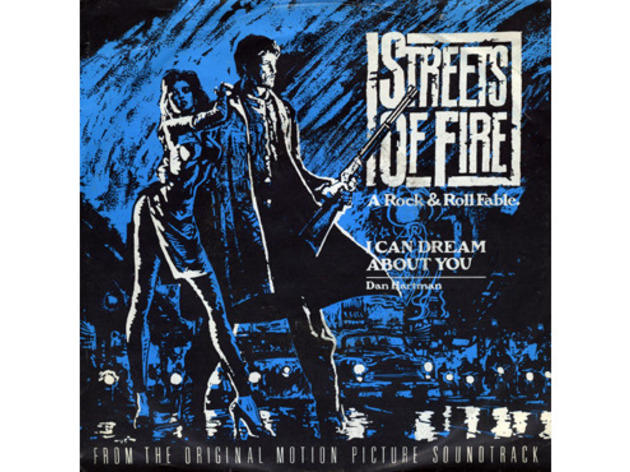 "I Can Dream About You" by Dan Hartman (Streets of Fire, 1984)
You wouldn't expect a gritty Willem Dafoe–Diane Lane action musical to spawn a soft-rock warhorse, but hey, this is the '80s we're talking about. Blues-steeped Pennsylvania songsmith Hartman offered the tune to Hall & Oates—which accounts for the silky soul-pop sheen of the finished product—but the Philly hit makers, then at the tail end of their commercial peak, turned him down. All the better for the author—and for the Sorels, the hot-stepping neo-Motown combo that performed the song onscreen.—Hank Shteamer
Download on Amazon
Listen to Time Out's 50 best songs from '80s movies playlist on Spotify