The life and times of graffiti artist Kelzo
From his prolific painting sprees in old Hulme to his current work with cancer patients at the Christie Hospital, we take a look at the work of infamous graffiti artist Kelzo
I first covered Kelzo's exploits in Knowledge Magazine (now K-Mag) back in 2000, a feature that tracked his rise to notoriety in Hulme and his commissions for commercial clients and TV (he'd just done a piece for Eastenders). Luckily for me it brought both of us to the attention of Tony Wilson and his partner Yvette Livesey, who were intruiged by Kelzo's talent and wanted to manage him. This led to me getting a job at their In The City music conference in 2001. It was a classic case of serendipity.

Below you'll find Kelzo's 30 years as a graf artist in 30 photos. I remember signing off the Knowledge piece with the line, 'Local boy does good, real good', and it's great to see that 15 years later, Kelzo, through his work with young cancer patients at Christie's Hospital, is doing more good than ever.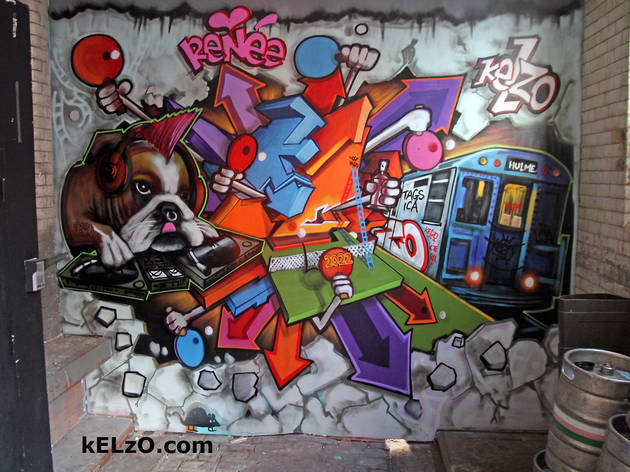 Kelzo at 2022 bar, Northern Quarter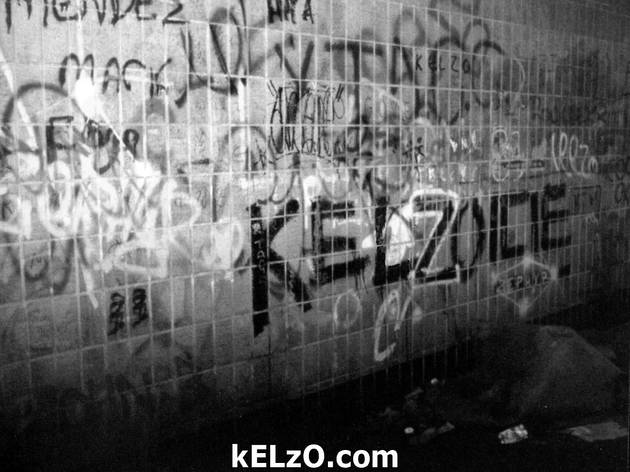 In the beginning: Kelzo and Icie, Hulme subways (1985)
'I first got into graffiti back in the mid '80s when hip hop culture arrived in Europe from New York city. The Rock Steady crew vibe, Zulu Nation, breakdancing, graffiti, MCing, beatboxing and scratch DJing was the new thing; it went viral, and the whole world went crazy for it. Books like 'Subway Art' (New York subway graffiti) and the documentary 'Style Wars' were a huge inspiration to us all. Coming from Hulme, near Moss Side, the vibe quickly broke out in my part of town. B-boy events were being held all over the city with large crowds watching young people compete on the dancefloor. I remember seeing Jason Orange dancing at Baguely Hall, Dizzy Lee rocking Sale Annox, and Rhino doing his thing around town.'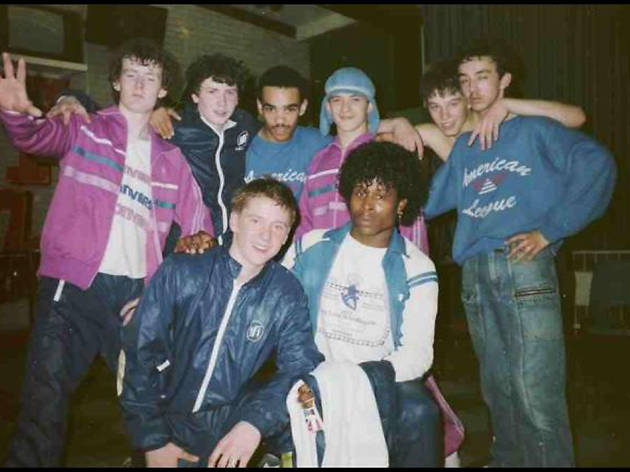 © Tony Barret
'Manchester was the place to be. We had two of the top b-boy crews in the country, Broken Glass and Street Machine (pictured), and we had graffiti artists like Shine 159, Mad2, Gat, Rusty and Fox TMB dropping sick pieces on the streets. There were loads of kids into 'tagging', getting their names known on buses and everywhere else. My crew were called Inner City Artists (ICA) from Hulme. By 1988 the vibe of getting your name up had died down. It was time to grow up people said. I slowed down and got more involved with the adventures of the Madchester music scene. Rave on!'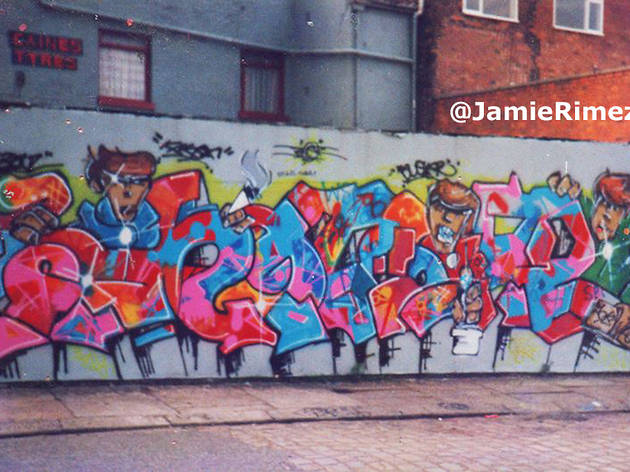 Fox and the TMB crew, Old Trafford, Manchester (1985)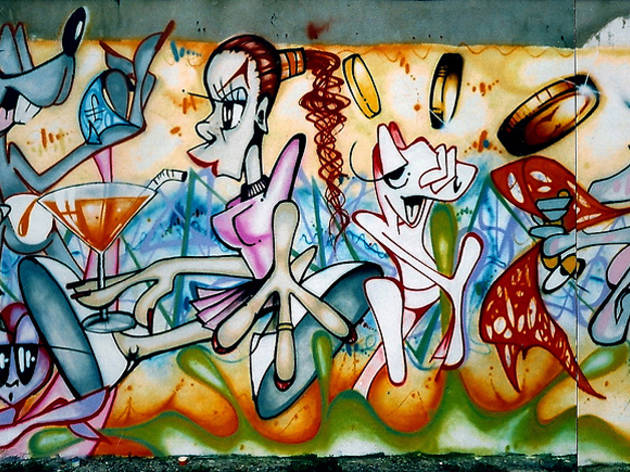 Shine 159, Style Stars crew, Ashbury's, Manchester (1989 - '90)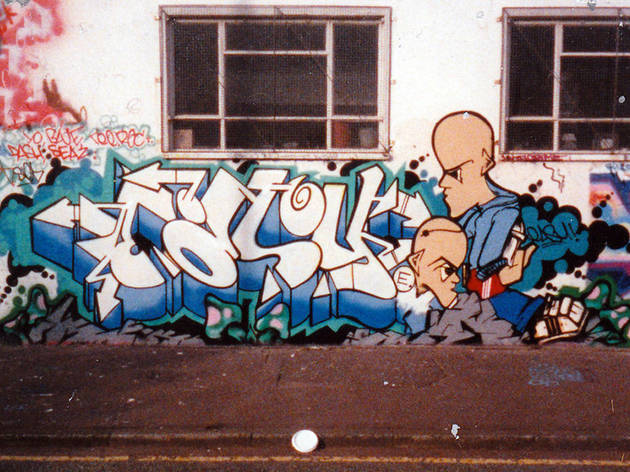 Easy, Style Stars crew, Ashbury's garage, Manchester (1989 - '90)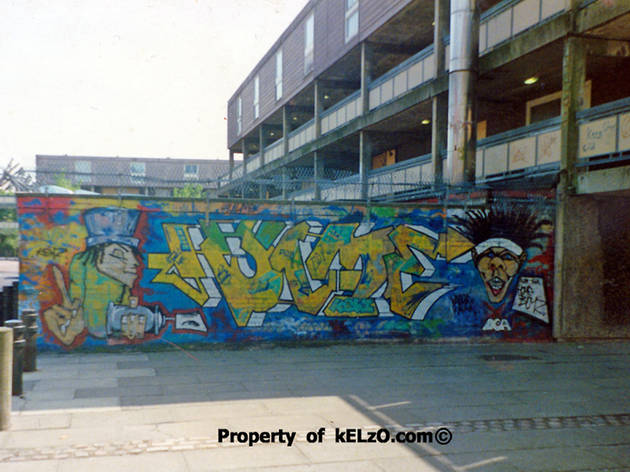 Kelzo - first Hulme piece (early 1993)
'In late 1992 I painted a banner for the Manchester soundsystem MVITA, (Manchester Vibes in the Area). It was for a club night in the Canal bar near the Ritz, so I got a taste of using paint again, which was cool. In early 1993 I was walking through Hulme, early, around 7am, after coming from some party and I just stared at this wall I'd painted seven years before. It was faded, looked half decent, but I wanted to redo it. I knew more about myself and wanted to give this graffiti thing another go, so I got some paint together and spent the day re-painting it - it said Hulme. I was buzzin' and instantly hooked again.'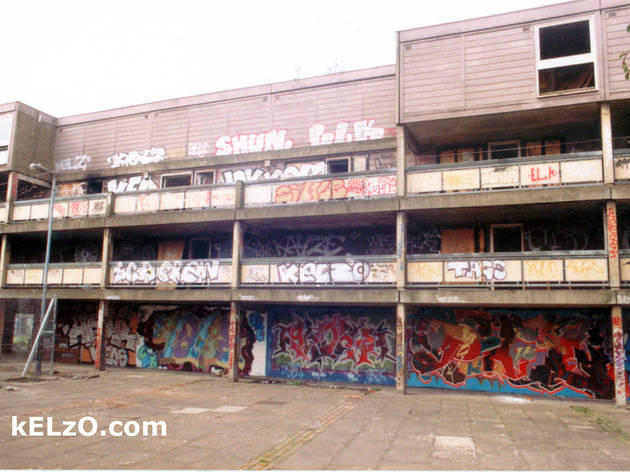 Our first hall of fame, Woodock Square, Hulme (1995)
'A few days later me and a friend Tags painted the wall opposite, then the walls next to that, and we just kept on going. Over the next few months loads of pieces were added to the area by me and many others. We painted over shop shutters, walkways, walls and balconies, covering the whole estate like a virus. I used Hulme as an ongoing sketchbook, starting on new blocks of flats like a freshly turned page. The local council then agreed for me to continue and that's when I went into overdrive. We absolutely annihilated the place.'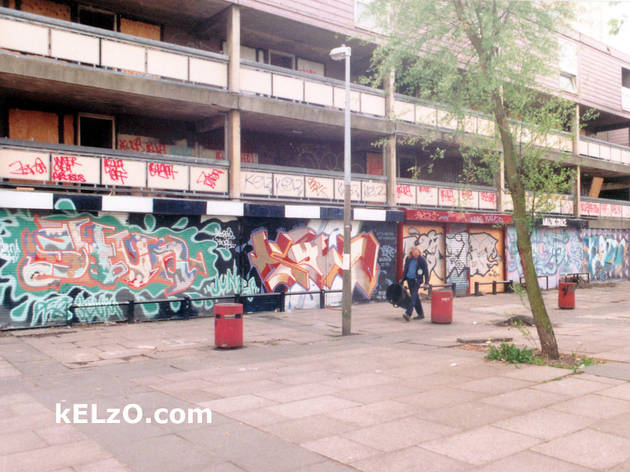 June's butty shop, Hulme Walk shops (1995)
'The area was full of cool creative types, free-thinking, open-minded people, actors, musicians, magicians, pyrotechnics, punks, anarchists, visual artists, the lot. The graffiti suited the area, and I couldn't leave the flats standing there looking bleak with drugs users and syringes everywhere; I had to live round there so I decided to paint it all up. The whole place was being demolished, so why not? When one estate was knocked down we moved onto the next. We covered four estates in total by the time we finished it all in 1998. Six years of fun. I loved it and miss it! I've seen articles on Time Out recently on Al Baker's photography, which took me right back to the good ol' days.'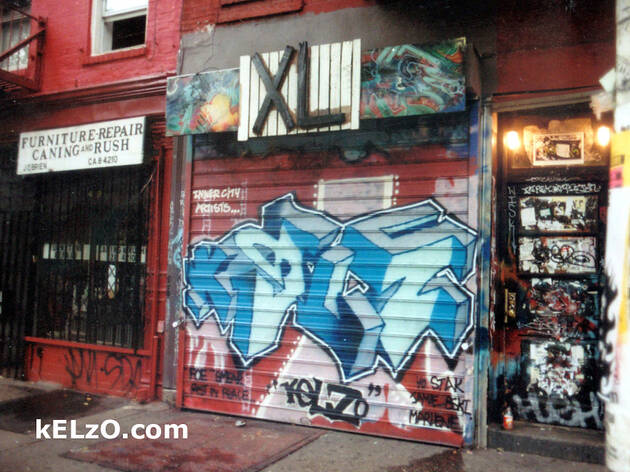 XL store, Lower East Side, Manhattan, New York (1995)
'In 1995, while I was still painting Hulme, I ventured over to New York to the Rock Steady Crew party and stayed on the East Coast for six weeks painting and tasting the New York, Philly and New Jersey vibe. I loved it there and did a piece of graff on Avenue A and 9th Street, on the Lower East Side of Manhattan, which lasted for more than two years on the streets.'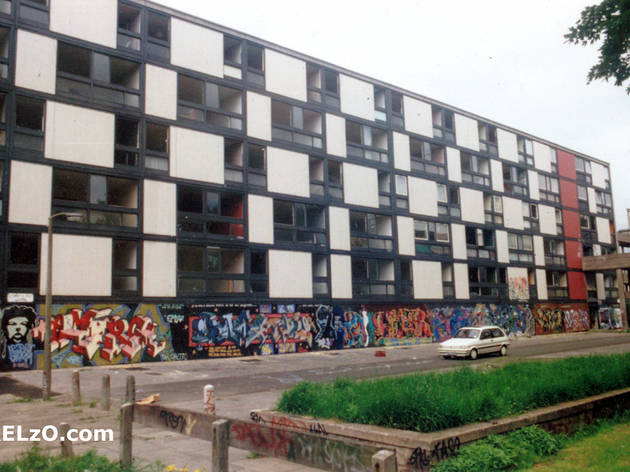 'The local community didn't seem to mind it (apart from a few). People always commented on how good it looked but graffiti was the least of people's problems - muggings and gun crime was more of an issue at that time. By 1996, Hulme looked like a huge outdoor art gallery - it looked well cool.'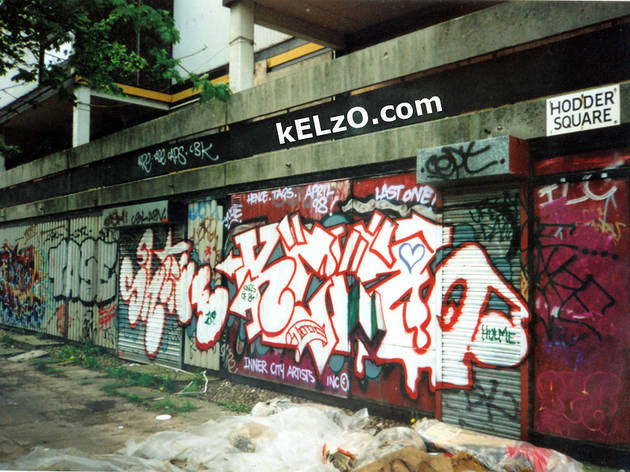 Shine 159, Kelzo, Hodder Square shops, Hulme (1998)
Adidas offices, Stockport (2009)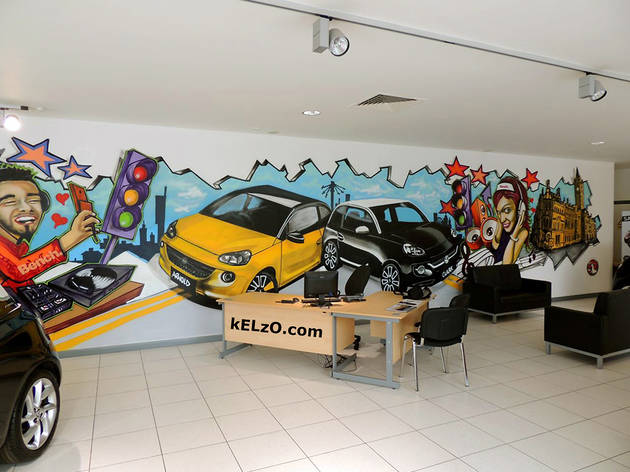 Arnold Clarke showroom, Old Trafford, Manchester (2013)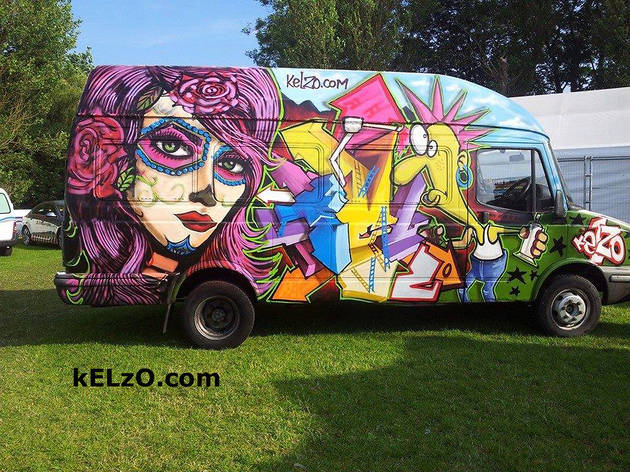 Zeppy's van, Chorlton, Manchester (2014)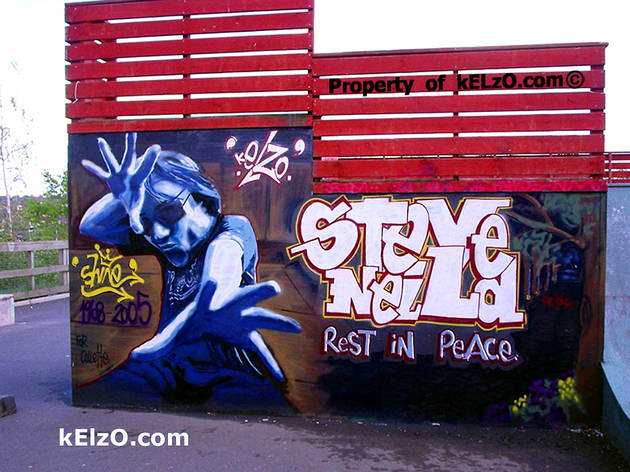 Steve 'Shine' Neild tribute wall, Radcliffe Skatepark, Manchester (2005)
In 2003 I started painting up a new skate park in Radcliffe for Bury Council. I made it mine and invited artist friends from around the country to come up and paint almost every week up until 2007. It was a great little place while it lasted.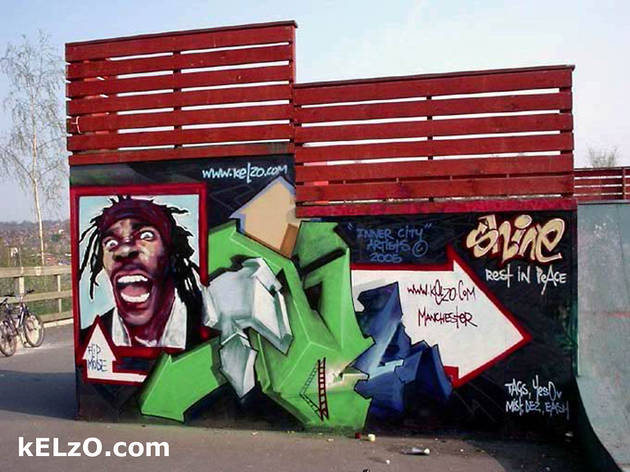 Busta Rhymes wall, Radcliffe Skatepark, Manchester (2005)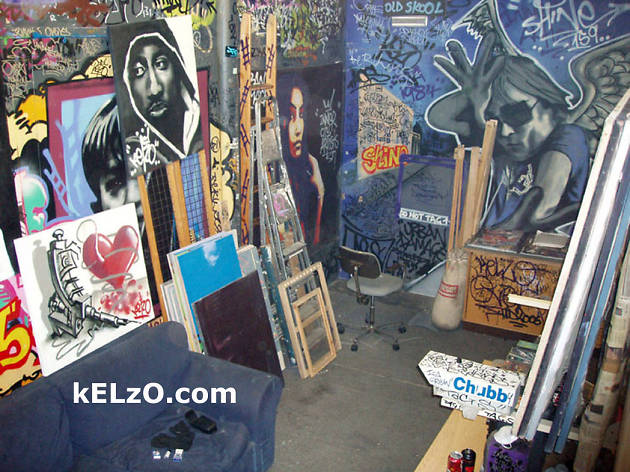 Studio159, Wellington House, Ancoats, Manchester (2006)
'In 2005 I opened my first studio in Wellington House in Ancoats, where we painted and partied for two years.'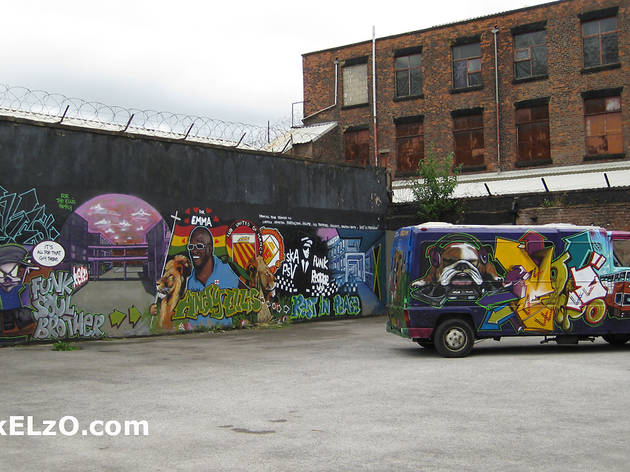 Hope Mill studios, Ancoats, Manchester (2010)
I needed a bigger place and moved up the road to Hope Mill in 2009. This place had the dopest private wall I'd ever seen (it was 50ft wide by 18ft high) and we painted almost every weekend until the wall collapsed damaging cars, and I called it a day. It was a great six years, though.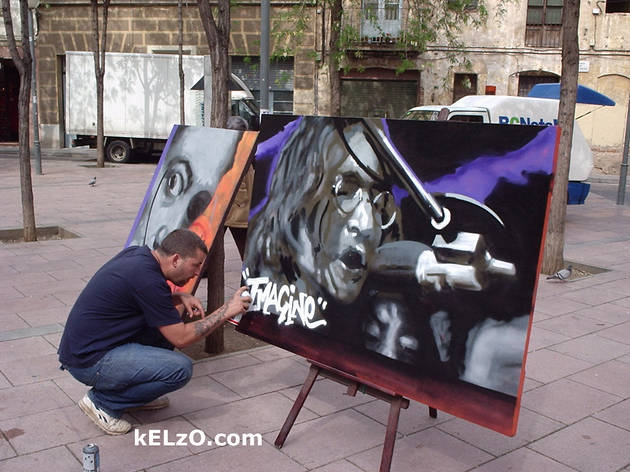 'Imagine' canvas painted in John Lennon Square, Barcelona, two days after the Madrid bomb (2004)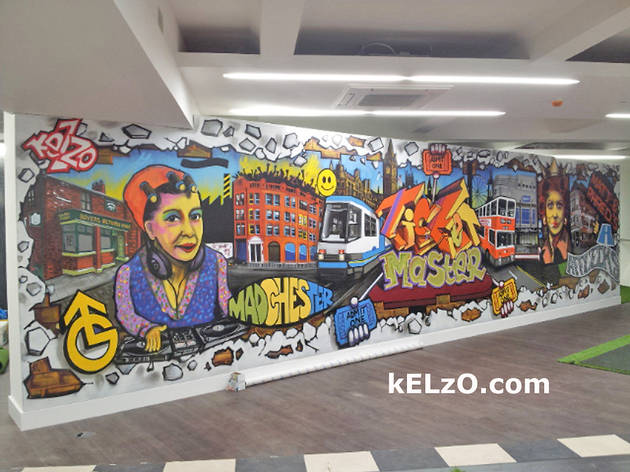 Ticketmaster's new office, Stevenson Square, Manchester (2015)
'From 2011 up until today, I still work in schools, and I'm lucky enough to be commissioned by some of country's leading companies. Now and then I will drop a piece of artwork in the Northern Quarter and other cities.'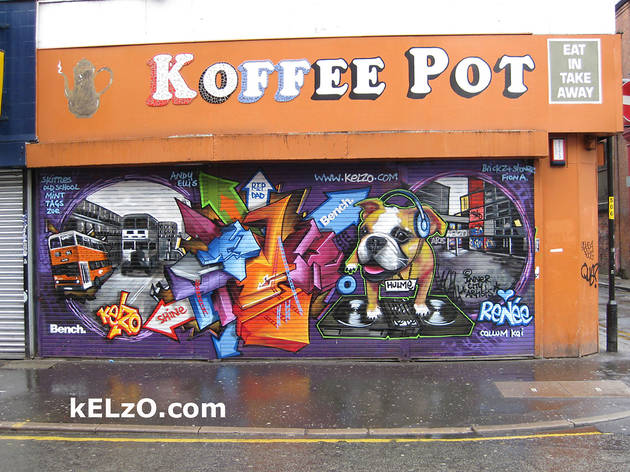 The old Koffee Pot, Stevenson Square, Manchester (2013)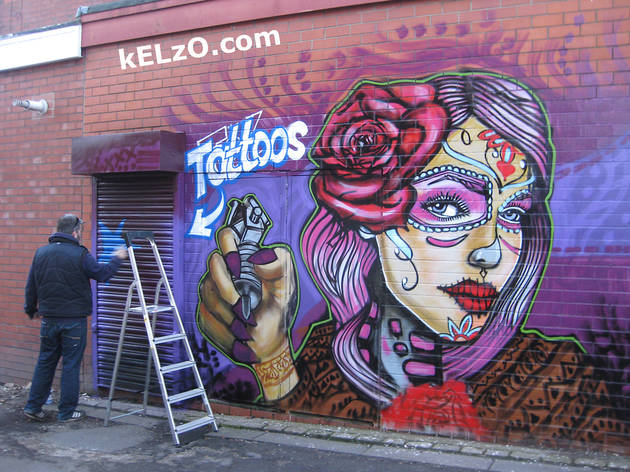 Tattoo parlour, Bolton (2013)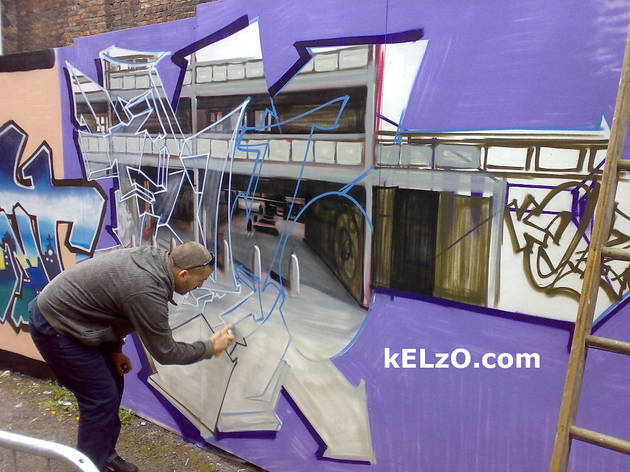 Upper Space Gallery, Newtown Street, Manchester (2008)
'I also work on canvas in my garden in Salford. I still paint on the streets but only in places where it's gonna stay up. I also try to attend a few big music festivals each year around the UK to drop some art.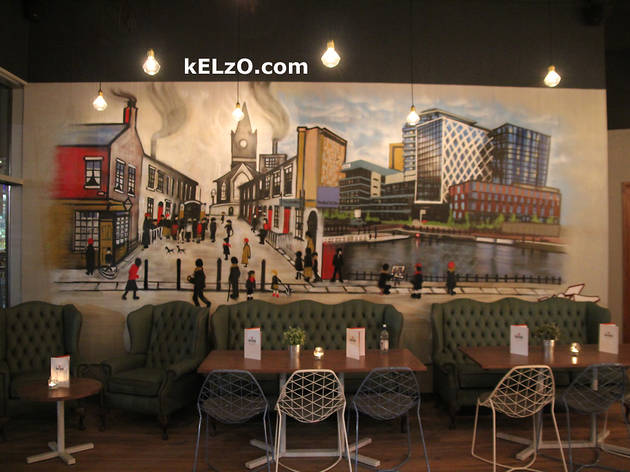 Lowry graff-style at Craftbrew, Salford Quays (2013)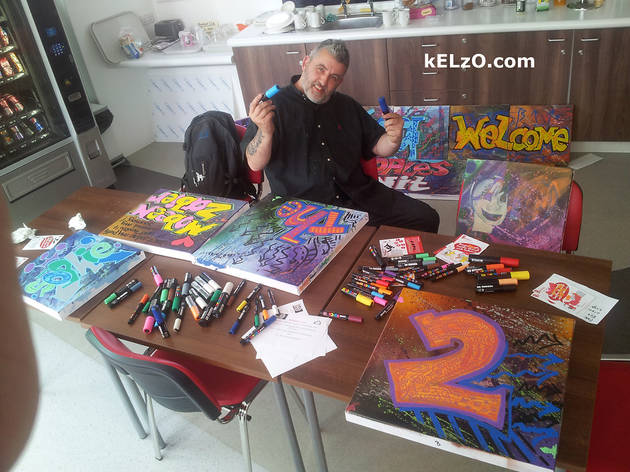 Kelzo art classes, Teenage Unit, Christie's Hospital, Manchester (2015)
'I am currently working with kids at the Christie teenage cancer unit in their hospital in Manchester, attending one day a week, creating canvas pieces and also managing a project which will see the walls of the hospital adorned with artwork from some of the UK's top artists.'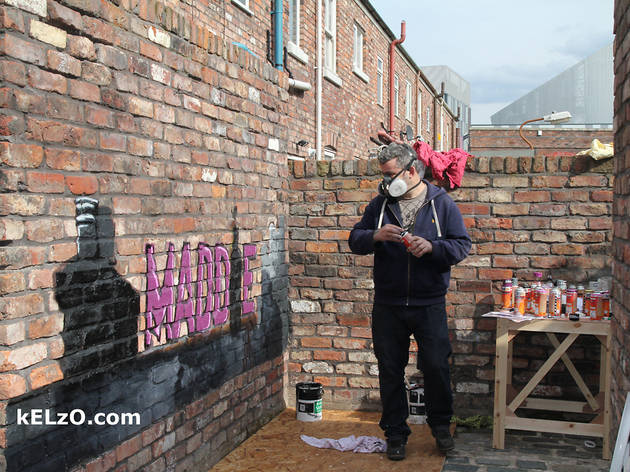 Behind the Rovers, Coronation Street, Manchester (2015)
'I also design films sets for the BBC and Granada - I've been working on a recent storyline for Coronation Street.'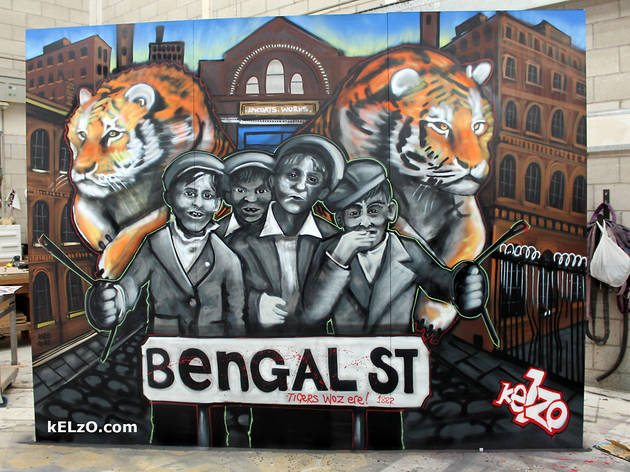 Bengal Street Tigers, The Scuttlers, Royal Exchange, Manchester (2015)
The casket of the late great Rupert Campbell (2015)
'I have just painted the coffin for Manchester musician and Sankey's original owner Rupert Campbell, who sadly passed away recently, and this was the first time I had ever been asked to do that. The family said that I did him proud and it was a fitting tribute.'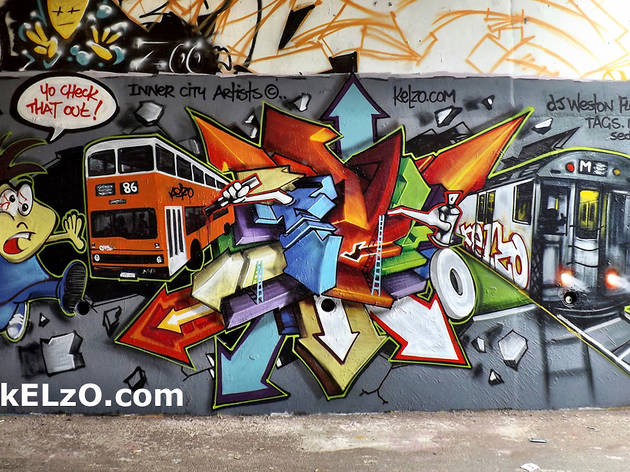 Kelzo, M1 underpass, Wakefield, Yorkshire (2013)
What does the future hold?
'I'm still gonna paint from time to time out on the streets of Manchester, as I enjoy that. I'm also gonna work on commissions when they come in, and I'm working on the relaunch of my clothing label Urban Damage. I really enjoy working at the teenage cancer unit with the kids, that's something I am hoping to do regularly.'
'Huge shout out to my girl Renee - well done on the degree! A big shout out to all my friends. Peace.'

Website: kelzo.com Email: needmorepaint@gmail.com
You might also like
Free parties, crumbling crescents and urban damage are all on display in this photographic diary of Hulme in the '90s
Clubbing in '90s Manchester wasn't all about the Hacienda, you know? Let's have a look at some of the people, nights and tunes that haven't always taken centre stage...