Heads up! We're working hard to be accurate – but these are unusual times, so please always check before heading out.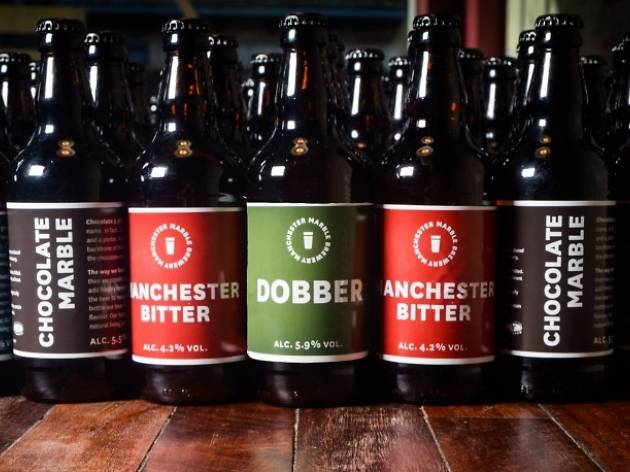 Manchester's best craft breweries
Manchester's hopping mad for micro-breweries as our selection of the city's best craft breweries shows
When it comes to beer, Manchester pubs know what's what. And with the boom in craft beer, they've certainly got plenty of good drops from which to choose. We've rounded up ten of the leading micro-breweries, from the long established Marble Beer which has been in the game for nearly two decades to Shindigger which was set up by two former students in their flat, via a socially and environmentally conscious cider press which wins best name, with the pun-tastic Moss Cider. If you're feeling thirsty after you've read through, we've included venues for you to sup 'em. Cheers!
The top ten craft breweries in Manchester
First Chop is both a brewery and brew tap located just over the Manchester border in Salford. From a railway arch HQ, which doubles as a live venue for acts like Jesca Hoop and proper party DJs, the craft brewery produces a capsule range of craft beers.

Made by brewer-patron, Richard Garner, sweet black IPA, SYL has won a number of 'best in show' awards while others of note include include American Pale Ale, TEA and hoppy blonde AVA as well as one-offs such as Extra Love Pale Mango Ale and cold-brewed coffee IPA called JOE.

The brewery has recently launched a new 'Super' range, which are First Chop standards such as TEA and HOP dry hopped in the cask for bombastic flavour.
Where to drink: First Chop Brewing Arm, Port Street Beer House, The Beagle, The Font, Coffee Fix and many more.
This micro-brewery crafting eminently drinkable beers is run by a former actor, Duncan Barton and his marketing guru wife, Keri Barton.

Seeking the chance to work on a business together after having children, they started as a bottle-only brewer in February 2014. With cool touches like labels made from old theatre style tickets wrapped around bottles (a nod to Duncan's past) they soon found their beers stocked in the likes of BBC Food programme-host Kate Goodman's fine wine shop, Reserve, in West Didsbury and have recently moved onto cask and keg.

They sell two ranges: the core gang which includes a Blonde and a Dubbel beer, as well as a number of spicy and herbaceous specials called 'Tickety Few' such as a Coffee and Star Anise porter.

Where to drink: Get your bottles from fine booze-merchants like Reserve Wines (Didsbury).

Twitter

Branding is 90 per cent of success - or so the marketing gurus will tell you – and Black Jack's unmistakable pump clips, inspired by the playing card of the same name, stick in the mind.

Under the guiding hand of founding brewer and Marble Brewery graduate, Rob Hamilton, Black Jack has evolved into one of the city's leading craft beer houses – and the brewery itself is open for occasional weekend drinking too. Located in Manchester's optimistically named 'Green Quarter', the cask and keg range includes Aces High (IPA), Double Bluff (amber bitter) and more experimental beers such as Deerhunter Coffee Saison - named after North Tea Power's house coffee blend and brewed in collaboration with Indy Man Beer Con, the region's leading craft beer festival.

Where to drink: Black Jack is stocked everywhere from West Didsbury's Volta and old-worlde pubs in the heart of Chester. But the best place to sample their wares is probably their own brewtaps.

Twitter
A true microbrewery, Six O'Clock is simply Dan Tang and Ian Johnson and a load of hops.

Despite having no brewing experience, the twosome have sophisticated palates and beers that are doing the rounds right now include a popular and amusingly named IPA Working Lunch (5.8% ABV) and P45 (which is the name for the brewery's one-off or special beers): Chinook 5.9%. Others to watch include Overtime Pale Ale and an English IPA 'Union'. Most beers are cask although they are branching out into a bottled imperial Russian stout for Christmas called Written Warning.

Having designed and built their own micro-brewery, Dan and Ian believe their small size gives freedom and flexibility and while they like international hops they think that contemporary UK hops are just as exciting as their international cousins.

Despite being one of the most 'emerging' of the brewers on this list, Six O'Clock is nevertheless enjoying excellent representation across the city. One to watch.
Where to drink: Strange Brew and Font Bar in Chorlton

Twitter
Based in Stockport, this well-established independent brewer makes beers in cask, bottle and keg.

The range includes aromatic low ABV bitters and pale ales, single hop IPAs, one-off big IPAs, Imperial Stouts, amber ales, beers with a Belgian influence, big barleywines, experimental hops.

Their Berliner Weisse is wonderfully zesty. A reliable choice.

Twitter
Despite being very much a micro-brewery, Five-Oh is something of an craft beer elderstateman at the grand old age of three.

The Prestwich operation was set up in 2011 by US craft beer aficionado, Jamie Hancock. Very much an experimental brewer, Jamie seldom makes the same beer twice. Recent offerings include bottle conditioned beers including, Redcurrant Ripper, Ryeless Ripper, Black[Currant] IPA, Whitecurrant Saison, Get to the Choppa! (A Chinook Brown Ale). Five-Oh served a stout using the Japanese Sorachi Ace hop at Indy Man Beer Con 2014. One of his most recent batch was a 'chocolate digestive beer'.

Hancock has worked at Port Street Beer House (Manchester's leading craft beer bar) and now works at The Beer Moth – a specialist craft beer off licence in Manchester's Northern Quarter – so he knows his hops, so to speak.

Where to drink: The Beer Moth, Port Street Beer House, Cuckoo Prestwich, The Village Green Prestwich, Salford Independent Beer Festival
Like the quaint village and National Trust country park from which it takes its name, this family-run craft brewer is a little less punk than some of the others on this list. But that's not to say the beers are less extravagant in the flavour department.

They brew traditional English beers based on North Western styles from 30 or 40 years ago. Their Porter is currently The Campaign for Real Ale's (CAMRA) Supreme Champion Winter Beer of Britain while draught best sellers include Bridgewater Blonde and Little Bollington Bitter. Established in 2006 by former Tetley man, John Costello, Dunham Massey brewery is set in the rolling countryside just south of Manchester city centre.

Spent hops feed the cattle on nearby farmland, and the spent hops are used as fertilizer making this arguably one of the greenest beers on this list. All hops and malts are English and there's a shop and hop garden to explore too.

Where to drink: In the house-owned Costello's Bar in Altrincham and The Swan With Two Nicks in Little Bollington.
George Grant and Paul Delamere are the 24-year-old twosome who set up Shindigger in their student flat.

They still develop beers on homebrew kit, before upscaling and using more established breweries equipment to brew with – phantom or gypsy brewing, as it's called. Their beers take a very literal US view of things, and several reference the established US craft scene. Bottles to look out for include include Pacific Pale Ale and West Coast Pale Ale as well as new baby, Shindigger Pils.

Where to drink: Find them in established spaces, like Manchester Food and Drink Awards 2014 Pub of the Year, the Dockyard as well as the likes of Font Bar in Chorlton.
Nearly 20 years old, Marble is one of Manchester's most established brewers, and did much to de-fuddy-duddy draught beer before it became the 'in-thing'.

Its labelling has always been upfront, with beers simply called things like 'Pint' or 'Ginger', and as such they opened the ale market up to a younger audience of curious drinkers who may have been put off by the old-fashioned associations of more traditional pumpclips.

Draught best sellers Pint and Manchester Bitter are classics in their own right, while popular bottled beers include Chocolate Marble and Earl Grey IPA.

Owners of three bars in Manchester: The Marble Arch on Rochdale Road, The Marble Beer House on Manchester Road (Chorlton) and 57 Thomas Street in the Northern Quarter, these remain among the best spots to try their diverse wares. All their beers are suitable for vegetarians.

Where to drink: At any of Marble's own bars, The Knott on Deansgate, Manchester House in Spinningfields and Beermoth in the Northern Quarter
Ok so, it's not a brewery as such, but this community-focused cider producer makes cider from windfall apples in the heart of Moss Side and it's got a similar ethos to the craft brewers mentioned above.

They grow their own apples in a former bus station depot and it's such a great story that Moss Cider has featured on a number of food-related TV and radio shows. Fortunately, the booze isn't bad either.

A seriously social enterprise, this not-for-profit project always needs more hands on deck. So have a look on their website for volunteering options and look out for them on draught and bottle at many beer-loving bars in town. Each hour that's donated by volunteers is paid for in bottles of cider or apple juice.

Where to drink: Common often stock Moss Cider – or follow them on Twitter for up to the minute info.
Find Manchester's best craft beer bars