The best pubs in Manchester
Our pick of Manchester's best pubs, from traditional boozers to swisher spots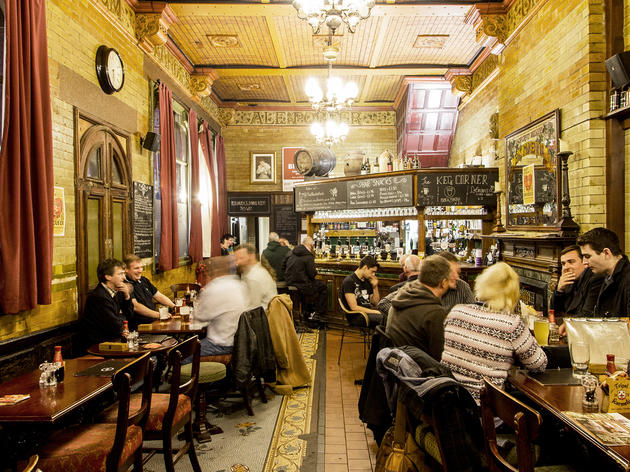 Even though pubs are closing across the UK at a frightening rate, there are plenty that continue to thrive. And their success is not only down to the fact that they get the basics of any self-respecting public house absolutely spot on. The best pubs in Manchester are knocking out quality food, working with the finest indie brewers and craft beer bars, serving up top-notch entertainment and comedy and, well, just being somewhere nice to have a beer. A lost art for many, it seems.
Manchester pubs
Owned by former Beautiful South and Housemartins lead singer Paul Heaton, this Salford institution has tapped into the gentrification of Chapel Street with a lovable mix of old and new styles. Some features date back to Victorian times with lovely woodworks and tiled floors, as well as a carved wood, cathedral- esque performance space on the top floor.
Read more
If you were putting together a dream pub in your booze-fuelled mind you'd be hard pushed to come up with a more perfect construction than the Marble Arch. Enjoy beautiful tiled walls and floors dating back to the heyday of pub architecture whilst you explore one of the city's leading selections of ales, lagers and liquors, and food that goes far beyond regular pub grub.
Read more
Keeping the integrity of an old building while also doing something modern is a tricky feat, but the people behind The Parlour have pulled it off. The site itself has something of a chequered history, with several of its past tenants, including The Nose and Marmalade closing prematurely, but husband and wife team Jamie and Goska Langrish have so far steered the pub towards prosperity.
Book now
Read more
Manchester's Portland Street is often seen as a bit of a no-man's-land; a forgotten road between the Village and Chinatown characterised by a heavy bus route and dangerous crossings. It's not a destination, more a path to the next place on the map. But that's what makes the pubs that reside here so much more special.
Read more
Housed in a beautiful tudor building inexplicably located in the centre of town, Sinclair's is home to the biggest beer garden in the city. Unfortunately, the secret is well and truly out, so as soon as the sun starts shining you'll find it awash with drinkers enjoying lager that's almost half the price of that you might find just a few streets away in the Northern Quarter.
Read more
In October 2009 that The Star Inn became the very first in the country to be taken over and run by its regular customers. Going out for a pint never felt so supportive!
Read more
Taking a brave step outside the Northern Quarter, The Beagle has found its feet after shaky beginnings. Dressed head-to-toe in wood and 1970s-inspired fabrics, the bar doesn't lack class. Nor does it lack drinks, which focus on real ales and craft beer.
Read more
Located just a hop, skip and a jump from the neon and fake tan of Deansgate Locks, The Briton's Protection could not be further away in style. A proper old-fashioned boozer with a well-stocked bar that even has a serving hatch at the back, this is the kind of pub that wears its nicotine-stained curtains as a source of pride.
Read more
One of Manchester's most popular pubs, The Castle on Oldham Street has proven to be one of the Northern Quarter's big success stories since its refurbishment in 2009. Originally founded in 1776, it's well known in indie rock circles as the site of a legendary interview between John Peel and Ian Curtis in 1979, and today pays heed to its musical heritage with several weekly gigs at its own charming music hall.
Read more
You can tell by just looking at the place that Knott is a higher breed of bar. Jutting from the side of a railway arch, it seems to have grown organically from its surroundings. There are beer adverts and gig posters in lieu of wallpaper and it's also handily close to the ring road and Deansgate station, for those who like to work out escape plans.
Read more
The eighteenth century equivalent of a gay bar, a Molly House was once a place where men could meet others like themselves, without fear of prosecution and public hanging. These days, the only worry is finding a space at the bar.
Read more
Mother Mac's is supposedly one of the more haunted pubs in Manchester, which is one of the many reasons a lot of punters are afraid to go in. Which is a shame because once you brave the hostile entrance it is a damn good pub - and once you've spent a couple of pints in there you'll be treated like family by those that dwell within.
Check prices
Read more
There's nothing particularly original about this pub – no gimmicks, no heavy branding. It's just a good pub. It serves beer. It serves fish and chips, and bangers and mash. On Friday and Saturday nights it has karaoke and the jukebox also plays videos.
Read more