The 21 best bars in Manchester
Enjoy cracking cocktails, perfect pints and good times at the city's best bars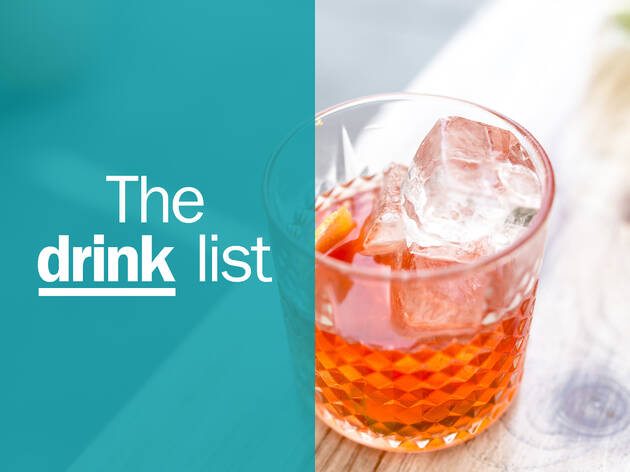 Manchester is home to some of the best nightlife in the country. But it's not just about the music – this place has its drinking down. From delicious dive bars and brilliant boozers to chic cocktail bars with pricey drops and panoramic views, this city is full of late-night things to do when it comes to getting a bit squiffy. That's if you can remember where to go when you're a couple (or five) pints in. It's probably best you keep this handy guide with you then, as we've pulled together the best bars Manchester has to offer in one easy to read (when blurry-eyed) list.
1
What is it? Fancy cocktails that are Northern to the core.
Why go? With several high-end restaurants and bars on the Living Ventures roster (Australasia, Manchester House) it would be easy to dismiss each as lacking that individual charm, but it couldn't be further from the truth. Stepping onto the podium as a case in point is The Alchemist. House classics include a smoking Old Fashioned and the foaming Bubble Bath, made with 'apple fairy liquid'. Gold décor and the city's most sun-kissed punters complete the look. All of those drinks making you hungry? Alchemist also have a food (and set) menu, so get ordering ciabatta, mac n cheese bites and salt n pepper crispy squid.
What is it? The sweet filling in a skyscraper sandwich. Wedged halfway up Beetham Tower, Cloud 23 is the self-dubbed 'height of luxury'.
Why go? Cloud 23 has the best views of any bar in the city, what with it living in Manchester's tallest building and all. Sit by the floor-to-ceiling windows, overlooking the tiny pedestrians below. The cocktail menu as dizzying as the heights on show, where signature cocktails emanate from various Hilton's across the globe. Manchester's two offerings are the 'Up, Up & Away', a sharing cocktail made with
Ron Zacapa 23 Rum, Grand Marnier, Orange Rooibos Tea, Pineapple and Grapefruit and the 'Ena Sparkles', a mix of fruity liqueurs finished off with a decent glug of champagne. There's a popular afternoon tea menu too, with all the usual suspects all make an appearance.
3
What is it? An Alice in Wonderland styled adventure wrapped up in a gig/dive bar.
Why go? Housed between a florist and a kebab house, Big Hands is a blink-and-you'll-miss-it kind of place. A deceptively small entrance leads to a place where backstage passes and posters from bygone shows adorn the walls. A tropical rooftop terrace and touring bands at the bar create a party atmosphere every night of the week and the venue also contributes to Machester's fiery rock scene, hosting a variety of metal, punk and grunge nights throughout the month. Finished headbanging? Grab some bar snacks and head your sweaty self outside for some well-earnt fresh air.
4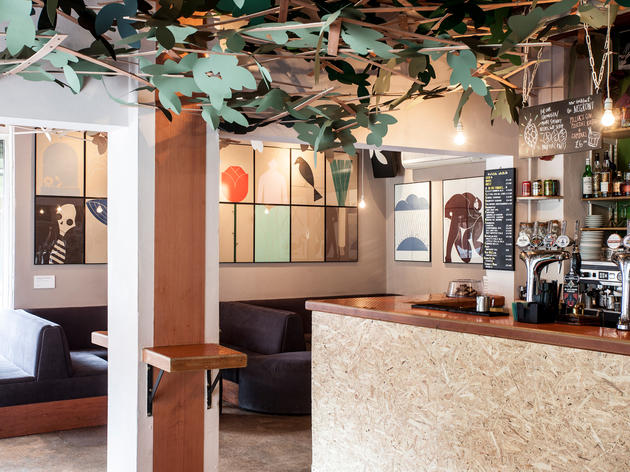 Seb Matthes
What is it? An original Northern Quarter bar that's had a minimalist overhaul.
Why go? For the impeccably sourced creations like Korean fried chicken sandwich with kimchi, secret recipe chilli and popcorn cockles. Enjoy craft beers and cocktails from the team behind the Beagle and Port Street Beer House to the strains of quirky DJs and quiz nights. Changes aside, Common remains one of the most independent feeling and enjoyable bars in town.
What is it? Manchester's bohemian pleasure palace that doubles as a bar, bierkeller and entertainment centre.
Why go? As the city's only Tankova, Albert's serves thousands of pints of unpasteurised Pilsner Urquell a week; shipped directly from the brewery near Prague. Throw in Alpine cocktails, homemade Schnapps and hearty bar meals – plus regular showcases from the Haus band – and you've got one of the best (and busiest) bars in town. As well as being a destination in it's own right, Albert's Schloss is the obvious start or end to your night at the Albert Hall music venue upstairs.
6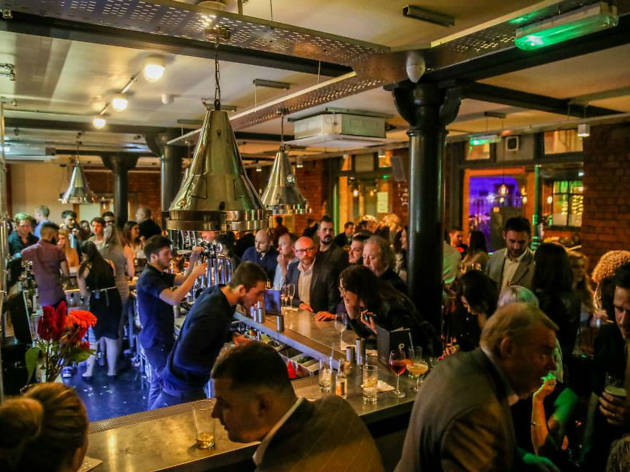 What is it? The perfect place for evening cocktails and late night antics.
Why go? Along with a strong bar team serving up twisted classics and house specials like a boozey ice cream float and Beer in the Bronx (rum, homemade IPA syrup, lime, sweet vermouth), you'll find breakfast staples, sandwiches and salads. Plus bar fare including burgers, chicken wings and other American classics in the evening. But Pen and Pencil is not about the food. A roster of cool DJs and the drinks really make it, with many of the latter referencing episodes or scenes from everyone's favourite vintage TV show, Mad Men. Need to kick back after work? Easy.
7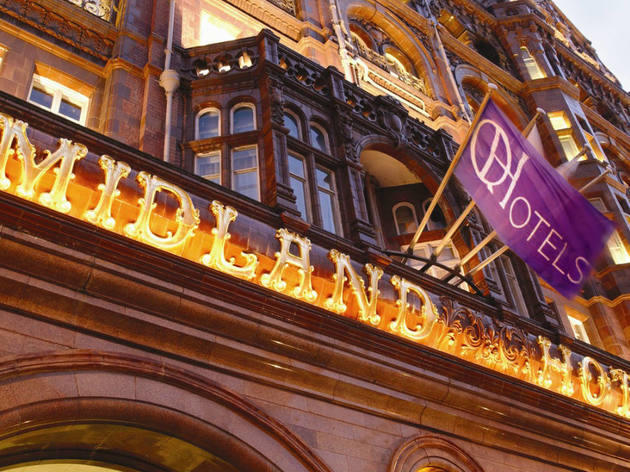 Mr Cooper's House & Garden
What is it? Award-winning cocktails and top notch bistro food.
Why go? Mr Cooper's mouth-watering cocktails draw on natural and European trends with ingredients like wild strawberry vermouth, dill aquavit and quinoa vodka. Packed with trees and vertical gardens, the interior is like a walk through mossy woodland after the rain.
What is it? Light bites and cocktails in a historic joint designed by nineteenth-century architect Alfred Waterhouse.
Why go? Located at The Principal Hotel on Oxford Street, this bar was opened by DJs-turned-restaurateurs Justin Crawford and Luke Cowdrey. Expect similar fare to their award-winning eatery, Volta in Didsbury. Think small plates, cocktails and an inspired wine list. A fairy lit courtyard and fabulous DJs mean there's no need to go on anywhere else.
9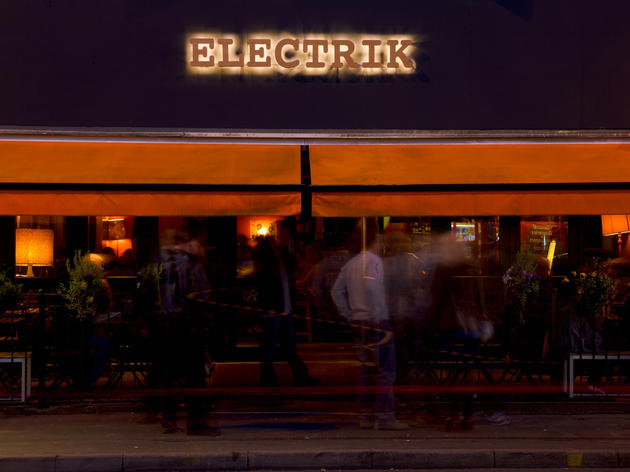 What is it? A 1970s-tinged bar that serves stonking real ale and great Sunday roasts.
Why go? Just a stone's throw from the famous 'Four Banks' crossroads in Chorlton, Electrik has the vibe of a place John Peel might have built in which to listen to records. Unsurprisingly, perhaps, local DJs-turned-restaurateurs Justin Crawford and Luke Cowdrey are behind this Chorlton institution. They started out running Manchester's legendary Electric Chair parties under their Unabombers moniker and their empire now includes Volta in Didsbury and Volta at the Principal Hotel's Refuge; both musts for any self respecting food and drink fan.
What is it? A vogueish spot for gigs and vegetarian grub.
Why go? The small upstairs area above this popular Withington bar isn't really big enough to house the parties and gigs that it does, but try telling that to the trendy students and graduates who've made it their local. As well as live music and poetry, expect appearances from emerging talent in all manner of creative disciplines. There's an excellent veggie menu and chilled atmosphere, day or night.
11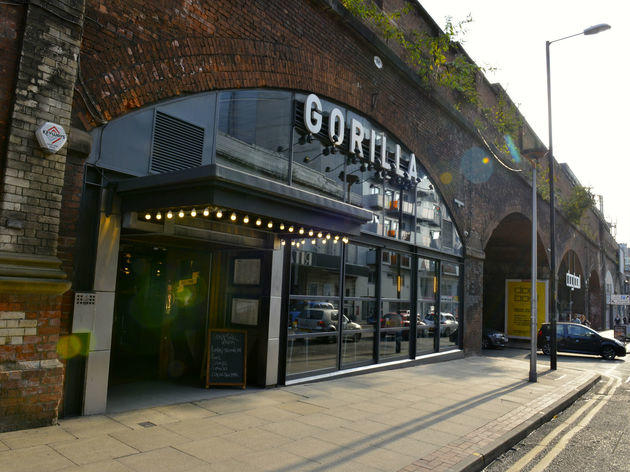 What is it? A bar cum club beneath Whitworth Street railway arches.
Why go? The clever folks behind Gorilla have a hit on their hands. What started out as a much-needed Northern Quarter-style bar on the other side of town has evolved into a full-fat club, playing host to legends like Derrick Carter in the bar and massive names (MistaJam, Mike Skinner, Hot Wuk) in the main room. Tuck into a gourmet kebab, locally crafted gin and tonic, and what we consider to be Manchester's finest Espresso Martini.
12
What is it? One of the city's finest late night bars with a personality all of it's own.
Why go? The speakeasy vibe and cool crowd are a real draw, with draught beers from local breweries and classic cocktails. Also look out for art exhibitions and some of Manchester's finest DJs propping up the decks of an evening.
13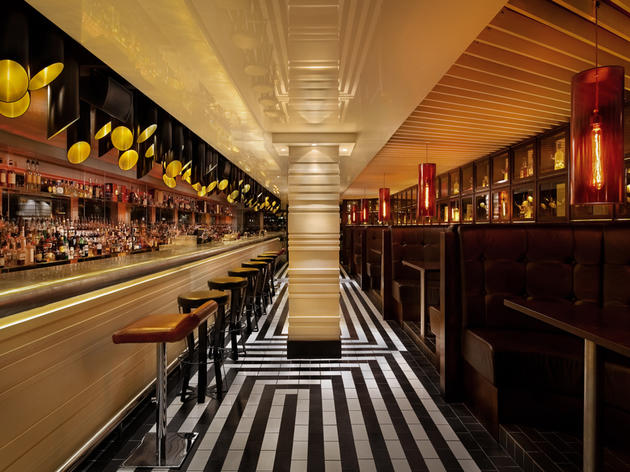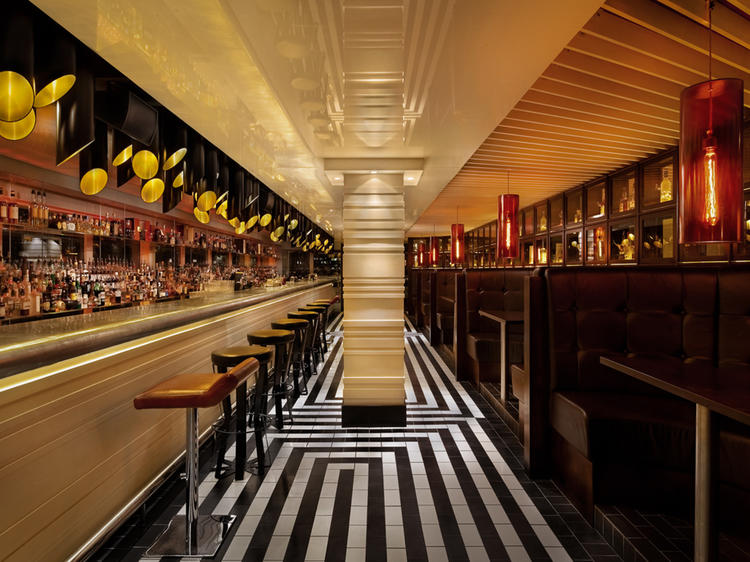 What is it? The flagship restaurant and bar of Manchester's prolific and showy restaurant group, Living Ventures.
Why go? Firstly, for the sumptuous tasting menu by head chef Nathanial Tofan and the roof terrace. Secondly, Manchester House celebrates the city's inimitable sense of style with aplomb and no expense has been spared on the sleek industrial-chic design – or on the multi-million pound state of the art kitchens.
14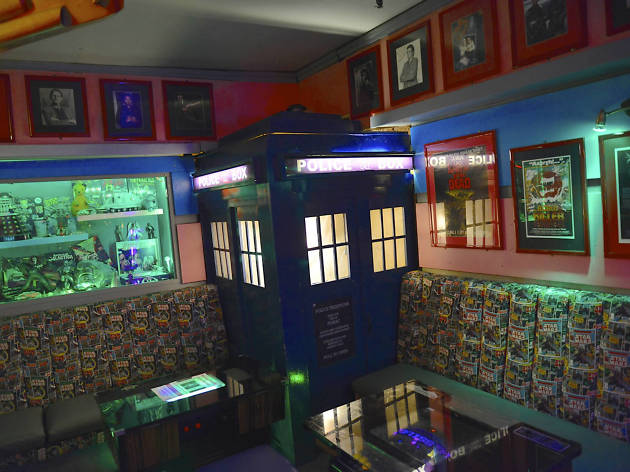 Rob Martin
What is it? A shrine to old school entertainment posing as a bar.
Why go? Quite simply for the novelty. Like a cross between a bar and a teenage bedroom, Fab Café pays homage to fabulous TV and film artefacts and, naturally, to drinking. Stepping down into the basement bar from Portland Street is like entering another world.
What is it? A bar with a heart.
Why go? Sandbar is the bar that keeps on giving. Just when you think you've found your preferred spot in the bar, next to the fire or in the spacious smokers' terrace, you'll turn a corner and find more pews and pals in another section of the bar. Locally roasted coffee is served with a Tunnock's chocolate bar as a matter of course, while beers (Belgian and regional) and Scotch whiskies are a strength. Eat stone-baked pizza and get involved with one of the many friendly comedy, spoken word and improv nights.
What is it? Pleasant canteen by day and anything-goes club by night.
Why go? Soup Kitchen is a renowned favourite with the world's finest up-and-coming bands; it has a jam-packed live schedule and the management are always making changes to improve the experience. Club wise, you can catch great DJs, comedians and the odd art exhibition here too.
17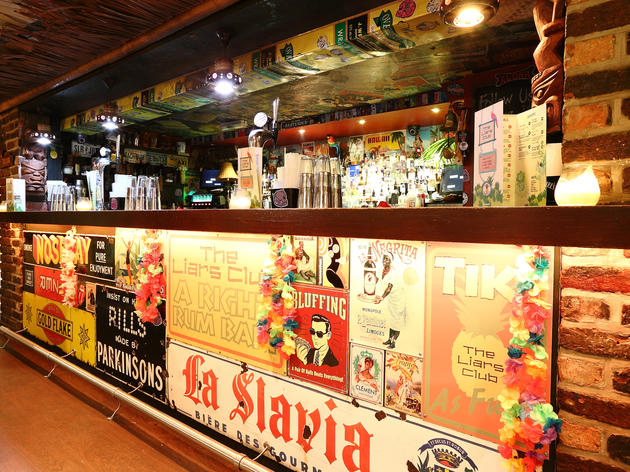 What is it? A fine tiki bar that out-tikis the best of them.
Why go? So much more than just a Mai Tai haven, The Liars Club serves up a variety of tropical inspired cocktails and tiki variations on old classics. Think slurping piña coladas from a hollowed out pineapple and drinks served in novelty steins, barrels and volcanoes. Rum enthusiasts will be happy about the hefty selection from 15 – count 'em – different countries. And if you want to get hands-on you can try out their cocktail making masterclasses.
18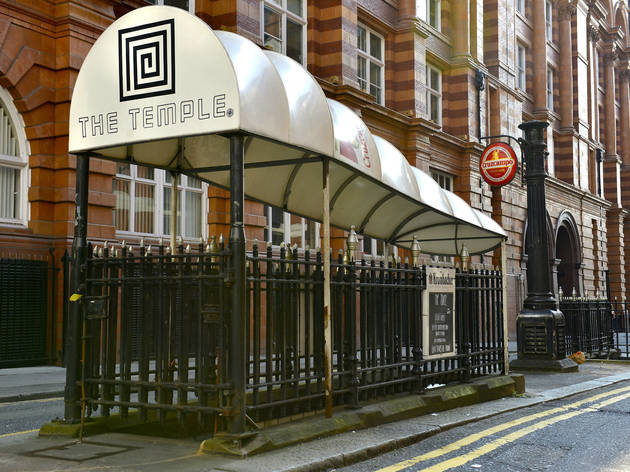 What is it? No frills drinking den in a former public loo.
Why go? While it may not have the best selection of drinks (think Jack Daniels and Euro-faves by the bottle), this regular haunt of Elbow's Guy Garvey is the kind of place where all you need is a beer and a whiskey chaser. The kind of place where you could waste a tenner on the jukebox and hide away for days.
What is it? A late-night spot for the afterparty.
Why go? Once the plethora of bars and pubs around the Northern Quarter have kicked out, there's only one place to go: Blackdog Ballroom. Open until 4am on school nights and 5am on Saturdays, this is the place for 'one more drink', which you definitely don't need - but crave desperately. 'Yappy hours' happen Sun-Fri from 4pm to 8pm, where selected cocktails only cost an astonishing £4 and Jagerbombs for as low as £2.50. See sister bars Cane and Grain (Thomas Street) and Crazy Pedro's (Short & Bridge Street) for more of the same.
What is it? Once a Victorian school for the 'deaf and dumb', now a live music venue.
Why go? Another venue in the Trof empire (see Gorilla and Albert Schloss), The Deaf Institute's Grade II-listed ground floor offers space for drinking and dining, while upstairs there's a gig space with vintage lecture hall seating and room for a few hundred people. Along with live acts, regular club nights keep the crowds coming. One of Manchester's most unusual and much loved venues.
21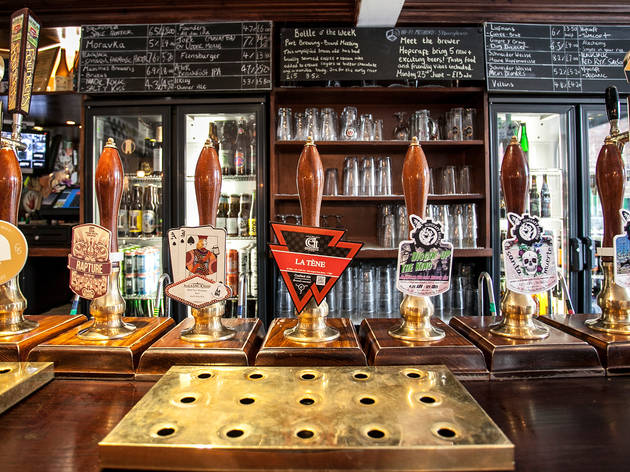 What is it? A mecca of craft beer and cask ale.
Why go? If you have an interest in real ale and have been to Manchester before, odds are you've either already been here, but if not get going. It's the ultimate haven for beer appreciators. Plus, Port Street Beer House's owners are also behind the region's favourite beer festival, Victoria Baths' Indy Man Beer Con which takes place each October.
Looking to map out your days in Manchester?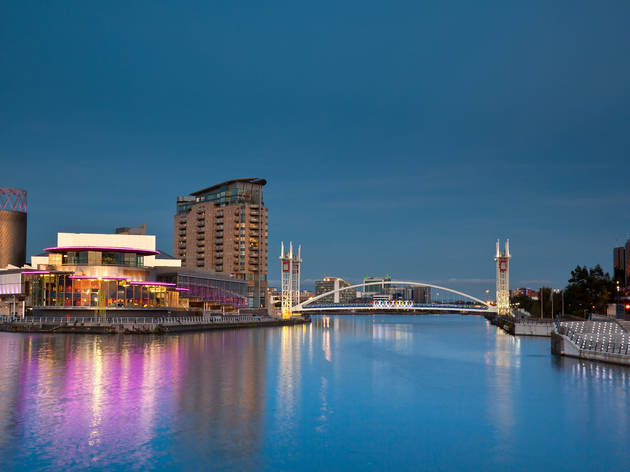 From classic concerts in ancient meeting houses and history lessons at famous museums, to flicking through stacks of vinyl or enjoying an evening out at one of its many restaurants and bars. The list of brilliant stuff to do goes on and on.
More to explore