The 11 best bars in Manchester
By night, the best bars in Manchester turn the city into a true tipplers' paradise. Here's where you should start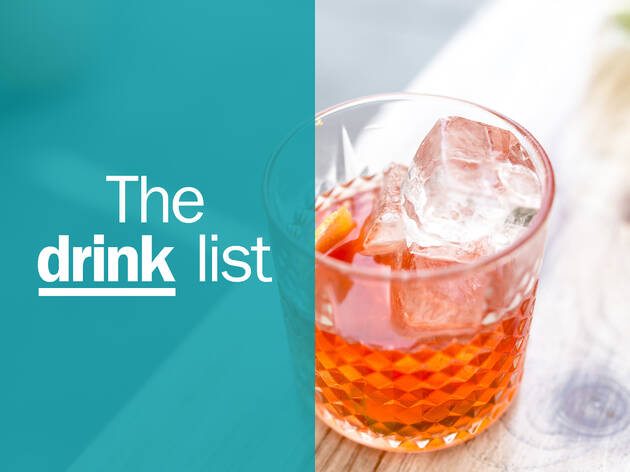 They say Manchester is a city that thinks a table is for dancing on and, well, after a few drinks at the best bars in Manchester, you'll not only agree, but probably be actively trying to hop on any available stable surface.
Once upon a time, the city was known for its (still excellent) cosy pubs and hardcore clubbing scene but, as the much-talked about Manchester restaurant scene gallops along at a startling pace, so too do the booze venues on offer.
And it's not just the quantity of bars that is staggering, but the sheer variety of the line-up. By night, the city turns into a drinkers' paradise: take your pick from Alpine bohemian pleasure palaces, grown-up boozy cocktail dens, geeky craft beer bars and grungy, sticky-floored dives.
Drank somewhere on this list and loved it? Share it with the hashtag #TimeOutDrinkList. You can also find out more about how Time Out makes recommendations and reviews bars.
Best bars in Manchester
1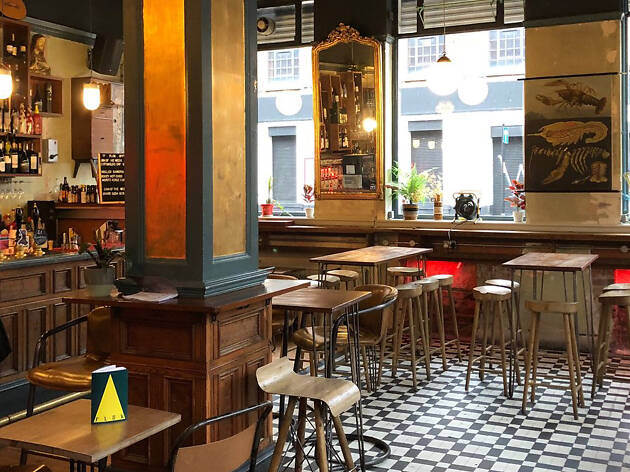 Photograph: Courtesy TripAdvisor.com
The Flok team had perfected the art of hospitality at their first two bars: the balearic party shack Folk in East Didsbury and the (slightly) more grown-up wine bar Wine and Wallop on Lapwing Lane. In this latest venture, they seemed to hit the nail on the head with the perfect mix of laid-back atmosphere and serious drinks offerings. The bar features a cosy retro interior, well-chosen wine, an incredible sherry list and, downstairs, you'll find a hidden, gold-leaf lined vault complete with record player and mini bar, which groups can rent out for private fiestas.
2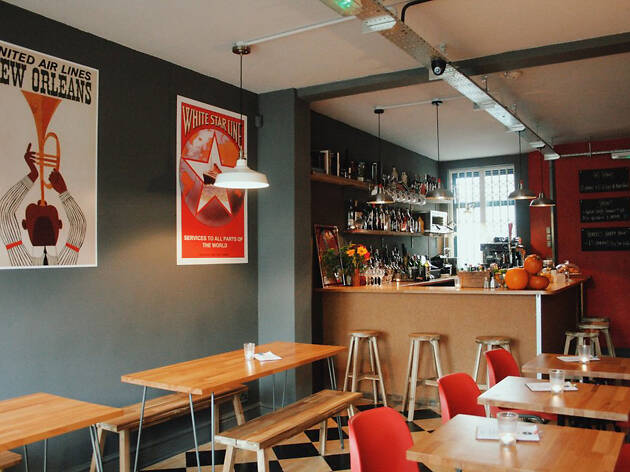 Photograph: Courtesy TripAdvisor.com
How did we ever cope before the perfectly mixed Negronis of Henry C came along? This tiny cocktail bar has made a big impression on the boozers of Manchester thanks to an impeccable and inventive drinks list that changes regularly. Choose off the menu or ask for your favourite classic – if they've got the ingredients, there is no doubt they will nail it. There's a tiny shop in the back room, too: venture forth for obscure spirits and craft beers to take home – just don't go spending your month's wages after too many martinis.
Nineteenth-century architect Alfred Waterhouse designed this grand hotel, bar and restaurant, and what a job he did. The iconic joint on Oxford Street has long been a landmark and made even more so by new owners and a million-pound face-lift. The bar was put into the capable hands of DJs-turned-restaurateurs Justin Crawford and Luke Cowdrey. Expect similar fare at their award-winning eatery, Volta in Didsbury. Think small plates, cocktails and an inspired wine list. A fairy-light lit courtyard and fabulous DJs in the basement mean there's no need to go on anywhere else.
4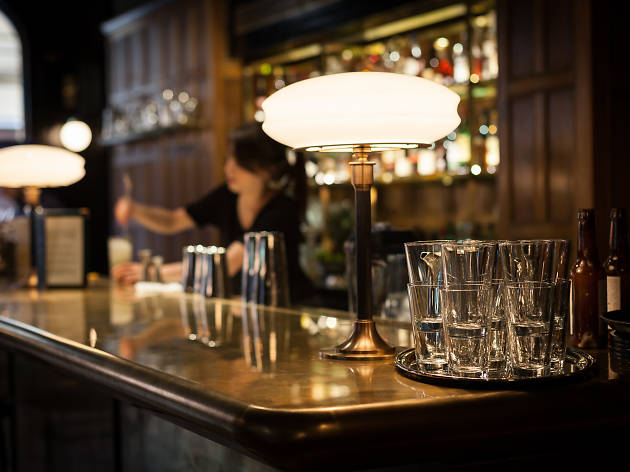 Not content with being the best steak restaurant in town, Haksmoor has to go and smash it on the cocktail front, too. Not that we're complaining, mind. Inside the handsome, low-lit bar, the pin-sharp staff serves a selection of beautiful, boozy cocktails. We recommend the full-fat old fashioned, a beast of a drink made with butter-infused extra strong whisky (£13.25). Just keep an eye on the clock, shaded windows mean that losing track of time is all to easy here, and afternoon drinks can very easily turn into an all-night sessions.
5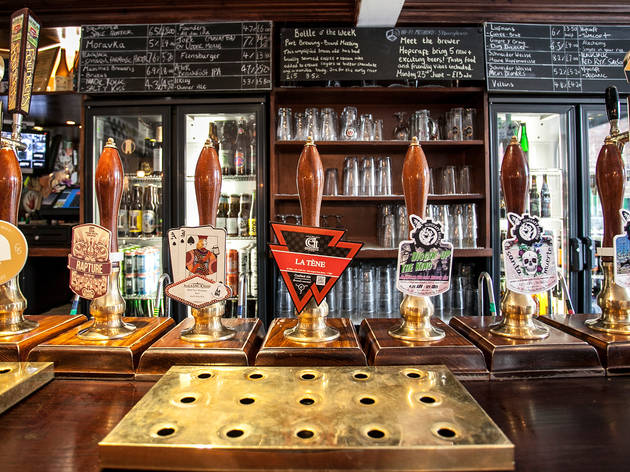 When it first flung open its doors in 2011, Port Street was welcomed by a handful of beer geeks and a few raised eyebrows. Now, it's always packed and has proven itself to be ahead of the craft beer trend. If you have an interest in real ale and have been to Manchester before, odds are you've already been here. But, if not, get going. It's the ultimate haven for beer appreciators. Port Street's owners are also behind the region's favourite beer festival, Victoria Baths' Indy Man Beer Con, which takes place each October.
If you haven't danced on the tables at Schloss, have you even been to Manchester? The bohemian pleasure palace doubles as a bar, bierkeller and entertainment centre – and it gets hella rowdy. Throw in Alpine cocktails, homemade Schnapps and hearty bar meals (plus regular showcases from the Haus band) and you've got one of the best (and busiest) bars in town. As well as being a destination in its own right, Albert's Schloss is the obvious start or end to your night at the Albert Hall music venue upstairs.
7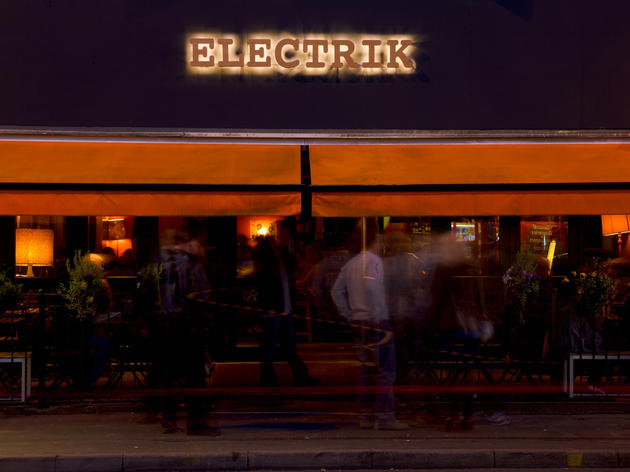 Another gem in Chorlton, Electrik has the laid-back knees-up vibe that Manchester does so well. Unsurprisingly, perhaps, local DJs-turned-restaurateurs Justin Crawford and Luke Cowdrey are behind this institution. Inside, it's a 1970s-tinged bar that serves stonking real ale and a great Sunday roast. The vibe changes dramatically depending on when you go: what is a family-friendly joint by day transforms into a full on shindig come Friday and Saturday nights, complete with DJs and questionable dancing.
8
Sam Docker
The clever folks behind Gorilla have a hit in their hands. What started out as a much-needed Northern Quarter-style bar on the other side of town has evolved into a full-fat club, playing host to legends like Derrick Carter in the bar and massive names (MistaJam, Mike Skinner, Hot Wuk) in the main room. Tuck into a gourmet kebab and some craft beers downstairs or head up to the Gin Parlour on the mezzanine – stocked with some of the finest gins from around the world.
A bit rough-n-ready, but in the best possible way, Soup Kitchen is a pleasant canteen by day and anything-goes club by night. The bar is a renowned favourite among the world's finest up-and-coming bands and it has a jam-packed live performance schedule. We're particularly fond of anything hosted by Banana Hill, an award-winning promoter known for getting top artists from the furthest corners of the earth to come and play in this little basement. It's also a vegan-friendly place, with both food and drinks labelled as such.
Once a Victorian school for the "deaf and dumb," The Deaf Institute is now a multi-storey bar, restaurant and live music venue, particularly popular with the student population based nearby. Another venue in the Trof empire (see Gorilla and Albert Schloss), The Deaf Institute's Grade II-listed ground floor offers space for drinking and dining, while upstairs there's a gig space with vintage lecture hall seating and room for a few hundred people. Along with live acts, regular club nights keep the crowds coming. This is one of Manchester's most unusual and much loved venues, not least for the huge disco ball in the music hall and the wonderful wallpaper collection. We love the Dolly Parton wallpaper in the ladies' loos.
Ask any Mancunian about Big Hands and their eyes will glaze with nostalgia, trying to recall the many nights lost between the four gnarly walls of this little dive bar. Housed between a florist and a kebab house, Big Hands is a blink-and-you'll-miss-it kind of place. With a classic drinks menu (featuring ten types of bourbon and lashings of Euro and US lagers by the bottle) and staff with a will to get you drunk, the bar is a den of iniquity. Bands play, but they really shouldn't; the main room is neither fitted with the auditory nor the spatial ability to house a proper gig. But Big Hands is the kind of place not to let that get in the way of a damn good night.
Got plans for tomorrow?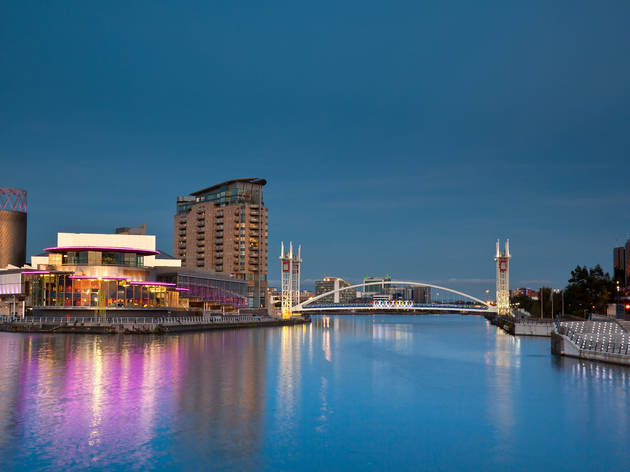 From classic concerts in ancient meeting houses and history lessons at famous museums, to flicking through stacks of vinyl or enjoying an evening out at one of its many restaurants and bars. The list of brilliant stuff to do goes on and on.