Heads up! We're working hard to be accurate – but these are unusual times, so please always check before heading out.
The top ten dishes in Manchester
Time Out's pick of Manchester's best dishes, from marvellous mains to superlative scotch eggs served from a food stall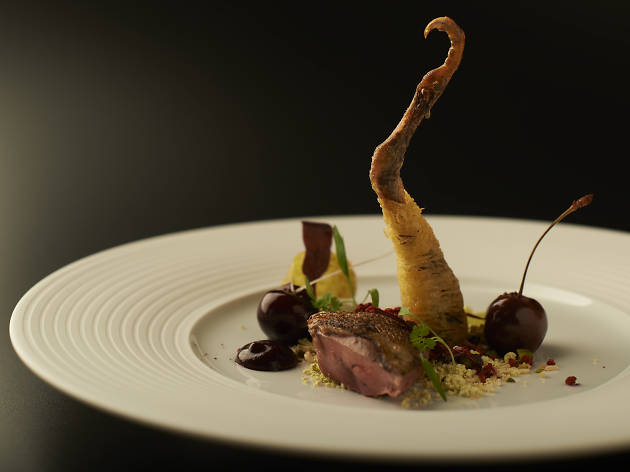 On the menu since Aiden Byrne opened his new-Mancunian restaurant, this pigeon starter has been through various iterations and improved every time. Pigeon breast is barbecued and served with pan-fried gingerbread, sherry vinegar and cherry sorbet and a trompe l'oeil cherry with a foie gras centre, with a pistachio wafer and a cherry-mustard emulsion contributing extra layers of flavour. It's a complicated business, but balancing all this is the kitchen's triumph.

£16, Manchester House
This pimped-up homage to Ronald McDonald's house special is uncanny in its evocation of the junk food classic; the smell of hot iceberg lettuce and the closely-matched special sauce will transport any burger-lover back to the golden arches. But whether you eat it at the original Northern Quarter Solita or its suburban Didsbury sibling, the Big Manc also stars great beef in the form of two medium-rare chuck steak patties. And, should its extravagant height prove a challenge, you get a knife and fork to eat it with.

£13.90, Solita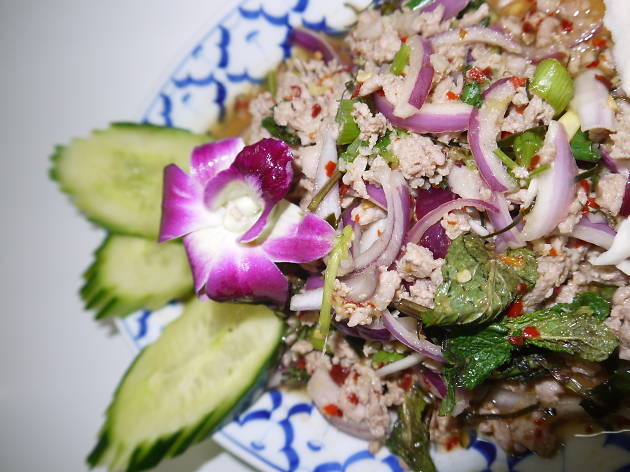 Mined with crescents of crisp red onion, liberal amounts of chilli and bushels of mint, Siam Smiles' take on this Thai minced pork dish is a juicy, enlivening winter salad with a heat with resonates and lasts. Order the sticky rice alongside to catch the spicy, earthy dressing made pleasingly gritty with ground toasted rice. The basic surroundings – a few chairs and tables down one side of a subterranean Thai supermarket – are jollied-up by warm, relaxed service.

£6.95, Siam Smiles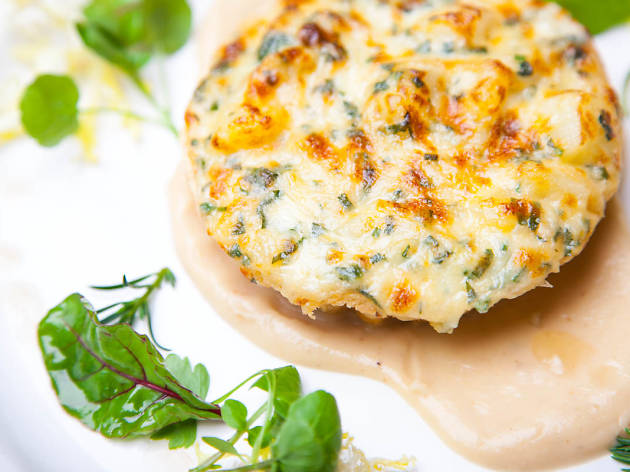 Potato, caramelised onion and Mrs Kirkham's unpasteurised Lancashire cheese combine in gloriously gooey fashion in this meat-free pie served with cauliflower, lemon and marjoram salad. Despite the citrus, it could only be more Lancs if it were made with tripe, black pudding and parched peas – and we're grateful that it's not. The other house special, corned beef hash with a poached egg and brown sauce, is also worth a go.

£12, The Albert Square Chop House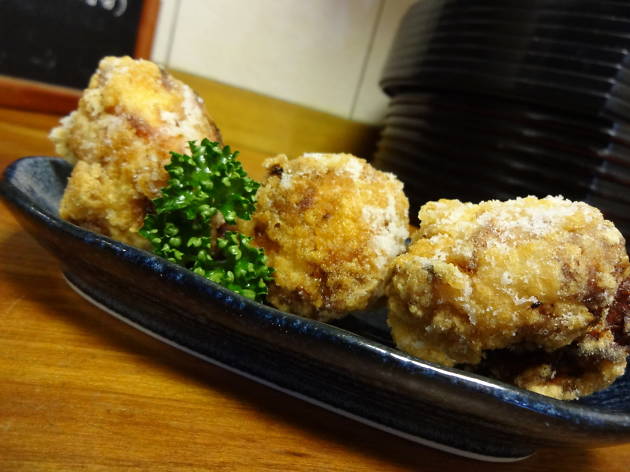 The elegant way to eat fried chicken, Yuzu's star appetiser (the gyoza come a close second) is always ethereally light and steaming hot. Marinated boneless chicken thighs are rolled in on themselves and fried until their crisp coating is brown, bubbly and mottled. They don't lack juice, but a ponzu dipping sauce provides a sharp counterpoint. Couples should note that there are three to a portion, and you may find yourselves unable to share.

£4, Yuzu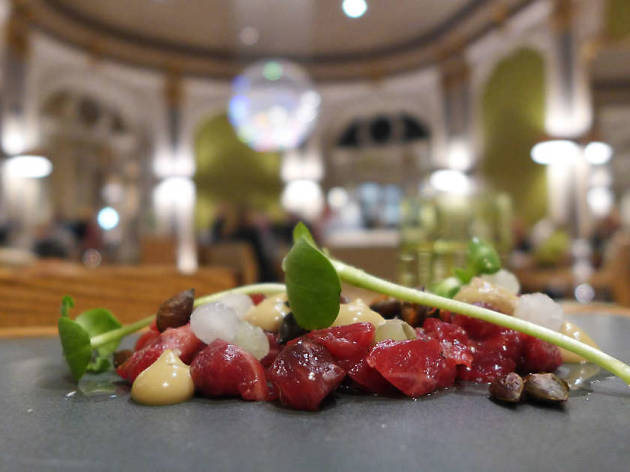 Simon Rogan's Manchester signature stands out on a tasting menu full of extraordinary dishes, and also bears comparison to its sibling, the venison tartare at his Cumbrian flagship L'Enclume. It's silky, tender cubes of ox with 'coal' in the form of a vividly smoky charcoal oil and crisp balls of raw kohlrabi. Crunch comes from toasty pumpkin seeds and green shoots of sunflower. Sass'n'soda, featuring a melting meringue wafer and a swig of sarsaparilla, is another perennial highlight here.

Part of the £85 ten-course tasting menu, The French at The Midland Hotel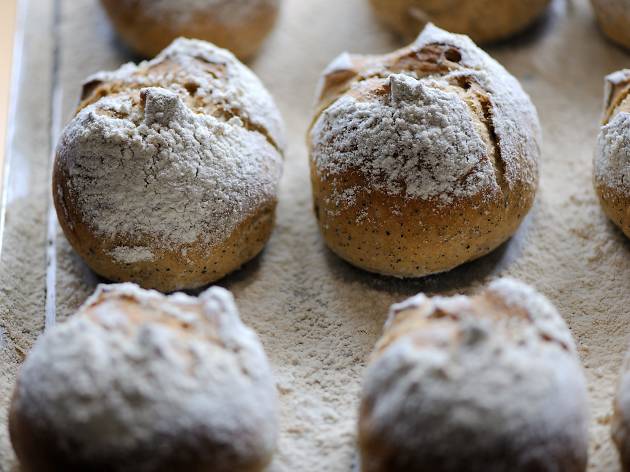 The crust on the speckled, airy pain de Morvan shatters as soon as you look at it, the sundried tomato and olive bread is generously studded with the flavours of the Med, and the pain de Campagne rolls have ends so thin and pointy they double as breadsticks: welcome to the Michael Caines bread basket. Not as flashy as some of Manchester's newer players, Michael Caines at Abode is still delivering solid, seasonal flavours with a restrained sense of occasion, and the bread, which hasn't changed in years, is reliably among the city's best.

£1.50 per person, Michael Caines at Abode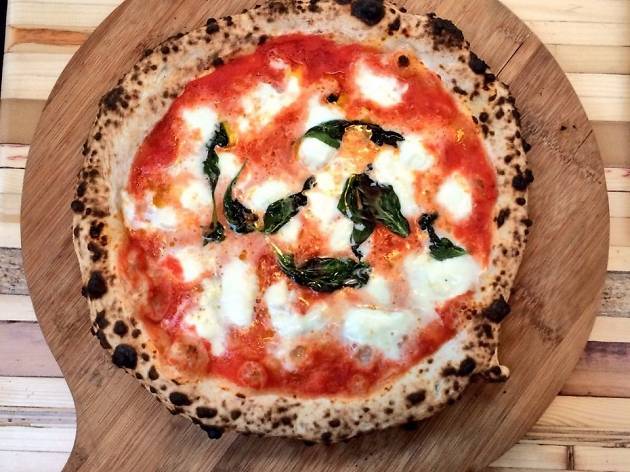 There's no such thing as a bad Honest Crust pizza – they only do good with their long-ferment sourdough bases – but the plain and simple margherita is a brilliant showcase of the pizzaiolo's skill. Topped with San Marzano tomatoes, basil and British fior de latte mozzarella, it emerges blistered and charred from the Honest Crust wood-burning oven. If you want to get fancy, try one topped with Trealy Farm salami. Honest Crust has a permanent home in the Market House refectory. On busy days they sometimes have a second pizza oven in the main upper market, where the queues are shorter.
£6.50, Honest Crust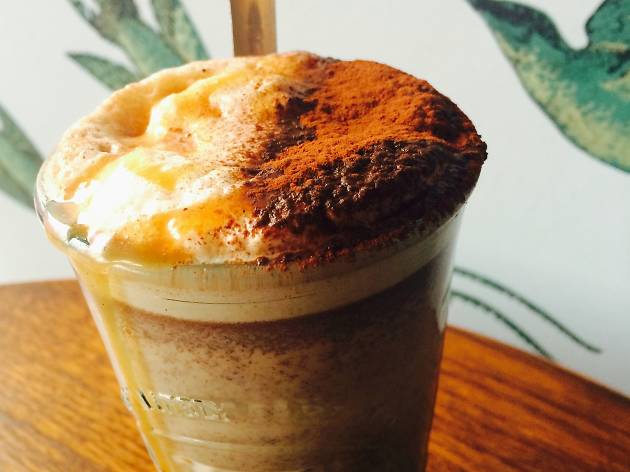 Made with great care and single origin 70% Ecuadorian chocolate, this independent chocolatier's fabulous caramel hot chocolate is a fine example of its kind. It can be made with your choice of milk (which we like) or water (the purist's choice, allowing the fruitiness of the chocolate to shine) and is light and foamy up top, with a shot of house salted caramel waiting at the bottom of the glass. With a couple of truffles on the side, it's pudding.

£2.80, Cocoa Cabana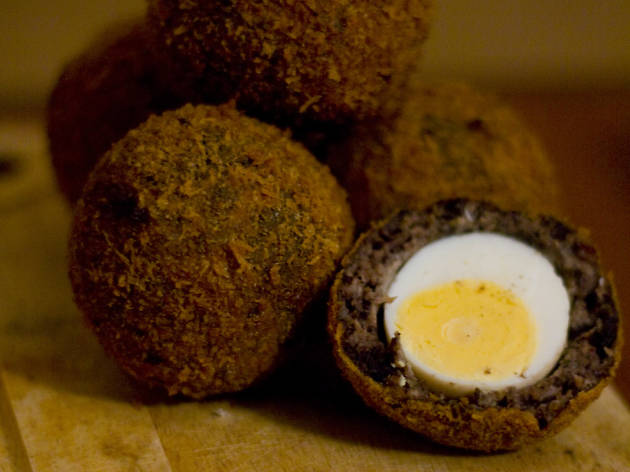 Made only from time to time and as fast-vanishing as a Corrie plotline, these meaty Weebles can be tracked down at Manchester's seasonal markets and events. A pickled egg is wrapped in black pudding and sausagemeat and coated in a crisp golden crumb to produce a bar and cold-weather snack par excellence. Follow them on Twitter for the best chance of snagging one to go with your artisan pint.

£4, find them popping up @manchesteregg

Find more restaurants in Manchester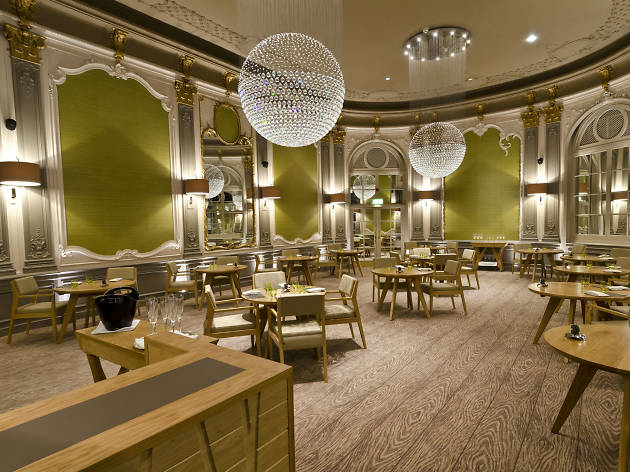 Whether you're a committed gastronome, a fledgling foodie or somewhere in between, head to these restaurants and prepare to have your palate pleased