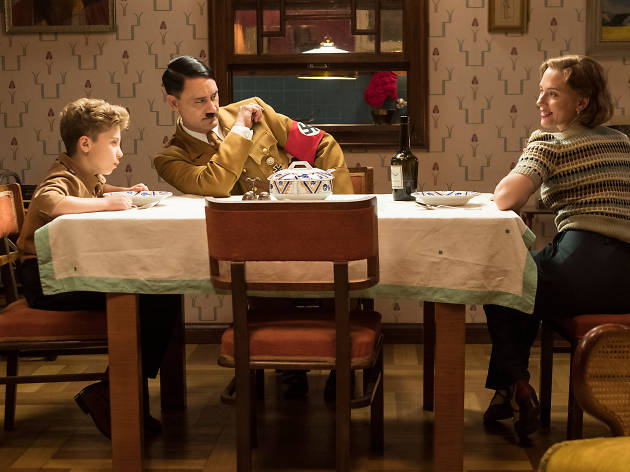 Time Out says
A Nazi boy befriends a fantasy Führer in Taika Waititi's audacious WWII comedy, which charts a tricky way into a tough subject
Get your cringing over with now: the guy who directed Thor: Ragnarok, New Zealand's gifted Taika Waititi, has made a movie about an adorable Hitler Youth whose imaginary buddy is Adolf himself (Waititi plays Hitler). Honestly, the news is good – it's high time to rethink this filmmaker from the ground up. Breathtakingly risky but worthy under scrutiny, Jojo Rabbit dates back long before Waititi's Marvel success – to 2012, when the circulating screenplay, an adaptation of Christine Leunens's sombre novel Caging Skies, was celebrated as brilliant but unfilmable. (Waititi's real subject is difficult boyhood; his second feature was called Boy.)
Jojo Rabbit has a child's perspective: that of a naive, lonely ten year old, Jojo (Roman Griffin Davis), who, in the mincing voice of Waititi's cartoonish Hitler, is the "bestest, most loyal little Nazi I've ever seen." If you hope to roll with the film's laughs, you'll have to embrace this intentionally immature set-up – one that shows us a frenzied Jojo running down the street in his brown shirt to the German version of the Beatles' 'I Want to Hold Your Hand'. Otherwise, the anachronisms will play harshly. Waititi has conceived his Third Reich with deliberate broadness: there's a strutting kids-camp counselor (Sam Rockwell), a vicious secretary (Rebel Wilson) and a towering geek of a Gestapo agent (Stephen Merchant), all of whom nail their comic parts with po-faced perfection.
Should we be laughing at all this, though? Very rarely does Jojo Rabbit sober up and tell you not to (unlike, say, the poundingly hypocritical Life Is Beautiful), even as its ideas snowball and become bolder. In a sequence filmed like a haunted-house pursuit, Jojo discovers a Jewish teen, Elsa (Leave No Trace's extraordinary Thomasin McKenzie, injecting a bit of sisterly teasing), living inside his home's walls – a waif secretly harboured by his playful single mom (Scarlett Johansson). All Jojo knows about Jews are half-smart pieces of ridiculousness – they steal the ends of penises and hang like bats from the rafters – and Elsa only eggs him on: "Obviously we are demons who love money," she confirms.
You shouldn't need to know that Waititi is half-Jewish; his confidence lifts the movie out of anti-Semitism. Somehow, imperceptibly, he turns the relationship into one of endearment (Jojo grows up a little) and that's what makes the film a keeper. In its precision, Jojo Rabbit may remind you of Wes Anderson's The Grand Budapest Hotel, another comedy in which clownish forces of fascism square off against love, humour and elegance – both movies feel like they come from the same universe, down to Waititi's ear for a well-deployed pop tune. Jojo Rabbit isn't perfect; sometimes it strains to reconcile Waititi's more relaxed beats with his visual fussiness. But he's legitimately breaking new ground. Hopefully, Jojo will find an audience that gets it.
Follow Joshua Rothkopf on Twitter: @joshrothkopf
Details
Release details
Rated:
M
Release date:
Thursday December 26 2019
Duration:
108 mins
Cast and crew
Director:
Taika Waititi
Screenwriter:
Taika Waititi
Cast:
Roman Griffin Davis
Scarlett Johansson
Thomasin McKenzie
Sam Rockwell

Users say