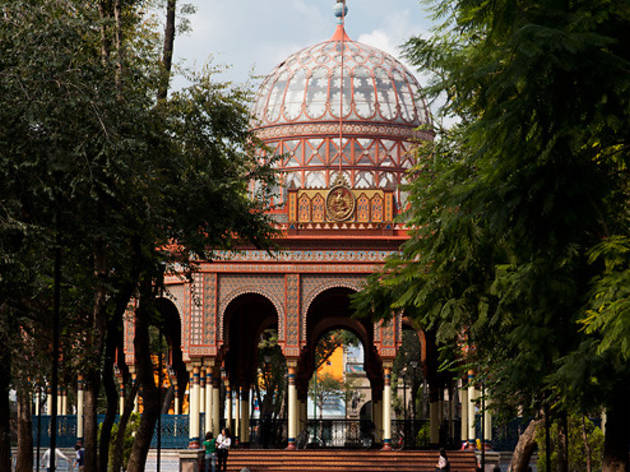 Claudia Guillén sighs in her office at the Parks and Gardens Department of the Delegación Cuauhtémoc, in an old and shabby building in San Simón Tolnáhuac, and says, "You don't know how hard it is to be a public official". As a commissioner of the monuments office, Claudia is in charge of the preservation of more than 435 public spaces and buildings. Only 40 people make up her operative team and they have one car. "There's a lot of good will, but nothing else" she grieves.
Kiosco Morisco in Santa María la Ribera is one of the lucky monuments that has a safety supervisor assigned to protect it from the most basic offences: keep skateboarders from using the stairs for practice, and stop neighbors using the floorboards as dog diapers. "Sometimes I give out flyers with the regulations, then tell people not to read them, but to just avoid doing here what they wouldn't do at home", says Claudia.
What she has achieved is the restoration of the cracked quarried stone finishings, the replacement of indoor lamps that some punks broke, the installation of artistic lightning with which the kiosk shines at night, programing a monthly cleaning and, in spite of recurring vandalism, establishing partnerships with some conscious neighbors. "There's a lady who, whenever she finds a piece that's come off, takes it home and phones us to put it back", she declares.
Claudia says there's a project for improving the area (and fix the blunders from 2010's remodeling— when the Authority of public space left the planters too low on the ground, with the soil spilling on the sidewalks), but the budget hasn't been approved. Meanwhile she'll keep on working on preventive maintenance with her best tool: her love for our heritage.
Venue name:
Kiosco Morisco
Address:
Alameda de Santa María la Ribera
Santa María la Ribera
Mexico City


Transport:
Metro Buenavista. Metrobús Buenavista.