Restaurants & Cafés
The best places to eat and drink in Mexico City, reviewed anonymously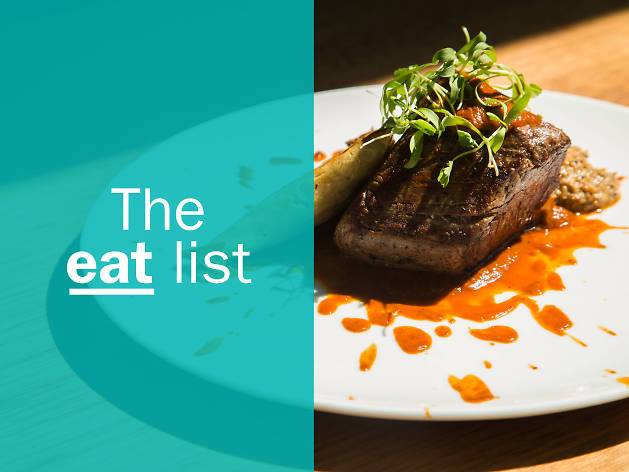 The 25 best restaurants in Mexico City
Welcome to Time Out Mexico City EAT List, a definitive list of the 25 best restaurants in Mexico City. There are unmissable food spots seemingly on every corner of this metropolis and we're sure one of the best ways to enjoy a city is through its food.  The gastronomy of Mexico City reflects the history of Mexican cooking and it's considered to be some of the best food in the world; but more specifically, it's a collection of the most irreverent and exquisite follies of the genuines that call the shots with the stove. Here are the 25 most delicious spots for food that are at once fresh, innovative, and memorable. All the restaurants are reviewed anonymously by local experts, giving you a snapshot of the everyday experience. What's on offer at these eateries varies widely, from kitchens with unparalleled upmarket dishes to straight-forward bar bites, not to mention the best in comfort food from cafés and restaurants alike. We sampled the best restaurants in town for you. Now go out there, grab a table, and follow your instincts to some delicious eats. Bon appetit! Eaten somewhere on this list and loved it? Share it with the hashtag #TimeOutEatList. You can also find out more about how Time Out makes recommendations and reviews restaurants here.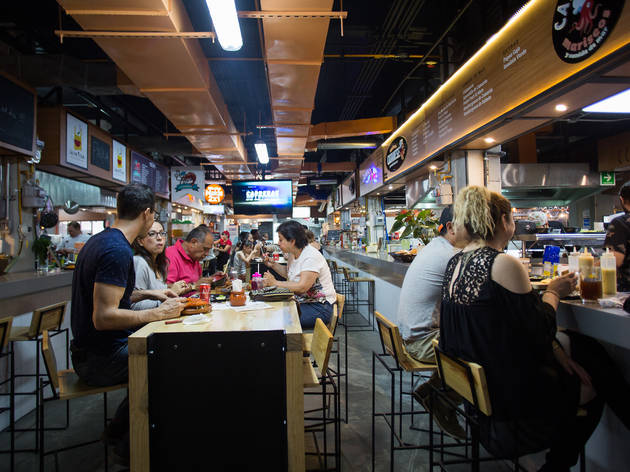 Mercado San Genaro
This food market has more than 50 restaurants, breweries, and bakeries. This titan is now the largest food market in Mexico City. If Mercado Roma or Mercado Molière drove you crazy when it came to choose, you'd better prepare yourself. On the first floor you will find the gastronomic stalls, the interior design repeats the trend of cement floors, black lines and wood accents, as in other markets, and perhaps it's so as to not distract the mind from the obvious question: "what the hell am I gonna eat?!". Here, you'll find a bit of everything. Go to Jibaro for Puerto Rican food or Suteki for Japanese where the forte is the kushiague or the nanaya sushi rolls. Head to Areperas Venezolanas for traditional arepas, Arrosto for different sauced and marinated roasted chickens, Mix Tamal for quesadillas and tamales, Boom Fries & Shakes for a calorie bomb, La Palomiux for some gourmet semi bitter chocolate popcorn or to Bendita Paleta for a strawberry with mint popsicles. In The Vivero Healthy Food there are organic, vegetarian and vegan options, too. Choosing a place to eat will be harder than it seems. But, I recommend taking your time. Soak in all the smells, sights, and textures. Go up and down all the corridors until you find your place. Trust me, when you know… you know. These massive food temples are becoming trendy and with good reason, there is a bit of everything for everyone and really the only downside is the crowd and that there are maybe too many options at times. O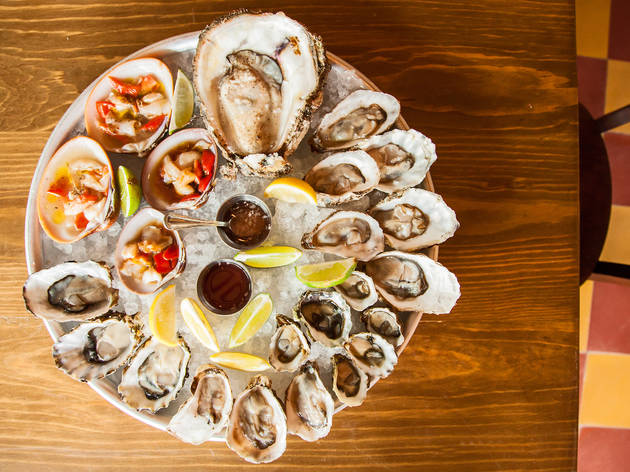 La Docena
This seafood joint straight out of Guadalajara is out of this world. From the outside you might not understand that it's a totally new concept. But, once inside, you get views into the kitchen and the bar. Is this seafood market? First things first: a Clamato La Docena, made with Union Light an exclusive La Docena brew by Cervecería Minerva. We paired this frosty, refreshing liter with oysters because, well, that's why we're here. And because the clean profile is a perfect complement to the salty oysters. Then, we had the obligatory shrimp aguachile (cured-shrimp cocktail) and we don't even know where to begin, the carrot juice, orange, ginger and habanero are an absolute home run. It's fresh and citrusy, and it's the only aguachile we've had that has ginger and carrot. The presentation is great, too. The shrimp is presented in a tower, so you can bathe them in the acidic deliciousness as long as you want. But, back to the oysters - it is an oyster bar, after all. This time, we had them cooked since our server recommended we try it. The order is either a half dozen or a full and they're bathe in butter, olive oil, garlic and parsley and then, grilled. You really don't need to add anything to them but, who can resist a squeeze of lemon? Next up was the soup: an oyster chowder. We were excited about it but, it fell a bit flat because the bacon overpowered most of the oyster flavor and the potato was undercooked. We quickly got over this misstep when the Louisiana Creole classic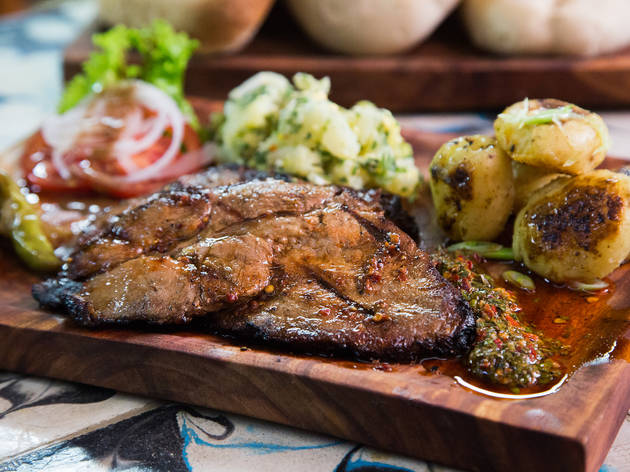 Comedor de los Milagros
The food stall market concept is still alive and well. Today, not only are there markets in lots of neighborhoods giving some of the best kitchens in Mexico City a platform but, now there's a spot dedicated to highlighting the best Latin American cuisines: Comedor de los Milagros (Miracles' dining room). The concept is an expectedly hokey with a green, red, gold color scheme alongside the stereotypically Latin catholic imagery peppered throughout the space. "The House of Latinos" has two open-air stories with lots of natural light and yet, it's quiet enough to eat in peace. The wooden benches in the first-floor dining room, the murals and wall art upstairs give this market a life and a culturally appropriate vibe. There are seven different cuisines represented: Venezuelan, Brazilian, Colombian, Argentine, Uruguayan, Peruvian and Mexican. Try the feijoada (Brazilian stew), ceviches, and pizza. If you need some "must-eats", it's all about the choripanes (Argentine chorizo sandwiches) at Ásame Mucho, arepas (corn cakes) at La Carajita, and the garlic bread espetinhos (Brazilian kebabs) from Meu. This is the place to take a trip through Latin America through your palate in one day.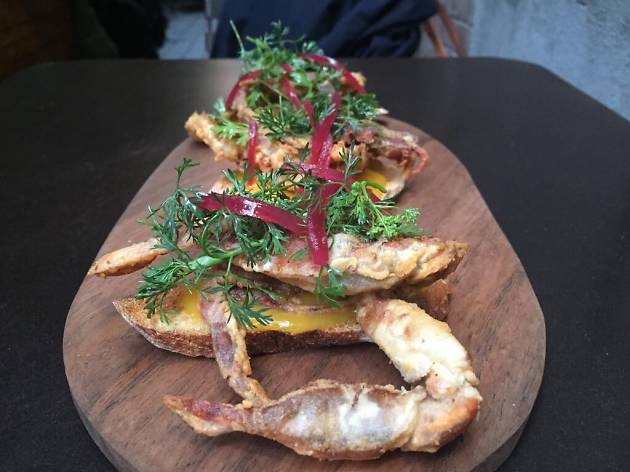 Café Nin
Panadería Rosetta in the Juárez neighborhood was successful from the moment that it opened, but Elena Reygadas didn't rest there - instead she seized the opportunity to use the neighboring space and turn it into a more casual space than Rosetta y Lardo, with a pleasant bar, outdoor seating and a menu that shares some elements with Rosetta and Lardo, but also diverts significantly. The emphasis lies in the breads, pastas and the dishes with strong herbal accents that were masterfully concocted by Italian chef Giorgio Locatelli; it's also less formal and more playful, flirting with the aesthetic of a tapas bar, with a menu in which the most nutritious elements appear as appetizers. From a comforting leek, potato and bacon soup, to vegetarian options (like the endive, grapefruit and mint salad, the lima bean hummus tendered by tarragon, or the grilled veggies with nettle mayonnaise), to instant classics like toasted bread with soft buttered crab, spicy mango salsa, pickled purple onion and cilantro shoots: one of the most playful and on-point combination of flavors, textures and colors that I've tried all year. The soft, crumbly bread, with honeycombed, crunchy crust; the mango, sweet and aromatic, with its touch of spice, all contrasts so well with the saltiness of the sea and the perfectly fried crab, complemented by the plus the acidity of the pickled onions – a recipe for salivation, and each element served in its perfect proportion. Now on to the main entrees, of which I
Recommended cafés in Mexico City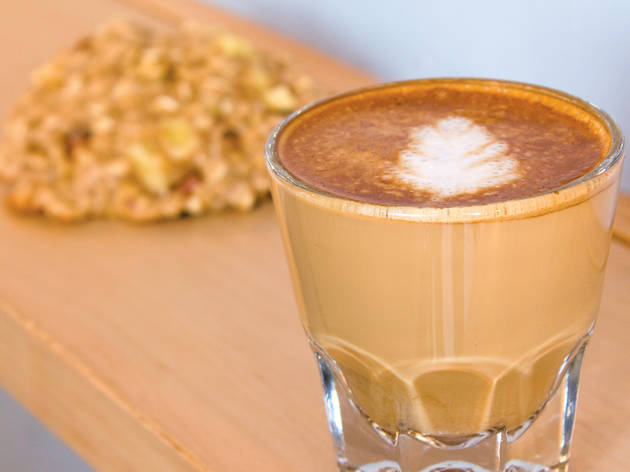 Almanegra Café
This spot is well hidden among the colonial Roma neighborhood architecture. Even when we're standing directly in front of it, the sign is barely indicative of being in the right place. There were only five people, each with different drinks, in the whole place when we were there and they all had one thing in common: total satisfaction on their faces.   The all-white walls with no decorations are startling at first, because simplicity is not the way around here. Once you reach the bar, you can witness exactly how much care, patience, and diligence goes into each drink – waiting hours and hours for the cold brew to be ready, for instance. The menu is concise, but plentiful in terms of coffee options with the staples well-represented and a variety of brewing methods available. We went with the cold brew served with a tonic which the barista assured us would be delightfully refreshing. The coffee was milder than we expected, and the flavor was substantially diluted by the added water. We let it sit for a few minutes and the flavor nearly vanished altogether, so there's really only one option: drink it all at once. Next up was the Gibraltar, a house specialty, similar to a latte but, with less milk. We highly recommend this option as the distinctive Chiapas coffee flavor is pronounced and lingers on the palate.  There are plenty of Mexican sweet breads and cookies options (we are partial to the chocolate concha with sprinkles). They offer to warm up the breads to the point whe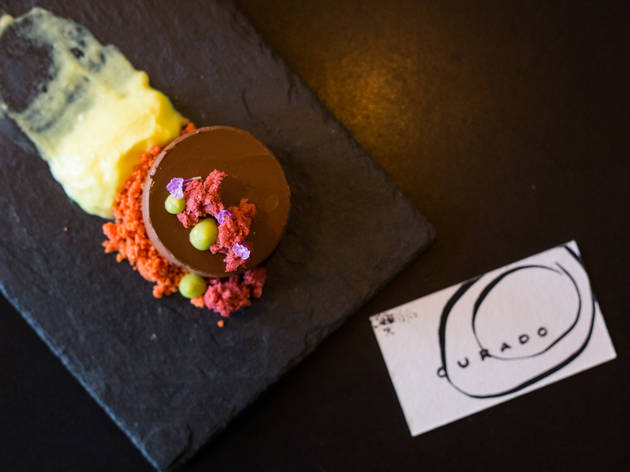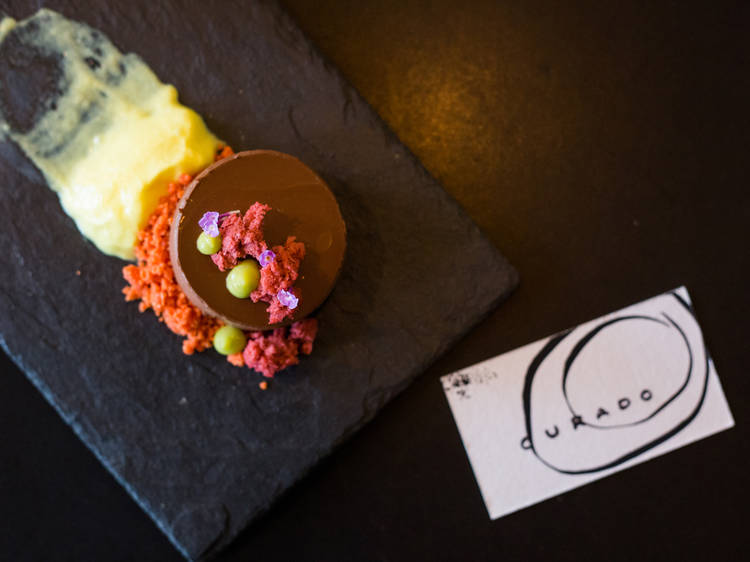 Café Curado
The Curado (a word used to describe something as fun or good) story goes like this: a pair from Mexico's northern region – Baja California and Tamapulipas – took a chance on Mexico City and it took off. Today, there's a tiny spot in the Roma neighborhood with a coffee bar and a few chess tables for patrons to hone their skills and destress while sipping on their favorite cup of joe. The menu has tea, coffee, infusions (like Velvet Soda and Royal Tonic), and Bocanegra and Cucapá craft brews to pair with any of their croissants, cookies, or breakfast burritos. We went with the Fina del Estribo (Veracruz) cold brew served with milk over ice - it was sweet, fruity, mildly acidic, and packed with caffeine. We paired it with the chilaquiles, topped with red salsa, sour cream and goat cheese with ash. Dessert is also a regular breakfast option here. On the day we went, we opted for the affogato – an espresso poured over their house-made ice cream – it was intense and aromatic although relatively subtle in spices. There's quite the variety of drinks and the food is better than we expected. The staff also revel in teaching customers about coffee and its variety of prep options and although the menu seems traditional, there are a few surprises tucked away. The decorations and quality products evoke different sensations, textures, flavors and other unique combinations not unlike the Flavor Bible which is aptly hung on the wall here. There's no doubt, the experience here is definitively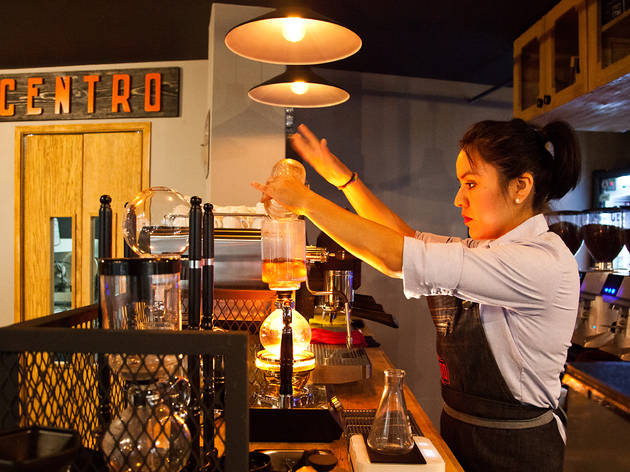 Centro Café
¿Puede el café contar con un autor propio? Es más, ¿podría tener diversos matices y estilos, con esas diferencias que separan a una novela negra de un texto de realismo mágico? En Centro Café opinan que sí, por supuesto que se puede.  Los baristas que idearon el concepto detrás de esta peculiar cafetería firman sus obras cafeteras como si de novelas se tratara: por ejemplo, Luis C. Fernández presenta un grano de Puebla, levemente amargo, caramelizado, con gusto a azúcar y especias, de cuerpo medio alto y tostado medio alto. Otra barista, Giannandrea Dubini, se decanta por un café diemme, más dulce que el anterior, de notas claras a chocolate y mantequilla. Por su parte, Avenamar Gutiérrez elige un café sureño mexicano, de cuerpo medio alto y tostado medio. Cada grano de autor viene recomendado para beberse de distintas maneras, ya sea en machiato, espresso, dripper, aeropress, capuccino o sifón japonés, un método de extracción al vacío, que ofrece un espectáculo muy atractivo cuando el agua sube y parece mezclarse por arte de magia con el café. Me dicen que este método produce una bebida que podría definirse como "té de café", light y equilibrada. Elijo un café de Veracruz, firmado por Ariadna Chaparro. Es balanceado y ligero, aunque me parece que le falta un poco de cuerpo para percibir las notas de flor de café y frutos secos que me aseguran que tiene. Eso sí, la presentación es muy bonita: la taza se sirve en una bandeja, con un pedacito de amaranto con chocolate y un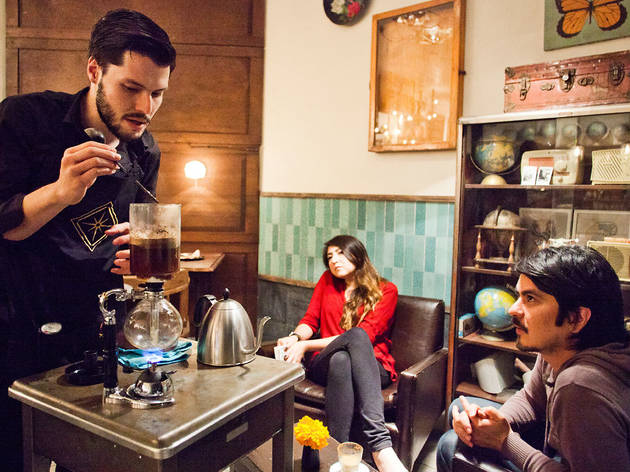 Cardinal Casa de Café
Voltaire once said that coffee is a slow poison. However, the jars full of the perfectly roasted bean extraction that line the shelves behind the bar of the Cardinal are really more reminiscent of a pharmacy. True to this, baristas wait behind the bar, ready to prepare your drink exactly the way you like it. Luckily for those running low on caffeine, and with a little guidance from the baristas, there's a concoction to cure their ailment. Depending on which extraction method you prefer, a barista will come to your table with all of the necessary equipment and will explain the process in detail, almost like a magician showing you how a trick is performed. The Japanese siphon, for example, is results in a sweet flavor profile with a very delicate texture. Cardinal knows that their bread and butter is coffee. So, they team up with other local specialists to deliver different products. Like, the bread from la Puerta Abierta, tea from Tomás Casa Editora de Té, and ice cream from Amor Casero. The latter being the culprit behind the signature best-of-both-worlds affogato: a scoop of vanilla or marzipan ice cream with a shot of espresso poured over the top. The Voltaire is a must-have here, too. It's essentially a cappuccino made with Oaxacan sweet chocolate; a dream come true for fans of subtly sweet flavors.  Food isn't far behind the coffee, with offerings like the almond chocolatine paired with the Chemex, a Cardinal cut of banana bread, or a cold brew paired with a salami or
See more recommended cafés in Mexico City