Bars
Your guide to bars and drinking in Mexico City, reviewed anonymously. Whether you're looking for a cocktail or a beer, use our guide to find the best new bars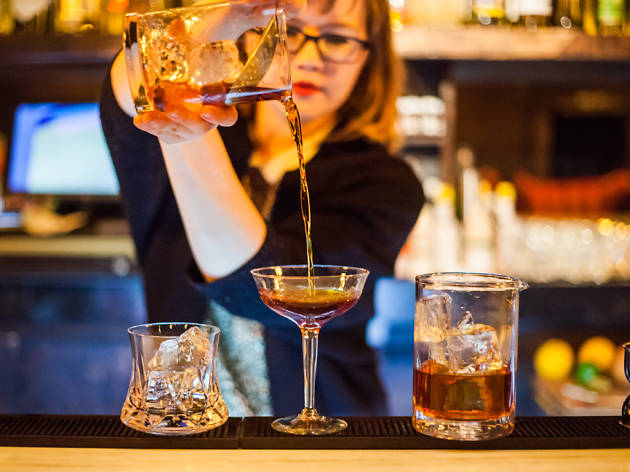 The 10 best bars in Mexico City
Mexico City is full of nightlife surprises at every turn. Some of the best mixologists in the world can be found in Mexico City, in charge of the most iconic bars. Since 2016, Mica Rousseau has been recognized in the World Class as the best bartender in America for his Fifty Mils creations, while Limantour ranked 14th in the world on The World's 50 Best Bars in 2017. Another highlight of the bars in Mexico City is the setting, such as the secret entrance to the 1920s world of USA prohibition found at the Hanky Panky Cocktail Bar, where you can also try the improved recipe of Ada "Coley" Coleman's hanky panky drink from the Savoy Hotel in London. Discover using your senses the most seductive mixology formulas. You will experience the magic if you sit at the bar; it doesn't matter if you don't know what to order, the bartender will have a special combination of unmissable cocktails in these top nightlife bars of the city.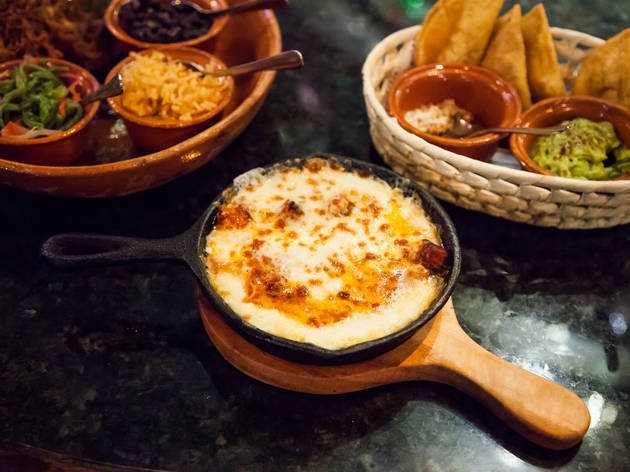 Salón Ríos
It looks and feels like an old American western saloon mixed with a speakeasy. A place designed both for hard drinkin' and good eatin' but, with a touch of Latin flavor for kicks. The first thing that caught my eye was the design. Especially the fact that the gorgeous wood bar is the nucleus; it's truly a sight to be seen with beer taps, wooden cabinets, and a full array of whiskeys. The rest of the booze is kept with the back bartender who handles the overflow of orders along with a straggler or two that ponies up to the back bar. The food was well-seasoned and arrived quickly. I had a couple of tacos from the assorted basket as a starter: the carnitas and the fried pork rind – both were delightful and had perfect textures. The carnitas won the head-to-head with a more generous portion and better overall flavor. We also tried a couple of seafood options, the octopus and crispy shrimp tacos. The latter of which had a delicious chipotle salsa with caramelized onions and shredded cabbage. Even though what I initially craved was a cold beer to wash down the tacos, I went with one of the house cocktails instead. A Paloma Rios, the house specialty, is a burst of grapefruit juice, soda water, tequila and salt. Later on, I had a mint julep. While I still had room for dessert, I got a metate cake which is made with artisanal chocolate and topped with Uchempo (corn tamale) and marzipan ice creams. We finished it off with a cappuccino. My recommendation is: come hungry and rea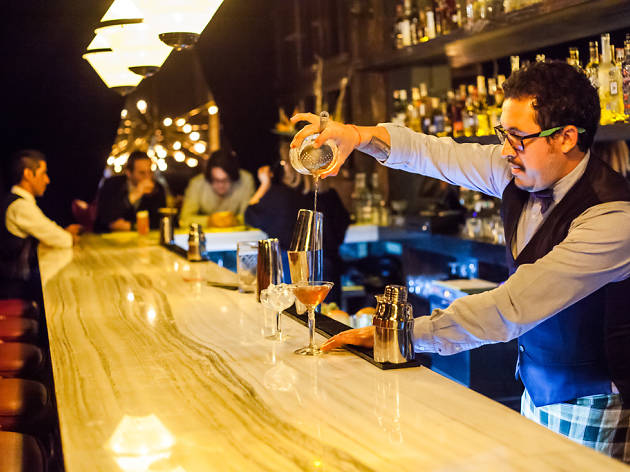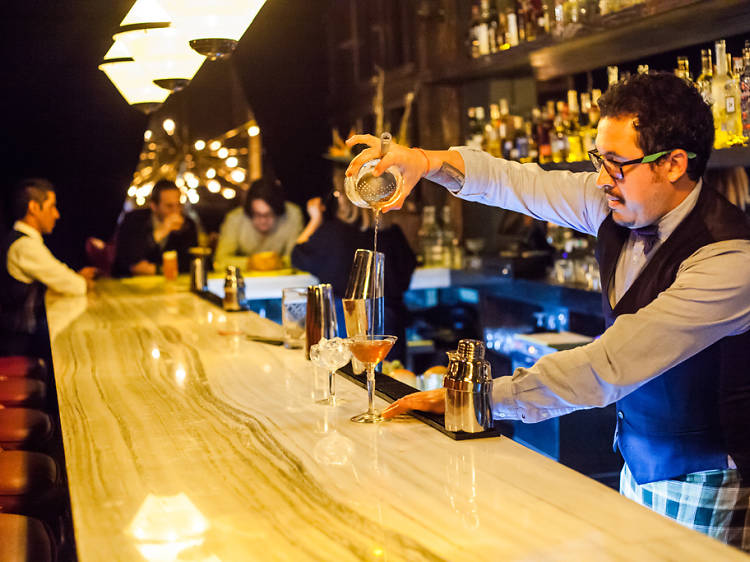 The best speakeasies in Mexico City
Some of these cocktail bars have no signage, or at least unobvious signage, nor do they share their addresses on social media but you can often find them listed as some of the best bars in the world. These types of clubs prefer to hide themselves in unsuspecting places. Most of these bars have been inspired by the speakeasies and blind pigs of the 1920s Prohibition era in the United States, during which it was illegal to purchase or consume alcohol. Let yourself discover and explore these concept bars that will change your idea of an average night out on the town.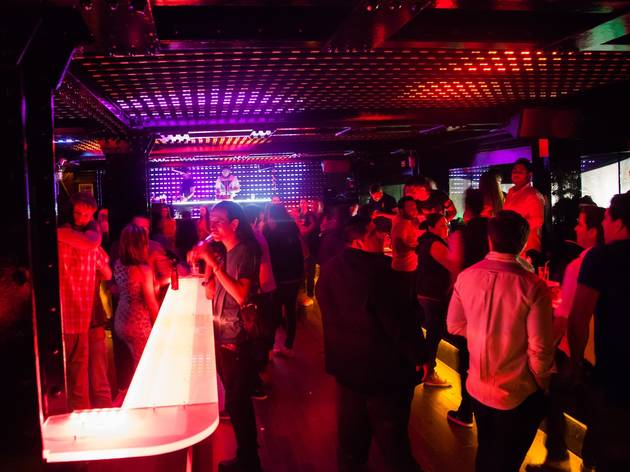 AM LOCAL
We've partied here until nearly dawn and we've never regretted a moment of the time we've spent here. If you're looking for a fun night, AM Local is a sure bet. It's three-story club with a spiral staircase and a vestigial elevator. Once you're on the second floor, the magic starts to wash over you. There are translucent tables that change color and line the path to the DJ booth in the back. The ceiling and walls are decked out with multi-color LEDs which pulse to the beat of the best sounds in the city. This is truly a world-class club. The bar is a treat, too. It's full of night owls and the service is friendly, fast, reasonably priced, and heavily-poured. The third floor is where the smoking terrace is and, if it's busy enough the night you're there, the shot bar, too. For over 10 years, this club has been serving the city's electro-head partiers. So, it's only natural that with the recent electronic music explosion, AM Local is a spot where casual and hardcore fans will feel at home. There's not much ado at the door either, so long as you don't show up in shorts or in tatters. All you need to do to get on the list is send a DM on their social media channels with the names of everyone in your crew and if you get there early enough, you won't have to pay a cover. There's a loose dress code, too. No need for collared shirts or high heels; sneakers and t shirts will do, the dress code is casual but, don't take it too far. They plan anything from classic deep house to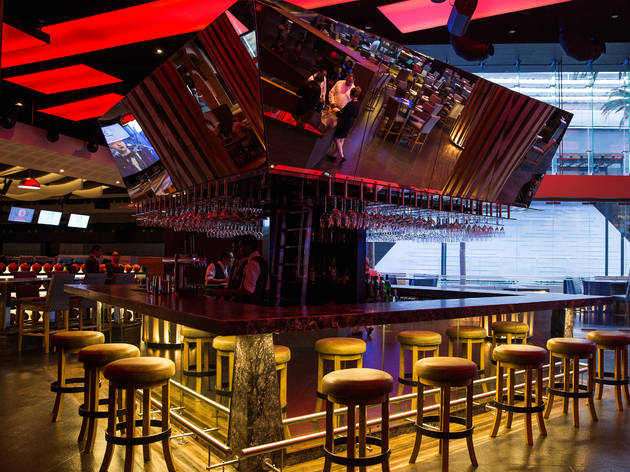 Alboa
Centro Santa Fe is a chaotic shopping center, always full of people and it's easy to feel overwhelmed here. So, Alboa is a welcome respite from the hustle and bustle. Once inside, you're greeted by a well-stocked bar and smoking lounge although this is officially a bowling area. So, grab five of your friends and head to the lanes, where all the magic is. It's almost hard to imagine that a bowling alley could offer three different restaurant options, Cranker, Avira and DAO, without you ever taking your eye off the kingpin. There's even a cocktail menu designed by Spanish mixologist, Manuel Vehí. If you're a gin person, try the cadaqués (gin, grapefruit, lemongrass, rosemary and lemon). Want something sweeter? The anahí is your new go-to, a berry martini with an apple foam. Wash the drinks down with a beef steak from Cranker and soak in the largest video wall in Mexico during your chow break. After food and bowling, keep it going at Avira; a nightlife hotspot with a live music hall and a mobile terrace where you can sip on mojitos and stare up at the night sky. If you're still hungry (or even if you're not) try the peking duck wings here, trust us. Alboa is the perfect excuse to stay up way past your bedtime.
The best places to go out in Mexico City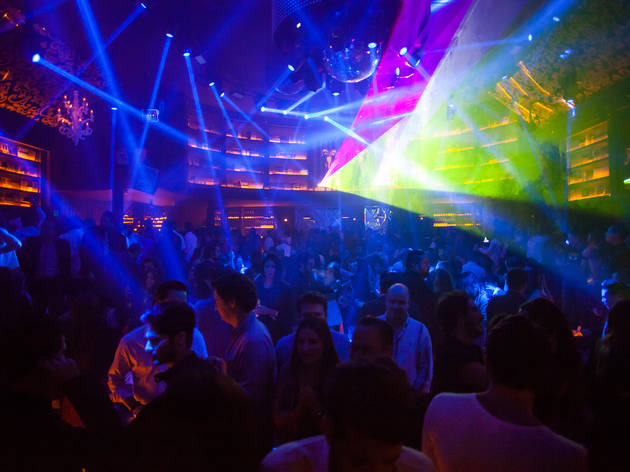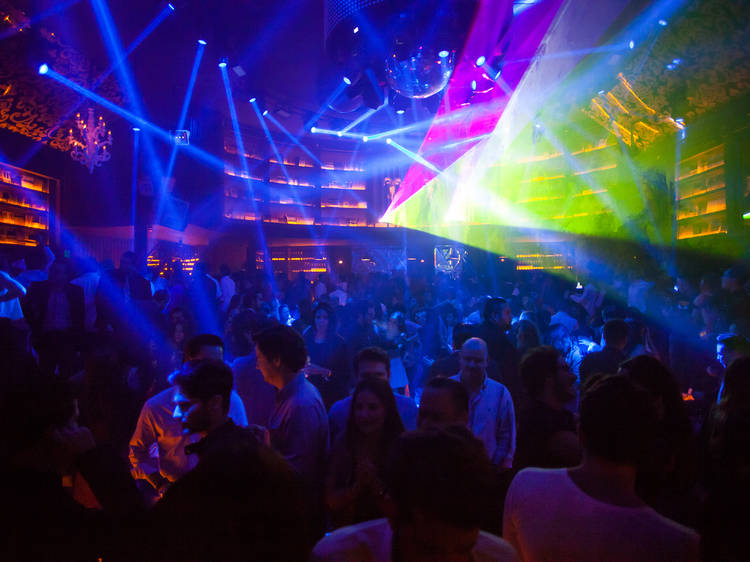 La Santa
We've had high expectations since we knew La Santa was opening. As night falls and the corner of Masaryk and Tennyson fills with people and the sky lights up with a projection of the club's name; a halo on the "S", appropriately. Around 11pm, the parade of blacked out SUVs begins, and women dressed to the nines along with men with chiseled jawlines and gym bodies step out as their combined dense fragrances fills the air. This might be the hardest place to get into in Mexico City. So, make sure you're on the list, have ID, and are dressed to impress and the cover for guys is 300 MXN. Once inside, the LED-lit staircase guides you to what is surely to be a great night. I found the place to be elegant and innovative with lots of different textures and colors that combine styles nicely. There's a small dance floor surrounded by tables and armchairs at the center. The higher up you go, the more exclusive it gets, and the top floor has its own security team to make sure you have a night of uninterrupted fun. There are four linear entrances all pointing to the DJ booth; where all the magic happens. The booth itself is raised and situated in front of a massive video wall that pulses to the beat of the music. Once the party is in full swing, the disco balls sync up with the projectors to dance along with the videos on the screens. The whole setup here, the neon lights, LEDs, and sound system, is allegedly only found in Vegas and here. Wherever it came from, it's booming and m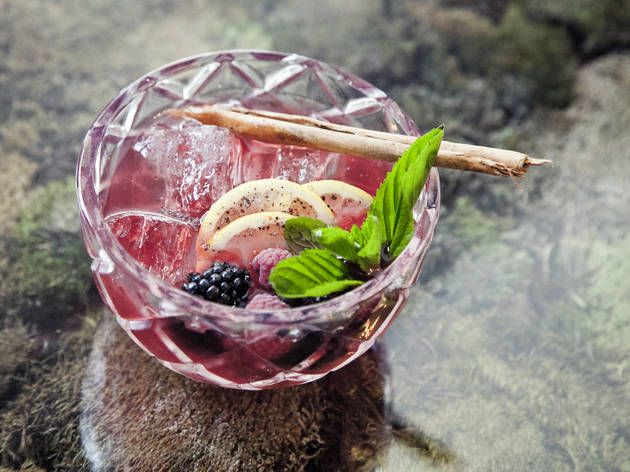 Licorería Limantour
The renewed fascination with mixology in Mexico has a name, Limantour. It was one of the first bars in Mexico City to get off the beaten path and offer up something totally new at the time: a bar that goes beyond the martini. Here, cocktails are high science. With drinks that are bitter, sweet, herbal, and incorporate mezcal, gin and bitters in a fusion that evokes the barman of the 20s while simultaneously innovating. It's all about perpetual motion. It's not uncommon to find well-known guest bartenders at Limantour and, depending on the season, to participate in themed-contests, like a gin and tonic off or tea-infused cocktails competition. Although the 20-cocktail regular menu has international influences regularly and can transport you to an old bar in Buenos Aires, a simple Scottish pub or an underground dive in Brooklyn. Personally, I went with a proverbial road trip to Oaxaca with the hibiscus mezcal made with chocolate bitters. Served in a clay jar, a la Monte Albán mezcalería, the first sips go straight to your throat and warm up the soul. A few seconds later, the chocolate aftertaste strikes a surprising and almost captivating note. After Oaxaca, I headed to Argentina with the Florero Atlantico, named after one of the most famous Argentine bars. It's served in a ceramic vase (as the name would suggest) crowned with bougainvillea flowers. Our first thought was "how am I supposed to drink that?" Well, we figured it out with little trouble and good thing because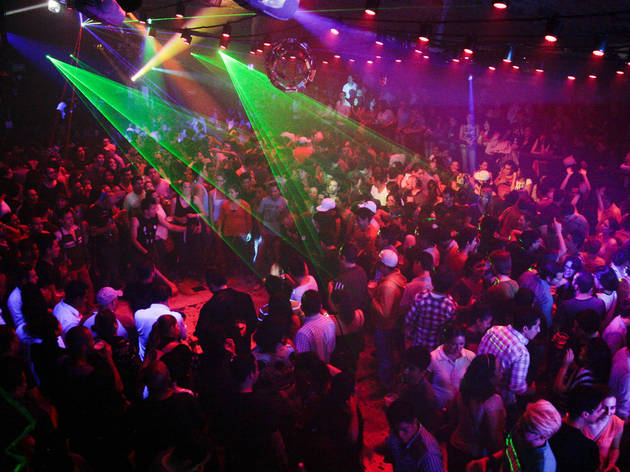 Patrick Miller
For over two decades, this place has been the official home to dance-off circles and tunes. Here, you can find people from every walk of life, dancers, hipsters, yuppies, taxi drivers, and the older crowd, all looking for one thing only: to dance like nobody's watching. We recommend going on 80s, 90s, or 2000s nights, they're much more manageable than the "High Energy" themed nights where everyone has a bottle of water but not because they don't drink (wink, wink). Either way, check their calendar of events online before you come. When you get here, poke around for a while on the dance floor and check out the regulars honing their steps. They're the protagonists of this dance saga and they take their dancing seriously and dress for the occasion with long pants and sneakers. It's always fun to point out the first-timers wearing high heels and cocktail dresses – it's not that kind of place, really. So, show up wearing comfortable clothes and prepare to feel like you're an extra in a dance montage. After your first Friday night visit, you'll be hooked. The neon walls make it feel like it could be a laser tag joint if it weren't for the giant disco ball and bizarre strobe light show. But, be forewarned that there's a lot of dancing and exactly zero air conditioning so, be ready to get sweaty. Once you've worked up a thirst, you have two options to quench it: beer and water. You'll need to get in line to buy a drink chip for either and the line can be enormous. Once you have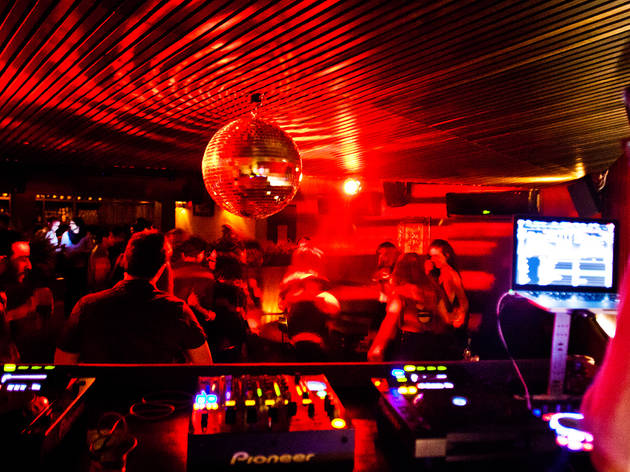 Leonor
After a remodeling, Leonor is back and crushing it. Every weekend, this little place, hosts epic nights of dancing, fun, and excess. The music depends on the DJ, but the most successful set lists are usually MJ, Madonna and top 40. The only downside is that at around 3:00 am, if you're trying to get from the dance floor to the bar, you'll have to claw and scratch your way through the mob of people and once you actually get to the bar, service is glacial. However, in spite of these hazards of the success they're experiencing, Leonor is far and away one of the best nightclubs in the area. You're sure to be dancing up a storm here well into the wee hours of the morning.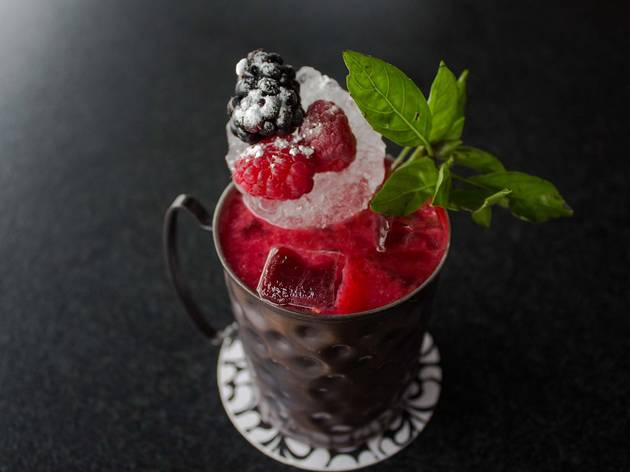 Domingo Santo Rooftop Bar
Holy terrace! There's a new player on the scene at our beloved Historic Dowtown. Santo Domingo, a boutique hotel with landscape-themed architecture is the ideal way to partake in the sun-soaked fun. The urban design respects the colonial construction and adds just a pinch of modernity. The five-star hotel, with a 700 dollar per night master suite, is definitively elegant and you're surely to be taken aback by its beautifully-lit open spaces both during the day and at night. Head up to the rooftop terrace and you'll be rewarded with spectacular views of the Republica de Cuba sector of the Historic City Center. It's truly an ideal place to watch the sunset, it avoids being ostentatious while remaining functional and simple. The food and drinks are not as pricy as the room rates would suggest and the rooftop bar menu is traditional yet, daring enough for those wanting to go out on a limb. For example, the Sopa Azteca, escamoles (ant eggs), Negroni and Cosmo are all worth a try. Then, there is the sweet huauzontles salad with beets and macadamias, which we recommend pairing the clover club, a gin-based cocktail with lemon, raspberry and egg whites. There's also a tasty non-alcoholic menu; our favorite was the 12 campanas, made with green grapes. Perfect for ringing in the new year, Mexico-style… but, we'll make sure to order a glass of champagne with it, too.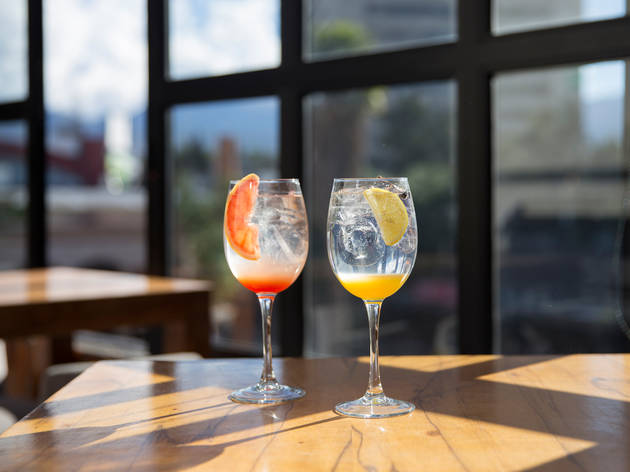 Brooklyn Rooftop
Keeping it real, only people that live in San Jeronimo and El Pedregal neighborhoods actually go to Plaza Escenaria. For everyone else in Mexico City, this place means an interminable trek and will require some serious motivation. Enter: Brooklyn Rooftop, a spot designed by the same team behind Walther. The plaza is full of people, cars, restaurants, and bars. It's crowded in every sense of the word and doesn't exactly exude peace and quiet. However, head up the infamously long stairs and you'll be rewarded with a true respite from the madness. Brooklyn Rooftop is an oasis. It's a chill NYC-inspired (obviously) spot that has a bright restaurant during the day and a really cool bar at night. Eating here is a success every time and with a menu designed by chef Abel Hernández (Eloise) you really can't go wrong. Try the steak & egg sandwich; a filet topped with a fried egg, arugula and tomato served in a French peasant bread, so perfectly portioned that it's impossible not to salivate on-sight. We also like the Brooklyn hamburgers, a rich and delectable offering of angus beef, caramelized onions, cheddar, and truffle mayo. Cocktails are decent here, too. We really liked the mojito. A word to the wise: savor your meal so you can catch the parade of high heels and button-up shirts that emerge as night falls. Our only sticking point is that when it rains, it's a nightmare. Water pools in the center and the noise level becomes unbearable. However, the rest of the time, this pla
See more places to go out in Mexico City
Most-loved bars and clubs in Mexico City