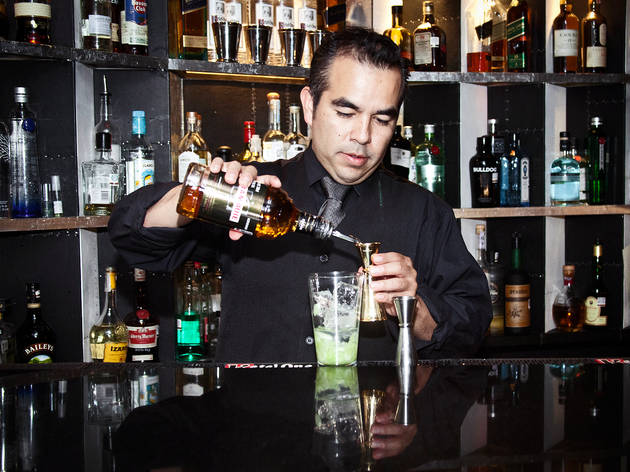 Time Out says
Go through the restaurant, towards the kitchen, open the commercial fridge door, and head down the stairs into the basement to uncover what the buzz is all about. But, don't forget… it's a secret!
While it's intimate and hidden, it's not clandestine or illegal. It's a highly classified secret that only the select few are privy to. The mystery was a key driver behind its popularity. The only way to find it has always been through word-of-mouth.
Ever since it opened in 2012, Jules staked the claim of being the first speakeasy in all of Mexico. Let's pause for a brief history lesson: a speakeasy is a hidden bar that sold alcohol during prohibition, between 1920 and 1933, in the United States. Over the years, these secret lairs became refined and used for exclusive meeting spots. In fact, the most prestigious spots, like Club 21 in NYC, have a clientele which includes presidents and even Frank Sinatra. With this firmly in mind, Jules sets the bar very high.
Everything here revolves around the secretive concept. But, don't get confused, it's not about elitism so much as it is about being able to sustain a comfortable space where everyone can enjoy a great cocktail, good music, and good company.
"If you're going to throw a party at your house, who do you want to invite? Your friends, right?" says Gerardo Salgado, a founding partner. That's precisely the idea here, that when you're here you feel as though you're passing the time at a friend's house. Here, the creepy guy that hits on you and your girlfriends or the hammered drunk bro thumping around, and spilling drinks are nearly obsolete. The reason? There is no doorman (just confused diners wondering why you're walking into a fridge) but, you can only get in with a reservation or if you're on the very exclusive list.
The décor here is a bit like a catacomb, white and black walls and huge skulls encased in glass double as tables. The walls are leather and depending on your angle, they're either white or black, the ceiling and bar are covered in tiny pyramids and sort of resemble the bark of Ceida tree – the tree of life according to the Mayans.
After you stop gawking at the interior design, it's time to do what you came her to do: try the cocktails. There are classics and house recipes on the menu; all perfectly balanced and deliberate. If you've never been here before, take a look at the rules printed on the menu, "No Jager, energy drinks, or cosmos." and it's fair to say that if you want a Bacardi and coke, you're going to be disappointed because they don't even carry that brand of rum.
Instead, try the Kilt, a house-specialty made from Hendricks gin, Drambuie, rose syrup, and tonic. We also liked the mezcal negroni (Mezcal Semillero, Campari, cinnamon, chile de arbol, Punt e Mes vermouth, orange and coffee bitters) for those more inclined toward strong flavors. More a whiskey person? Try the unparalleled old fashioned: bourbon, bitters, scorched orange, and hazelnut.
If you get hungry, the menu is designed by chef Kazu Kumoto (Torobi) and is limited but satisfying. Made up of simple but delicious finger foods like edamame and mini-burgers (which we consider worthy opponents of our favorites at Felix).
Hours and drinks will pass by effortlessly as you listen to a perfectly balanced playlist of The XX, Radiohead, The Whitest Boy Alive, Spoon, and Feist, to name a few. The noise level is manageable, and the vibe is perfectly approachable-chic. It's worth mentioning that the fridge door locks at 2am, so don't be fashionable late here. Instead, we suggest showing up around 9pm.
Details
Address:
Julio Verne 93
Polanco
Mexico City


Transport:
Metro Polanco
Price:
Average drink $250
Contact:
Opening hours:
Tue-Sun 8pm-2am
Best selling Time Out Offers