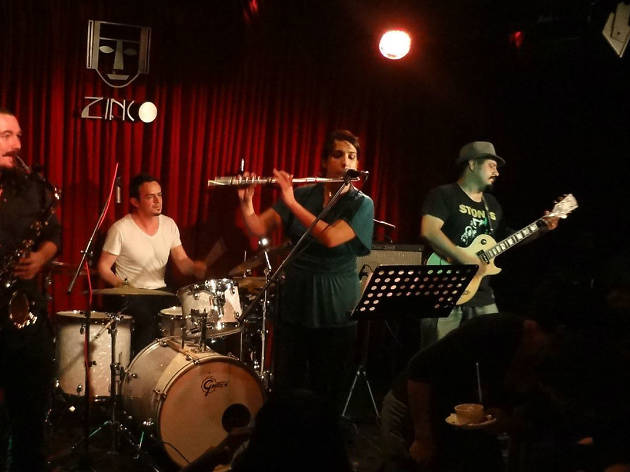 A host, elegantly dressed in black, will be the first person you see upon entering this relaxed space that's decked out in red and black. He will direct you to the underground vault which only a few years ago was the Banco de México, and since then has emulated Zinc, the legendary New York Jazz Club. Silent at moments, the quietness is interrupted with the complete harmony and polyrhythmic sounds of one of the many genres of jazz.
The syncopated music attracts, in this city, a very diverse public: university students, bohemians, connoisseurs, intellectuals, adults of literally all ages, hipsters, yuppies, undefined folks, and eccentrics. All seated at the tables which are set directly in front of the stage.
While you await the musicians, who tend to take the stage around 10pm, ask Adán, the barman, for his recommended mezcalini de tamarindo, or perhaps a cosmo or a whiskey on the rocks, a nod to the jazz clubs of old. In order to satisfy the palate even more, accompany your cocktail with the pulpo a la griega.
Lone wolfs also are welcome: the place is comfy, with its ample bar being your refuge and the great green clock that hangs in front of it, your company. Taste, listen and let yourself be taken away by the improvisation of the music. So at least you can check off "go to a jazz club" from our bucket list.
Venue name:
Zinco Jazz Club
Contact:
Address:
Motolinía 20
Centro
Mexico City


Opening hours:
Wed-Sat 9pm-2am
Transport:
Metro Allende
Price:
Average ticket $400