Museo Memoria y Tolerancia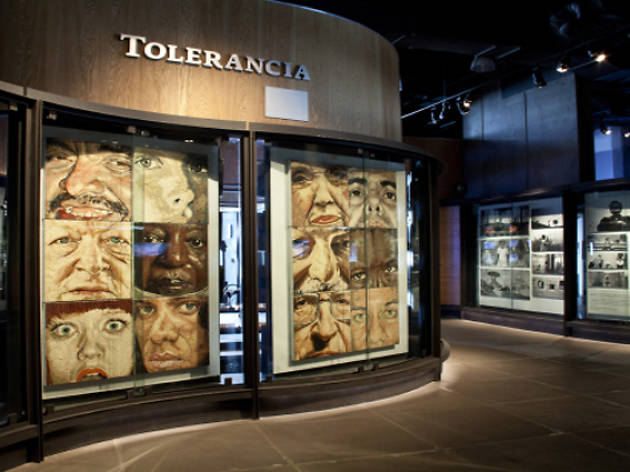 It's true that the majority of the museum's rooms are dedicated to the Holocaust (and maybe you've heard someone say "they called it the Memory and Tolerance Museum, but it's really a Holocaust Museum") but the MTM is an institution that is seriously committed to the promotion of Human Rights and the culture of peace. Proof of this lies in the series of activities and temporary exhibits linked to the distribution of these themes, in which at the center lies the construction of a culture of tolerance.
In a country like Mexico, in which 4 out of every 10 people affirm that they wouldn't let a homosexual, indigenous person or a foreigner live in their house, the promotion of respect and recognition of the other is truly fundamental. As such, since its opening in October 2010, its director Sharon Zaga, made reference to the urgency for changing these damaging and deeply rooted ideas in our society. Since then, a survey was conducted in which 90% of people said they would tolerate something that wasn't exactly to their liking.
The museum tour begins on the fifth floor with an introduction to the Jewish holocaust. Then continues to the interwar room, with six stations, all of which show a historic and reflexive history of war. The following rooms are dedicated to other genocides (Armenia, Rwanda, Yugoslavia and Guatemala). Once these great tragedies have been reviewed is when the transition from Memory to Tolerance begins: in a very moving and spectacular way, with a giant dark tunnel in which you can see a ray of light at the end.
A beautiful metaphor that continues through the rooms that present the themes of tolerance, respect, harmony, coexistence, and international forces for the good of humanity and the benefits of diversity. There's also the Our Mexico room that shows the country's true colors and its diversity. The tour closes with the Great Humanist rooms and the Choose Your Attitude room: compromise or indifference. The Compromise room is an open invitation to unite with civil rights organizations (Civil Alliance and the United Nations, and its human rights division) that seek to promote these values. The MTM isn't just the result of an excellent museum plan, rather a true oasis of respect and understanding in the heart of our city.
Venue name:
Museo Memoria y Tolerancia
Contact:
Address:
Luis Moya 12
Centro
Mexico City
06010

Cross street:
Juárez
Opening hours:
Tue-Fri 9am-6pm, Sat-Sun 10am-7pm
Transport:
Metro Juárez, Hidalgo y Bellas Artes
Price:
$69