Museo Nacional de las Culturas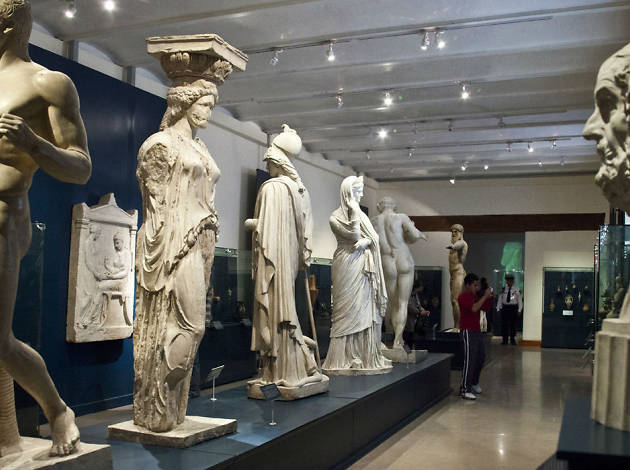 Time Out says
This was the first colonial house to turn into a museum; on the right wall of the lobby of the building (the Public History Museum of Natural History and Archaeology) you will find the mural Revolutionary, Rufino Tamayo. The work was intended to cover the main hub of the house, an activity that fell through, who knows why. Just as one enters, it is easy to deduce that the same sense of abandonment is felt in every corner of the museum; however, the silence and freshness of the place, contrasted with the pace of life caused by the informal trade that reigns in the streets of the historical centre does not cease to be a relief.
The most enriching of the museum's collection is the idea of building a better life before the Christian era, as the exhibition of works (mostly donations from friendly governments) from Mesopotamia, Egypt and Persia contextualizes the geography in an accurate and simple way, not in the abstract way in which students are taught.
The museum contains works from countries like Peru, Panama, Canada, China and Thailand, among others, representing a visual collage that could hardly be seen in the same place. So if your dream is to see the Nike of Samothrace and cannot wait to go to Paris, or the almost eternal remodelling of Acropolis Museum (Athens) is too far, here you can let off steam. They are reproductions, of course; but it's something.
It is said there that the main pieces that were exhibited here were moved to other venues such as Poplar Museum or the National Museum of Anthropology and History, when they were opened, so if you consider the amount of exhibits that are left in this building that has been considered a national monument since 1931. You should not be down about the moved pieces; you should enjoy the grounds and museum. Between the music, sculptures, objects of daily life and outfits there are enough stories to satisfy your curiosity for hours.
Details
Address:
Moneda 13
Centro Histórico
Ciudad de México
06060

Transport:
Metro Zócalo
Price:
Free
Contact:
Opening hours:
Tue-sun 10am-5pm
Users say