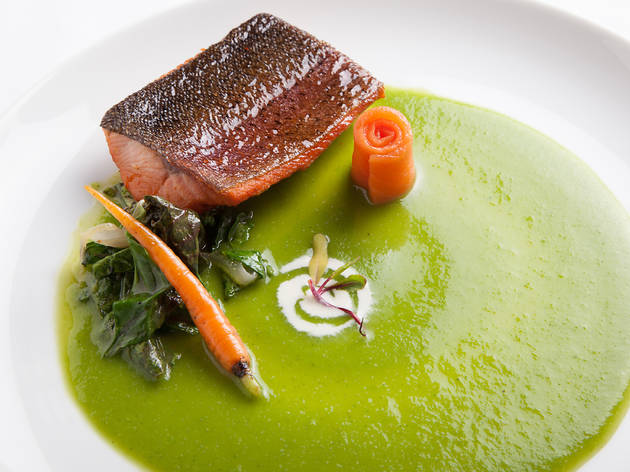 1/8
Foto: Cortesía Amaranta Restaurante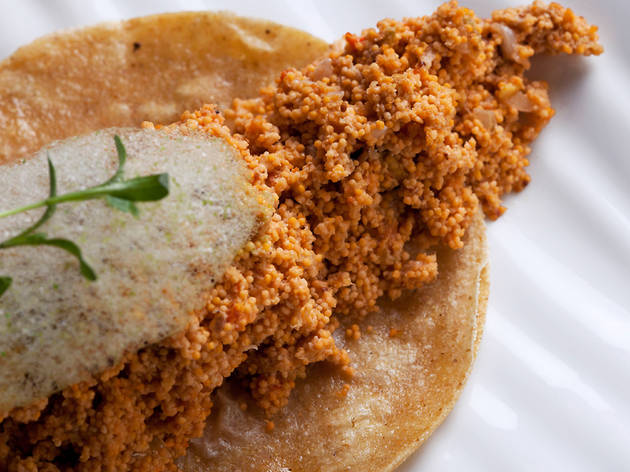 2/8
Foto: Cortesía Amaranta Restaurante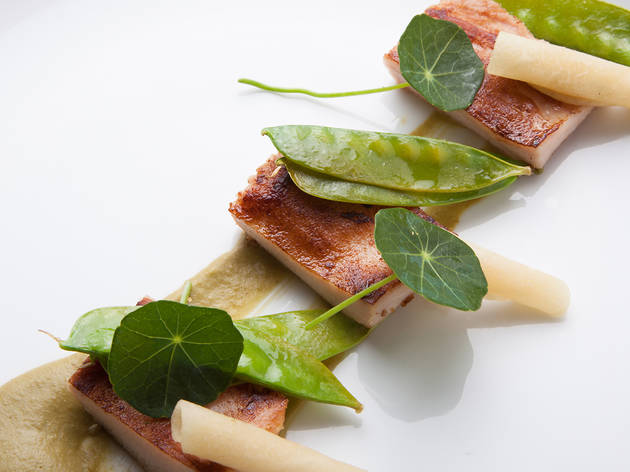 3/8
Foto: Cortesía Amaranta Restaurante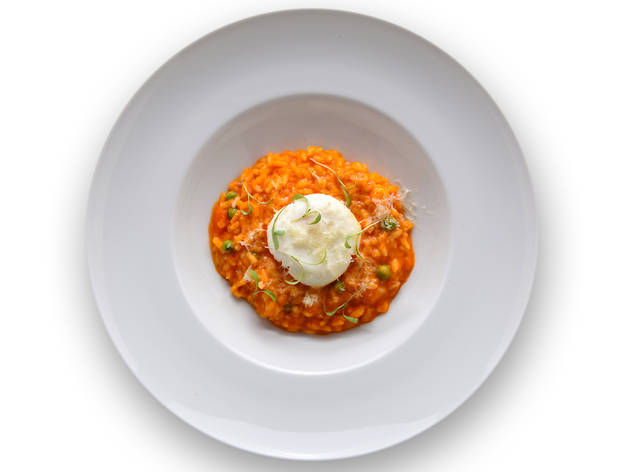 4/8
Foto: Cortesía Amaranta Restaurante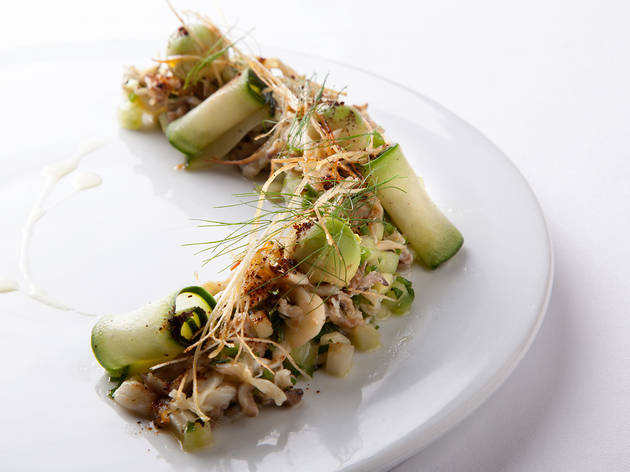 5/8
Foto: Cortesía Amaranta Restaurante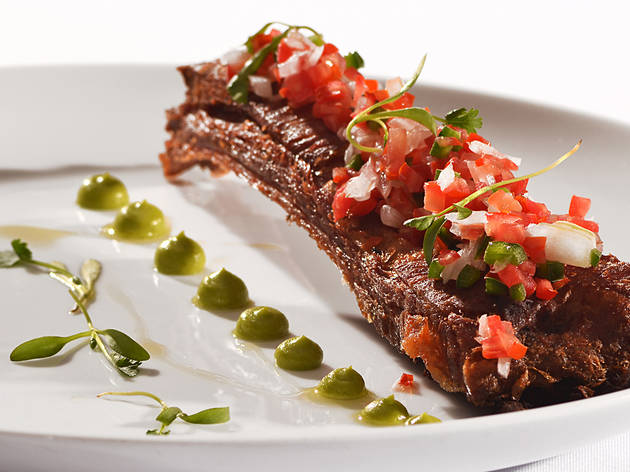 6/8
Foto: Cortesía Amaranta Restaurante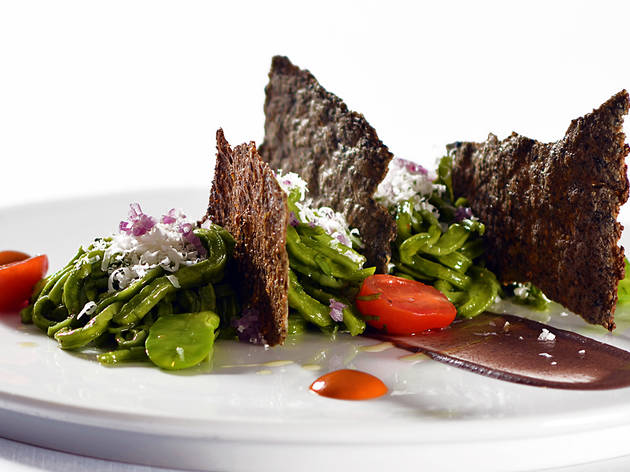 7/8
Foto: Cortesía Amaranta Restaurante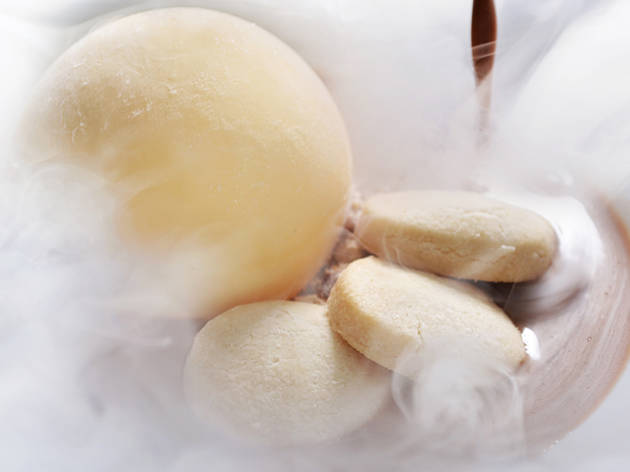 8/8
Foto: Cortesía Amaranta Restaurante
Here, the pig is revered.
Amaranta's pork-centric chef Pablo Salas adorns his menu with every bit of the delectable swine: skin, knuckles, ground meat, jowls, chops and even the head. Why? Because the pig is to be celebrated not hidden. There are so many textures and flavors to play with and the staff here is particular to the low-n-slow approach so as to coax out as much tastiness as possible.
They're also not fans of the low-hanging fruit and prefer to use the parts that require love and imagination. They traverse the cartilage, skin, and bone to get to the truly melt-in-mouth pay dirt: the jowl.
Our tasting started with a miniature sope (thick corn tortilla) topped with beans and pork rinds in a red sauce. It's intended as an aperitif of sorts, but it's really a star in its own right. After this morsel, we went with the slow-cooked pork knuckles which were simmering for hours and are carefully butchered and plated. The result is a thin sheet of firm, smooth and strong flavor served atop a crunchy tostada and topped with pickled beet and sprouts drizzled with olive oil.
Note: There's a classic Amaranta approach to flavors with vinegar, organic vegetables and other Mexican flavors which make for a truly farm-to-table experience.
We finished off with the pork jowl served with green pipian mole. The pipian is velvety and smooth, elegant and superb and the jowl is perfectly crispy and fatty, and the pickled veggies are a perfect reset between bites. This dish is the epitome of yin and yang.
Other must-haves are: the Mexican risotto with poached egg, "caviar" tacos served with house made tortillas.
Now for the stick in the mud: the water options. We weren't given an option of simply plain water and were charged 140 MXN for four glasses. It seems to us that unless we specifically request a particular bottled brand, filtered water should always be an option for free.
At any rate, Amaranta is phenomenal. If you like plain water between courses, try opting for a house cocktail instead, like the Amaranta Negroni (bourbon, Campari, and grapefruit) or try the expertly curated wine list with over 300 offerings – Sommelier Francisco Salas's contribution to the place. Francisco is also Pablo's brother. It's true what they say here, everyone's family at Amaranta.
Venue name:
Amaranta Restaurante
Contact:
Address:
Francisco Murguía 402
Universidad
State of Mexico
50130

Opening hours:
Mon-Fri 8am-6pm, Sat-Sun 9am-6pm
Price:
Average main course $400