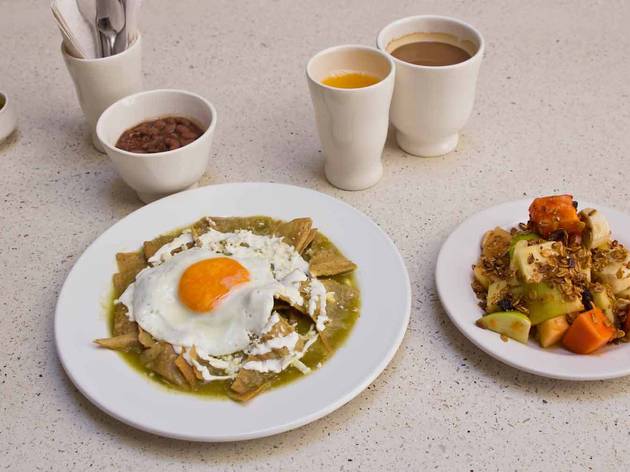 "Come again? Table for one?" This is a recurrent question those who visit this cafeteria for the first time usually ask. And yes, just a table for one, right in the middle of it's long hall. The team behind design, planning, construction and operation is made up by four architects, one designer and one administrator; they originally met for a project that then failed (in architecture and design). From that frustration, Café Zena was born.
Let's keep it clear, this isn't a whim. For starters, this neighborhood has just few commercial spots, and it has remained this way thanks to neighbors who refuse to turn San Miguel Chapultepec into the new Condesa. And so, Café Zena's a non invasive cafeteria; with large table for breakfast, lunch, dinner, coffee, work and reunions.
Food's homemade. "I like it here because the scrambled eggs with ham taste like my mom's", said a regular (five times a week) customer. And precisely, this is the idea, to create a space where neighbors from San Miguel Chapultepec can feel at home, eat well and in a budget friendly manner. The best of all is that this isn't just for them, people from other parts of the city stop by during weekends to try the chilaquiles, molletes or hot cakes, as well as their delicious steak hamburger, prepared with fluffy bread with tender and juicy meet.
Besides the basic menu, they prepare a daily full-course meal that includes a soup, a main dish with sides, dessert and fresh flavored water. For obvious reasons, and considering the creators of the place, every flowerpot, chair, glass, lamp and plate has a story behind. Come have a delicious meal and ask the owners —who serve the food and clean the table— why is the lamp on the ceiling black?
Venue name:
Café Zena
Contact:
Address:
Protasio Tagle 66 A
San Miguel Chapultepec
México City


Opening hours:
Mon-Sát 8am-8pm, Sun 10:30am-3:30pm
Transport:
Metro Juanacatlán
Price:
Average maincourse $100