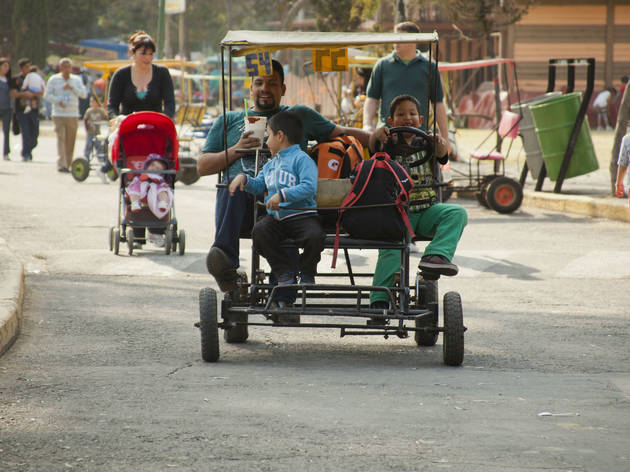 If someone told you about a place in Mexico City full of trees, where visitors can relax with a walk around a lake, eat at hot dogs stands and kids get their faces painted, you'd probably think of someplace west of the city, maybe at the end of Paseo de la Reforma. But this place is none other than Bosque de Aragón, at 162 hectares, the second largest forest area in the city.
However, there is an evident contrast with Chapultepec. Aragón's woodlands are a lot younger: at the time when Moctezuma was planting ahuehuete trees in Chapulín hill, Aragón was still at the bottom of Lake Texcoco. In fact, Lázaro Cárdenas did not instruct engineer Loreto Fabela to plant a forest here in 1930, but to build a park for the nearby housing projects.
This purpose has worked out in many different ways over years, from Rigo Tovar's mass concerts in the seventies, to the installation of sculptures by artists like Helen Escobedo. On a Saturday morning you can find troops of boy scouts working at their tasks, young couples taking a stroll while their children ride ponies, and dancers in full Aztec regalia invoking the rain.
There are also classic attractions like face painting — getting your face painted to match a niece's or daughter's silly butterfly design is something every Mexico City has to go through—, garnachas (deep-fried snacks) stands and sports gear for rent; the place also has amusement rides, go karts and a kind of four-wheel cart you can pedal around the park, great for family fun. Loners can enjoy the peaceful feeling of sitting by the lake to feed the ducks while listening to good music.
Venue name:
Bosque de Aragón
Contact:
Address:
José Loreto Fabela s/n
San Juan de Aragón 4a sección
Mexico City


Opening hours:
Mon-Sun 6am-6pm
Transport:
Metro Bosques de Aragón
Price:
Free entry