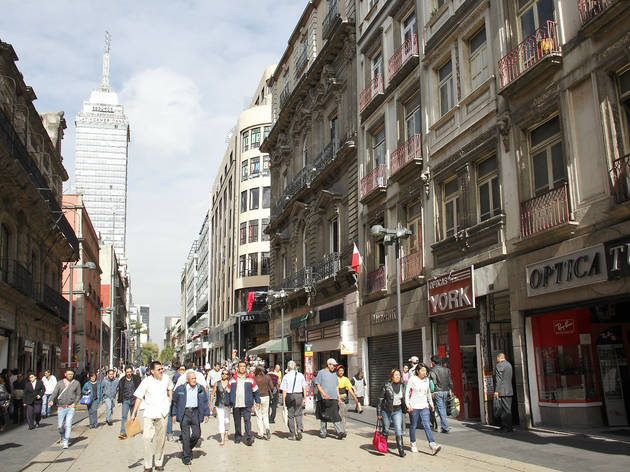 Since 2012, the Centro Histórico has officially become known as the Corredor Cultural Madero. The goal is to bring art to the streets and give exposure to artists outside of the typical commercial circle.
With construction efforts aimed at preserving the Centro, streets like Madero and Regina have helped this area gain presence one of the most pleasant walking areas of the city.
Madero was included in the Cultural Corredor program in the Centro Histórico, with shops, bookstores, bars, cafés and museums close to the zone where the corridor's programs unite.
In the following months, they will have eopedn four cultural corridors: in Garibaldi, the El Aguilita Plaza, and the atrium of the Temple of Jesús María.
Some scenes from the corridor:
Atrium of San Francisco: 10 years ago, the area was a wasteland, but today it's converted into an artistic space in which they have launched works of all kinds. An open-air gallery, consisting simply of some benches and located just behind the Torre Latino Americana. Madero corner of Isabel La Católica.
The balcony of the Museo de Estanquillo: Located at the upper level of the museum it comes with a café and a library with an ample collection as well as souvenirs that you can purchase at a reasonable price. Madero corner of Isabel La Católica 26.
The terrace of the Museo Nacional de Arte: Its real name is Plaza Tolsá, given the name of its sculptor and architect Manuel Tolsá, mastermind behind the sculpture Carlos IV better known as "El Caballito". This state has been part of exhibitions such as Raíces del artista Rivelino. Tacuba 8.
The patio of Antiguo Ayuntamiento: Located within what are now the rooms of the Department of the Federal District, this space was constructed in the 16th century and later modified by Ignacio Costera in the 18th century and has been the scene of diverse cultural activities. Plaza de la Constitución and 5 de Febrero.
Venue name:
Corredor Cultural Madero
Contact:
Address:
Madero
Centro
Mexico City


Cross street:
Eje Central
Transport:
Metro Zócalo. Metro Allende.