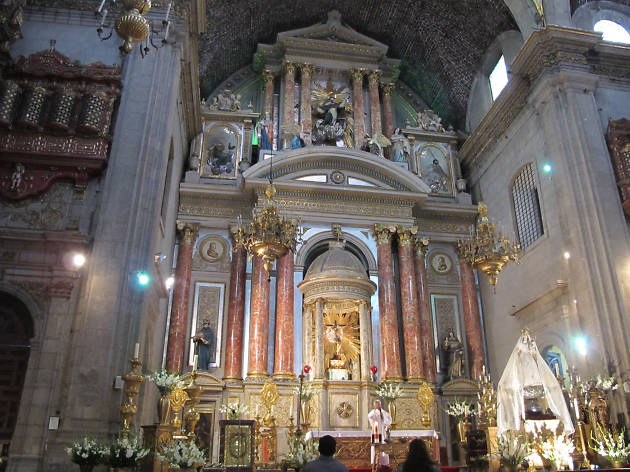 The Plaza de Santo Domingo is known as being the place to obtain false documents, but it also houses among its streets a large amount of historic buildings and excellent Mexican food.
Located three blocks from the main Zócalo, between the streets República de Brasil, República de Cuba and Belisario Domínguez, Santo Domingo is the second most important plaza in Mexico City.
It was built by the same Dominican friars who during the 16th century established themselves in the zone in order to start begin the construction of a temple that would carry the same name.
The esplanade is surrounded by a diverse array of buildings that marked the passage of history in Mexico. Such buildings include: La Iglesia de Santo Domingo, el ex Palacio de la Santa Inquisición, known known as the Museu de la Medicina, the Antiguo Edificio de Audanas and La Hostería de Santo Domingo: all must-see places upon a visit to this zone.
Santo Domingo is recognized for its famous halls that were built by evangelists with the objective and offering scribe services to people that required a redaction of all type of documents.
If what you are looking for is to print some invitations, bills or flyers, this is the place to go. The scribes of long ago have become coyotes today that have taken over the area and offer the reproduction of any type of fake documentation, so visit with care.
While you wander through the halls and printers, it's most likely that you'll start to salivate, being that within the zone are a bunch of food stands and restaurants for all budgets.
One restaurant that's not to be missed is La Hostería de Santo Domingo. With more than 140 years of Mexican culinary tradition, it's one of the most emblematic places in Mexico City, and offers chiles en nogada all year.
If what you're looking for is a snack attack, we recommend that you try the quesadillas, huaraches and gorditas from Doña Mary, located at the corner of Republica de Cuba street. For $50 pesos, you can enjoy the characteristic flavors of the city. The huitlacoche, flor de calabaza, frijoles and salsa verde, are an exceptional combination.
You can't go to Santo Domingo without visiting El Centro Cultural del México Contemporáneo, located in the Antiguo Claustro de los Generales, alongside the church. It's a building where you can see the promotion and diffusion of cultural expressions that exist for collective learning. Within, there are exposition rooms, a library, theatrical activities, musicals and book presentations.
After so much walking and checking out the historic, cultural and recreative nooks of the area, a few moments of relaxation wouldn't be a bad idea. In the middle of the principle plaza, there are a few ladies that for $60 peso will massage your shoulders, head, neck and face to get rid of stress.
Further along from the Zócalo, the Plaza de Santo Domingo is a good option to walk the streets of the city, eat something a bit different, get to know Mexican history and visit places with new cultural offerings.
Venue name:
Plaza de Santo Domingo
Address:
República de Brasil s/n
Centro
Mexico City
06000

Cross street:
Belisario Domínguez
Transport:
Metro Zócalo. Metro Allende. Metrobús República de Chile.