Miami is a driver's city: oceanfront causeways, fast lanes to everywhere and streets so pretty, some folks drive with one hand and Instagram with the other (we never said it was a good driver's city). How else do you get from 'hood to 'hood if not in a car? Increasingly over time, the answer has swayed toward the bicycle. Large-scale events like the monthly Critical Mass, along with community initiatives such as the Magic City Bicycle Collective, have greased the wheels for a full-blown biking revival in the city. But it didn't happen by accident. These are the groups inspiring us to break a sweat, the developments making it safe for us to ride and the shops empowering us to pedal our way around town.
Rydel Deed founded the Miami Bike Scene 10 years ago as a way for local enthusiasts to connect beyond the trail. "The idea was to create an online hub where Miami cyclists could discover group rides, events and news," says Deed, recalling a time when commuting on two wheels wasn't really a thing in the city. "People were mostly interested in road and mountain biking." What started as a simple forum has since evolved into a comprehensive website that details bike routes, lists events and daily rides (ranging from the low-key Monday Night Mash that meets at the University of Miami Metrorail station to the more intensive Don Pan ride from Sunset Drive to Key Biscayne) and provides a compendium of stores and tips for experts and novices alike. There's even a section dedicated to lost bikes. "People who cycle depend on the site," says Deed.
One of the most exciting prospects for cycling in Miami is also one of the most ambitious. The Underline is the ongoing project to renovate the land below Miami's Metrorail into a 10-mile park and trail for pedestrians and cyclists. The nonprofit organization behind the initiative seeks to enhance the area, giving Miami bikers a safe, urban space that incorporates art and community programming. The Underline will provide some much-needed shade as well as a streamlined path through the city—from the Miami River to the Dadeland South Metrorail station. Completion is slated for 2023, but riders can already get a taste of what's to come via monthly rides along its projected route and other community events.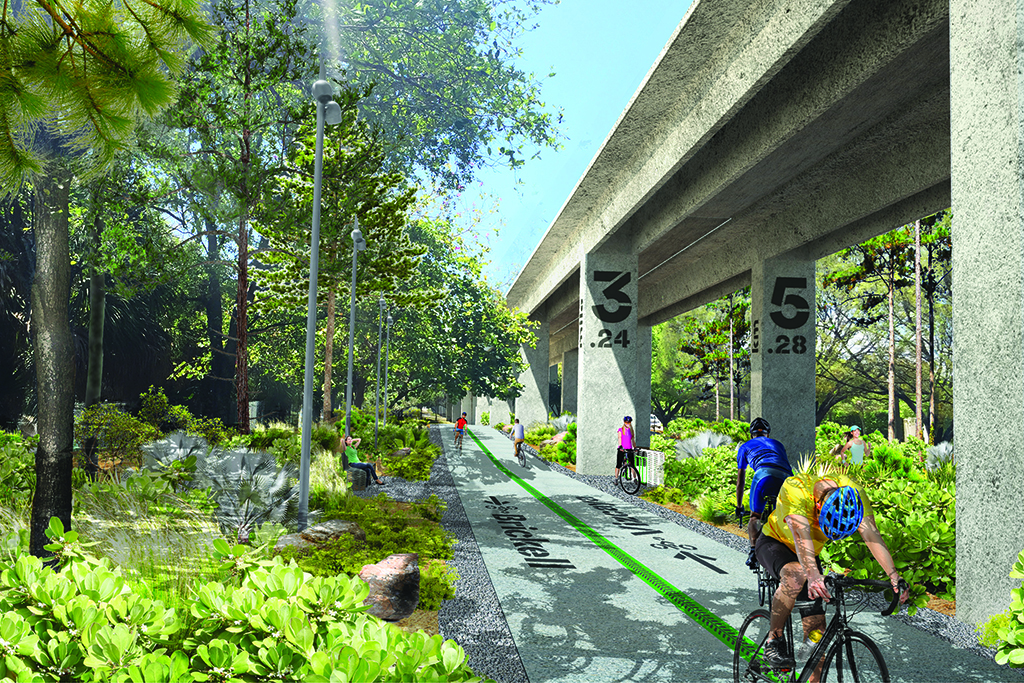 Budget bikers have come to rely on Magic City Bicycle Collective, a nonprofit organization of volunteers with a mission of empowering the local cycling community. The group provides affordable work spaces, leads educational workshops on things like tire repairs and rents out tools for a nominal fee. For a suggested donation of $5 per hour, you can book a one-on-one tutorial from the Collective staff—learn to fix, disassemble and properly maintain your wheels from an expert. "Most bikes are just sitting in a garage because the tires are flat, and people don't know how to change them," says Collective treasurer Chris French, who focuses on education to get more people on the road and riding. "We want to teach people how to do it themselves."
The visionary: Plan Z
The Rickenbacker Trail has long been popular with cyclists, and for good reason: Besides connecting Miami's mainland with Key Biscayne, the 8.5-mile trail offers some of the best views of the city. Sadly, it's also one of Miami's deadliest routes. Architect (and lifelong cyclist) Bernard Zyscovich hopes to change that with his proposed Plan Z, which would transform the Rickenbacker into an urban park with trails for pedestrians and cyclists. The grassroots movement is still in its infancy but has already garnered support, thanks in part to an exhibit at the Coral Gables Museum titled "From Infrastructure to Open Space," which showcased the plan's potential to transform the dangerous roadway.
The groundwork: Complete Streets and protected bike lanes
It takes a village—or rather, a county—to get the people riding. Municipal planners are moving forward with infrastructure to protect riders: West Avenue in South Beach received the first protected bikeway in Miami-Dade County, with other areas to follow. It's not just lanes either. Miami Downtown Development Authority's Complete Streets—a pilot project that enables safer roadways for all commuters—is transforming SE/SW 1st Street from a one-way, three-lane thoroughfare into a street that features a dedicated lane for cyclists. The one-year pilot test informs future initiatives throughout the city.
The pack leaders: Critical Mass and the rise of group rides
The 25-year-old phenomenon known as Critical Mass—which began in San Francisco and has spread to more than 300 cities since—has fueled the local cycling boom, partly due to safety. In Miami, experienced cyclists lead the way as volunteers block off intersections and local police officers divert traffic. While routes change often (think Coral Gables and Miami Beach), the laid-back event is consistently held on the last Friday of each month and leaves from Government Center at 7pm. The rise of other group rides, like Taco Tuesday, also means more opportunities for novice cyclists to ride in packs, tapping into the camaraderie that comes with a team.
Want more? Sign up here to stay in the know.