Emergency orders have been lifted, businesses have started to reopen and now, after more than two months of lockdown, Florida is easing back into homeostasis. It's a long road ahead but we've seen small changes across retail, restaurants and other industries. Parks have started to reopen, though strict guidelines are still in place for them and the use of other public spaces. Soon, folks will be allowed to visit Miami's beaches and hotels will once again welcome guests.
It's been a slow, strange process that requires some help navigating as the state, the county and the 34 cities within Miami-Dade work together on a uniform strategy. Though that hasn't been the case. Phased plans were introduced but start dates were staggered and which city participated first were unclear.
We're all a little confused to say the least. Now that we're no longer staying at home, we need to focus on staying safe. Getting back out there responsibly will be how we avoid potential dangers and keep moving forward and away from the pandemic.
We want you to get back out there and we want you to do it safely. But before you enjoy your newfound freedoms, please follow these important rules on social distancing and enhanced hygiene.
In what phase of reopening is Miami-Dade County?
Miami-Dade entered phase one of reopening on April 29, 2020. As of this date, select parks, marinas and golf courses across the county reopened. The City of Miami, however, did not reopen its public greenspaces until May 20, 2020.
What is reopening in phase one?
Parks, marinas and golf courses opened on April 29. The next round of reopenings in phase one included retail, museums and personal care facilities, such as salons and barbershops. Restaurants operating at 50-percent capacity were also part of phase one. Per the county, these were allowed to reopen on May 20, 2020. However, most cities within the county, including Miami Beach and City of Miami, have adopted a staggered plan in which phase 1a began on May 20th and phase 1b began on May 27.
When will the restaurants in my neighborhood reopen?
It depends where you live. If you're within unincorporated areas of Miami-Dade or reside in a city that follows county mayor Gimenez's plan, restaurants in your area reopened as of May 18. If you live in Coral Gables, that date is May 20. If you live in Miami Beach, the City of Miami and other of the handful of cities that opted into a two-part phase one, restaurants reopened on May 27. Not all restaurants have reopened but is not legally allowed to do so.
Can I go to the beach?
Not yet. All Miami-Dade beaches will be allowed to reopen on June 1. Sunbathing, swimming and other select activities will be allowed.
Can I go to the park?
Yes, but parks have their own set new guidelines to follow, including maintaining a distance of six feet or more between yourself and other parkgoers. Picnics, group activities and team sports are no longer allowed. The City of Miami has outlined its rules and regulations, which apply to county parks as well.
When should I wear a face mask?
Face coverings should be worn when social-distancing isn't possible and in all public areas. If you're participating in strenuous activities at a park or a beach, wearing a mask is not required. But if you're on the beach and going to the restroom or walking up to a concession stand, wearing a mask is required. It's required at restaurants when walking to and from your table and recommended in large, enclosed spaces, such as a mall.
Can I go to the mall?
Yes, malls are open and following social-distancing guidelines. Here's a full rundown of what you can expect.
Can I go to the gym?
Not yet. The mayor has not amended the current emergency order, which prohibits the use of gyms and massage parlors, among other businesses.
Can I take public transit?
Yes, Miami-Dade public transit is up and running but certain routes have been affected, including nightly service, which is now available via ride-share. The Metrorail and the Metromover have also adjusted their hours.
Can I stay in a hotel?
Nonessential guests will be allowed to stay in Miami-Dade hotels beginning June 1. Full occupancy will be allowed at hotels but common areas, including the lobby and the pool area, will need to maintain 50-percent capacity. Hotel pools will be open but social-distancing rules apply—including requiring guests to say six-feet apart.
Travel
Domestic flights
Can I take a domestic flight?
Yes, you can take flights throughout the United States. Here are the changes many airlines have instituted in their cabins: fogging the plane with disinfectant before boarding, utilizing High-Efficiency Particulate Air filters that recycle air dozens of times per hour, allowing food and drink to be brought onboard en lieu of cart service and mandating that all flight attendants wear masks. (Be sure to check the individual airlines' policies on their respective sites.) The TSA also recently announced new guidelines inside the airports themselves. As CNBC points out, "travelers will scan their own paper or electronic boarding passes instead of handing them to a TSA office." What's more, face masks are mandatory and hand sanitizer stations are available in airports (and you're allowed to take hand sanitizers on flights). At the moment, there is no federal mandate on performing health screenings on passengers. Want a full rundown of the new TSA policy? Check out our detailed breakdown.
Should I take a domestic flight?
Maybe precariously teetering towards no. It's worth checking out how the states you're in and traveling to are faring with cases, which you can track on the CDC site. The trouble is that once you're onboard, it's difficult to stay six feet away from other humans, even with stricter guidelines in place. The CDC also notes that "traveling to visit family may be especially dangerous if you or your loved ones are more likely to get very ill from COVID-19." If you decide to scrap your plans, here is everything you need to know about getting a refund, according to the U.S. Department of Transportation.
Car rentals
Can I rent a car?
For sure. As detailed in USA Today, many car rental companies, including Hertz, Rival Enterprise, Avis Budget and Dollar Thrifty, have instituted new, strict cleaning guidelines for their vehicles. Be sure to consult individual companies about their processes and check those against CDC cleaning recommendations.

Should I rent a car?
Maybe. Even if you feel safe after checking out a company's cleaning guidelines, be sure to keep any and all stops along your journey to the bare minimum. For instance, stock up on all the essentials you'll need (snacks, etc.) before taking your journey. And as always, see how the area you're planning to travel to is doing with cases.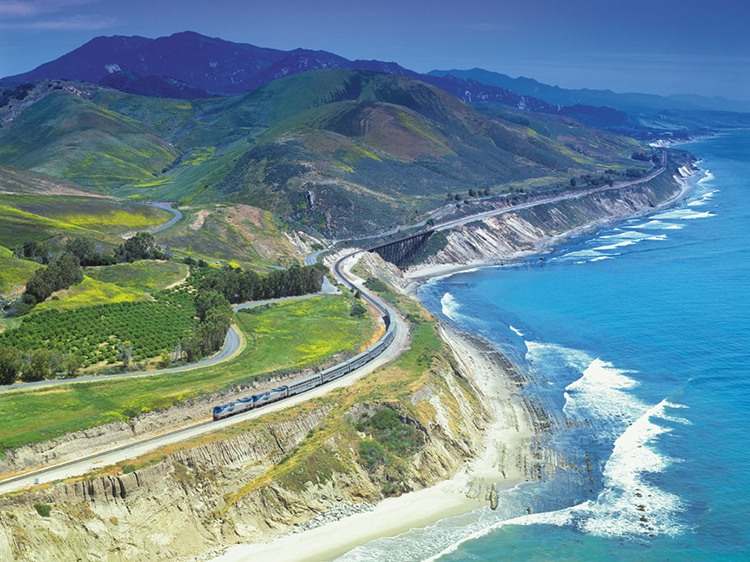 Trains and busses
Can I take a train or bus?
Yes, depending on where you're coming from and going. Companies, like Amtrak (which also hosts bus services), are requiring passengers and employees to wear face masks on board and on platforms. (Read: If you don't have a face mask, you're not allowed to come on board.)

Should I take a train or bus?
We're giving the idea of taking a train a maybe that leans more towards no. If you do decide to take a train trip, we highly recommend staying away from dining and drinking cars or any areas where fellow passengers congregate. And as far as taking a bus, we're going to say avoid it for now.
Cruises
Can I take a cruise?
No, although cruise lines are hoping to resume service as early as this summer.

Should I take a cruise?
Nope.