Food Envy: Leña's Frita classic
We've been eating a lot of food at Time Out Market Miami, and now we're dishing on some of our favorite plates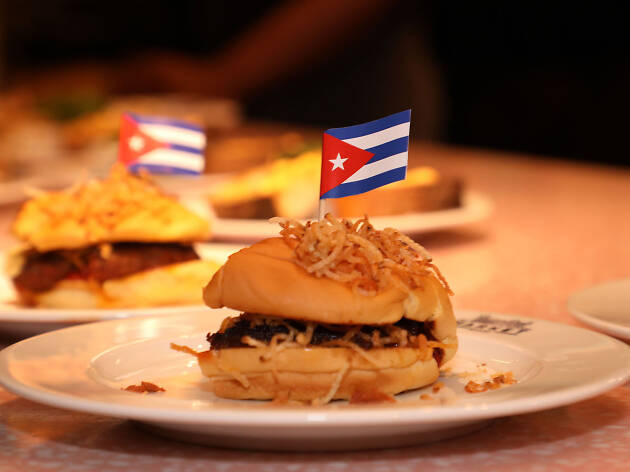 Welcome to Food Envy, where we'll highlight different dishes from Time Out Market Miami that we think you're going to love—partly because we do. This week, the made-in-Miami frita from the delicious Leña.
RECOMMENDED: Guide to Time Out Market Miami
If you've never had a frita (AKA the Cuban hamburger) before, we feel very bad for you. But also, we're very jealous of you. Because you still have the opportunity to try a frita for the very first time—and that is a special moment in one's life.
And whether it's your first or thousandth bite of a frita, Michael Beltran's version is an ideal one. You'll find it over at Time Out Market Miami's Leña, where Beltran showcases some of his favorite recipes. He keeps it classic with the frita and that's just the way we like it: chorizo, potato bread and papitas for that essential crunch. It tastes like if you sent a hamburger on a vacation and bought it a massage. The chorizo provides a more intense umami flavor than your average patty and the salty crunch of the papitas just goes wonderfully with the meat's loose texture. We're drooling, aren't we?
It's a sandwich that holds a special place in our heart. Miami is the frita capitol of America, and we're proud of that fact. Like Miami itself, the frita is a delicious example of what can go right when cultures blend, collaborate and fire up the grill.
Hungry for more Time Out Market Miami?