13 delicious restaurants in Mississauga
Your mind will be blown: these restaurants in Mississauga serve an amalgamation of cuisines that will make you go ga-ga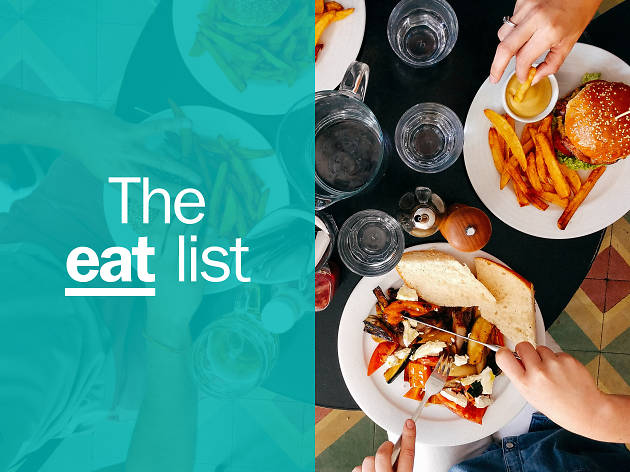 Mississauga may feel like one big suburban sprawl, but look a little closer at those side streets, strip malls and industrial complexes and you'll discover a different part of the city made up of a network of international restaurants that run the gamut from humble mom-and-pop shops to elegant eateries. Over the last decade, an influx of cultures has given rise to new local activities, things to do and—arguably most importantly—has turned the city into an exciting place to eat. Mississauga's food scene is starting to attract some well-deserved attention. For delicious delights like chilli-laden, hand-pulled noodles and dreamy duck stone pot rice, visit the best restaurants in Mississauga.
Best restaurants in Mississauga
1
Photograph: Courtesy Yelp/Seema S.
What is it: Plush banquettes, jewel-hued wine glasses and wood-slatted window coverings take you back to the days of British Raj club culture, but owner Hemant Bhagwani's propensity for the modern brings a fresh sensibility to the decor and menu.
Why go: There's some serious thought behind the food here, with nods to British and Tangra Chinese influences on Indian cuisine (dak bungalow steak roast or chow mein), and luxe touches of morels and truffles in pulao. Lose yourself in the depths of a soulful murg methi chicken and wander through the Ontario-forward wine list.
Price: Pricey
2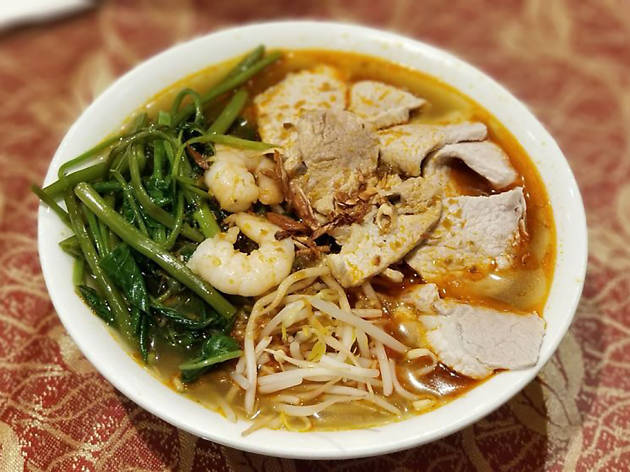 Photograph: Courtesy Yelp/David L.
What is it: Whether you're an expat or a newbie to the wonders of a steaming bowl of laksa lemak, Lion City offers one of the best in the city, served amidst a flurry of batik prints and historic maps.
Why go: Peranakan Plates pop-up queen Eleanor Sim ladles up her legendary laksa with creamy coconut spicy-sweet broth, tofu puffs and crunchy bean sprouts. Round out your meal with slippery smooth wat dan hor fun noodles in egg gravy (add pickled jalapeños for some heat).
Price: Average
3
Photograph: Courtesy Yelp/Kage Restobar
What is it: This sleek Nikkei eatery, helmed by chef Nelson Singh, specializes in vibrant Peruvian/Japanese cuisine that stands out in contrast to the city's numerous all-you-can-eat sushi joints.
Why go: A tangle of flavors—premium rice, cured duck, house-made candied chilies and a sweet and spicy glaze—is pulled together by a meltingly soft duck egg and pressed into the sides of a stone pot tableside. Gingery pisco sour epitomizes the best of East-meets-South on a short but interesting cocktail list.
Price: Pricey
4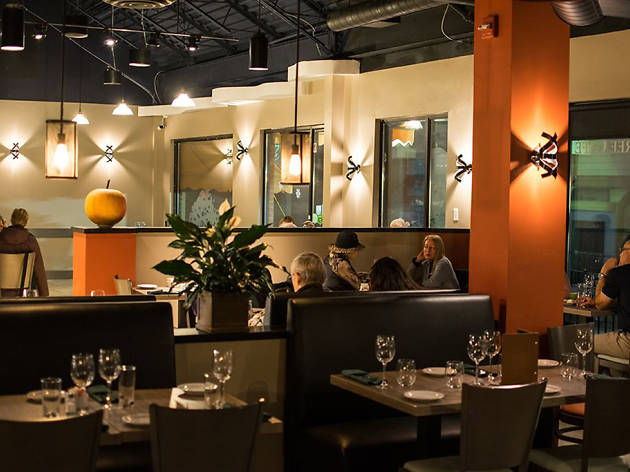 Photograph: Courtesy Yelp/Franz H.
What is it: A cheerful European-style cafe and local favorite for 25 years, Apricot Tree has grown from a small store into a thriving business after buying out a neighboring Starbucks.
Why go: Flit between light lunchables such as a creamy tarragon chicken crepe or signature apricot salad, but save room for the house-made pastries from Austrian-trained Franz Hochholdinger (former pastry chef of Movenpick). Try a slice of four chocolate Toblerone mousse cake and an eiskaffee for a sophisticated sugar rush.
Price: Average
5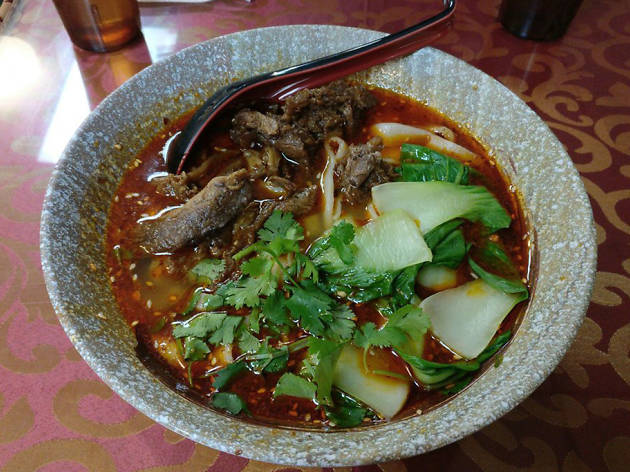 Photograph: Courtesy Yelp/Jenny T.
What is it: It may sit in the shadow of a funeral home and its décor may be best described as Spartan, but the fiery chilli-laden dishes on the menu at this modest eatery more than make up for the ambiance.
Why go: Hand-pulled noodles—rustic and with an al dente chew—are the star dish, but bone-in flash fried Szechuan chicken with a mountain of chilies or a silky mapo tofu are good bets as well. Ask for the radish pickles for a caramel contrast to the heat.
Price: Bargain
6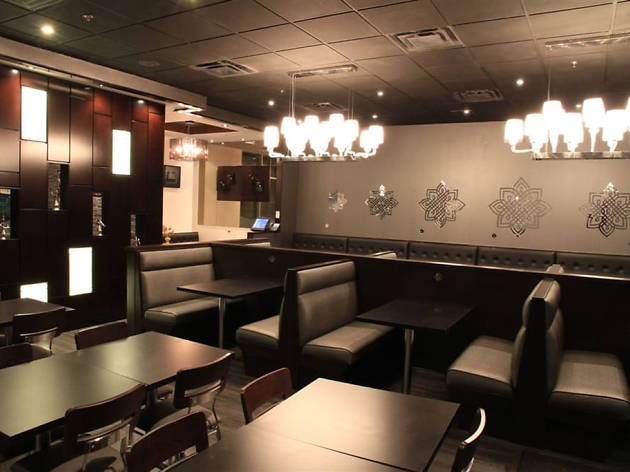 Photograph: Courtesy Yelp/Guru Lakshmi
What is it: Divine dosas are the reason there are two waiting rooms on premise, to control the flow of people at this busy north Mississauga restaurant. You'll need a reservation and be prepared for brisk, but friendly, service.
Why go: With fillings such as paneer or mysore paste, or just plain with dips, all the dosas are vegetarian. The menu has wide appeal: onion and garlic-free versions are available for the Jain community, while kids will hoover up the candy-filled rainbow dosa.
Price: Average
7
Photograph: Courtesy Yelp/Moe A.
What is it: Warm service and a room full of regulars give this long-standing landmark the breezy feel of a Mediterranean taverna with Port Credit's bustling waterfront scene outside its doors.
Why go: Stick a fork through all the layers of an exohiko and watch the layers of puff pastry, lamb, tomato and feta crumble into a glorious mouthful, then wash it down with a Skinos Mastiha digestif. You can also go traditional with tableside flaming saganaki and cries of "opa!" (No plate breaking, please.)
Price: Pricey
8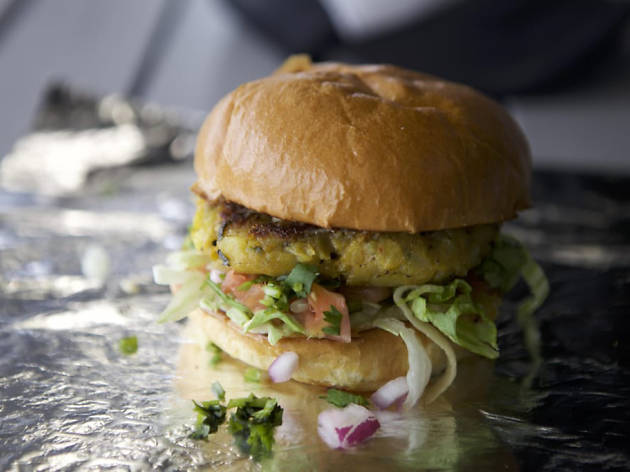 Photograph: Courtesy Yelp/Rick M.
What is it: A playful, buzzy space matches the food at this restaurant in the middle of a commercial area—a Punjabi Canadian mashup that's as irreverent as owner (and Food Network's Recipe to Riches winner) Rick Matharu.
Why go: The Punjabi burger with tandoori bacon and achari mayo gets all the attention, but the vegetarian dosa burger is a standout, with crunch yielding to a fluffy potato and curry leaf interior. Don't forget perennially crispy fries dusted with masala or topped with chaat or the award-winning butter chicken.
Price: Average
9
Photograph: Courtesy Yelp/Tony R.
What is it: The joint is as tiny as the pizzas are large—only a few seats are up for grabs in this deep-dish pizza place smack in the middle of a strip mall. Call to check opening hours because the doors close as soon as the dough runs out.
Why go: Go all in with a meat king (fair warning: be prepared to eat nothing else that day): pepperoni, sausage, homemade meatballs and crumbled bacon threaten to overflow the edges of this memorable pie.
Price: Average
10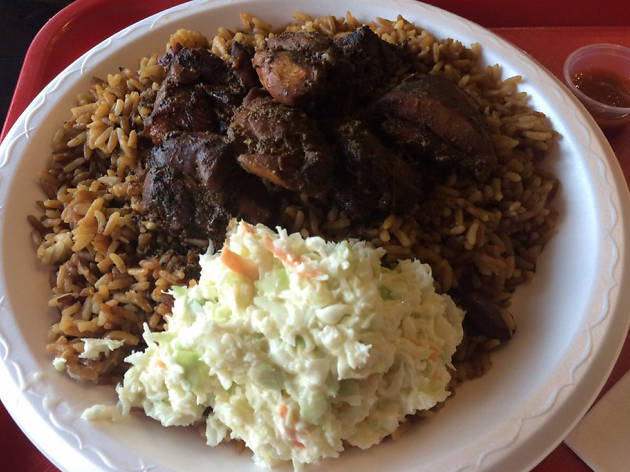 Photograph: Courtesy Yelp/Tina W.
What is it: Trinidadian roti and doubles on the menu, tunes blaring and a steady, quick moving lineup make for a happy-go-lucky ambiance in this casual restaurant at the core of Mississauga.
Why go: Choose four of your favorites for the daily veggie platter—smoky/sour tomatoes choka, sweet pumpkin purée, savory channa and creamy spinach all await a quick swipe with flaky paratha. Don't forget the large and fiery goat roti... Just order some sauce on the side if you're timid.
Price: Bargain
11
Photograph: Courtesy Yelp/D S.
What is it: Chef/owner Massimo Capra—a fixture on both the local restaurant scene and national television as a judge on Food Network's Chopped Canada—returned to his Mississauga roots in 2017, opening an upscale Italian restaurant that's as quirky as his extravagantly pointed moustache.
Why go: Sophisticated pastas, such as a wild boar stuffed agnolotti with port reduction, show how much care Capra offers each one of his ingredients. Look out for him as he can often be found greeting regulars or working the line in the bustling open kitchen.
Price: Pricey
12
Photograph: Courtesy Yelp/Chandra A.
What it is: As trendy restaurants have come and gone and recessions have decimated traditional fine dining, Rogues Restaurant has been one of the few white tablecloth survivors in Mississauga for over 30 years.
Why go: Although the regular offerings of house-made pastas and milk-fed veal scaloppine please regulars, carnivorous delicacies such as tender filet of camel or wild buffalo, relative rarities within Mississauga's borders, are the true must-haves here.
Price: Blowout
13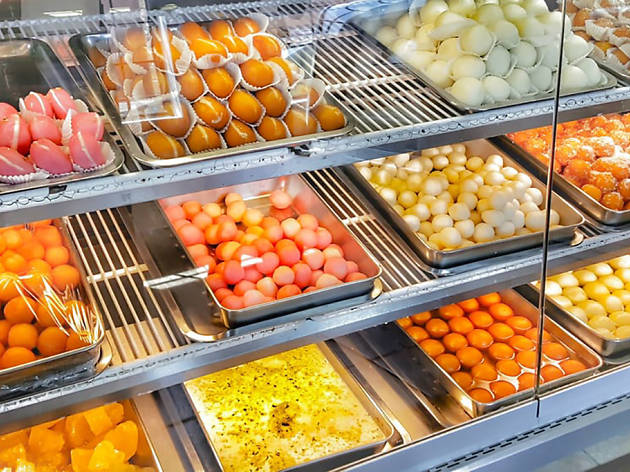 Photograph: Courtesy Yelp/John C.
What is it: The setting is more factory than fine dining, but with a couple of Mississauga's best samosas in front of you, that won't matter.
Why go: The special pastry recipe (a family secret) has been 35 years in the making, and it shows in every bite of flaky, light samosas, with veggie, beef, chicken or paneer options. Come early and be prepared to wait in line. Don't forget to take some samosas to-go, for when the inevitable cravings hit later.
Price: Bargain
Discover Time Out Market: the best of the city under one roof
Planning a trip to Mississauga?
From progressive art hubs to ultra-traditional afternoon tea and top-notch restaurant experiences, diversions that suit both hipsters and historians are ready for exploration.